Etihad Airways will shortly increase its orderbook for the Airbus A350-1000 by another two units, taking to 14 its total firm commitments for the widebody twinjet.
Although Airbus lists the Gulf carrier as having orders for 20 A350s, Etihad chief executive Tony Douglas says that only a dozen of the twin-aisles are on firm order, with another eight covered by options.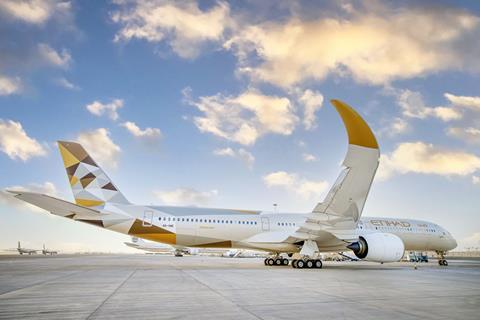 Etihad launched commercial operations with the Rolls-Royce Trent XWB-powered A350-1000 on 31 March, operating a service from Abu Dhabi to Paris Charles de Gaulle.
Speaking during the flight, Douglas hailed the A350's "game-changing performance" and said the carrier was already looking at increasing its firm commitment.
"We are actually looking at triggering two options, so 12 goes to 14," he says.
Although he sees a recovering market, Douglas provides no timeline for when the remaining options might be exercised, nor if the commitment for A350s could eventually increase beyond the current 20-unit total.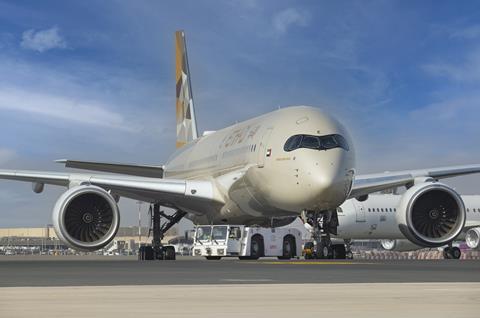 "It's difficult to say right now. We have just been through the two hardest years in the history of commercial aviation and we are now proudly a mid-sized carrier.
"We will only grow when the market is there to do so. Should that present itself we will look to extend [our orders]."
However, Douglas insists that the restructured Etihad has abandoned its former fleet growth policy. "We are no longer the sort of airline that takes deliveries of aircraft and then looks for a network to fill them – it's the other way around now."
In addition, Douglas insists Etihad's order for passenger aircraft is entirely separate to a tentative deal struck in February for seven A350 Freighters, despite speculation that Etihad might convert some of its orders for passenger aircraft to the cargo variant. "That's a completely different aircraft for a completely different use," he says.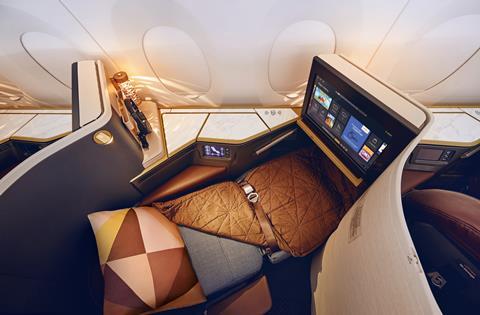 Etihad is basing its future fleet around the "two horse stable" of the A350 and Boeing 787, which Douglas describes as the "two most efficient aircraft in the world today".
The airline retains an interest in the developmental 777X, but at present that encompasses just six options; Etihad choses to proceed with the order any delivery will only take place in the "five years-plus" timeframe, he says. In addition, the commitment is sufficiently flexible to allow any variant to be selected, including the newly launched 777-8 Freighter.
Making a debut on the A350-1000 is a new three-class passenger cabin featuring 44 business-class seats in a 1-2-1 forward-facing herringbone layout, 45 "economy space" seats with a 35in pitch, and 282 31in-pitch economy seats.
Douglas says the 11 787s that Etihad still has on order will also feature the new interior, although delivery timelines are hazy given Boeing's continued manufacturing quality issues with the widebody.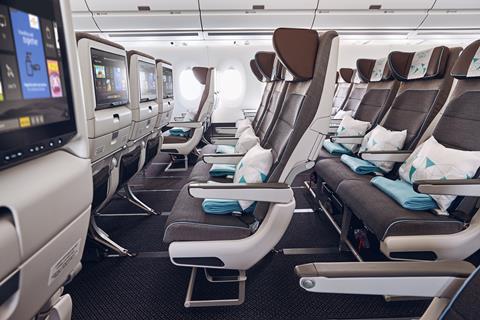 He says the revised interior is the "new standard", describing the premium cabin with its semi-bespoke privacy door-equipped Collins Aerospace seats as "business-plus".
"I think we are going to see a whole bunch of European and North American customers who experience this and think it's a first-class product," he says.