Amid the endless months of lockdown, the rollout of vaccines has been the light at the end of the tunnel for European airlines desperate to begin generating cash again.
But as the trajectory of the Covid-19 pandemic has changed, so have airlines' expectations.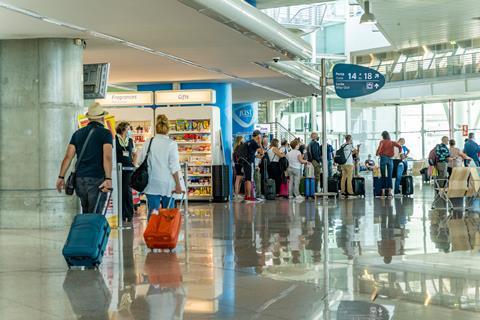 As more infectious strains of the disease have taken hold around the world, governments have responded by tightening lockdown restrictions just at the point that carriers were hoping these would start to be wound down.
The result has been a vast downgrading of expectations for a summer recovery, which could impact the demand picture throughout 2021 and beyond.
"Internationally we've seen little more than basically a disaster," IATA chief economist Brian Pearce said in early February. "What's holding back travel is the restrictions that have been imposed."
Global airline bookings data that had been rising until the December holiday period has since fallen back very sharply as the impact of the new variants has been felt.
IATA now sees a scenario where flying as measured by revenue passenger-kilometres could this year reach just 38% of the level in 2019. Although the outlook is cloudy given the difficulties in looking past the first half, "clearly the near-term outlook is somewhat darker than what we expected", warned Pearce.
It is a change in mood mirrored by carriers.
"There is going to be very little travel in the coming months," Virgin Atlantic chief executive Shai Weiss conceded on 10 February, with the Easter period a write-off. "Now a summer resumption is more realistic."
Others are even more pessimistic. "Right now it's far too early to tell whether we will have a good summer or not, despite people's attempts to create it," Loganair chief executive Jonathan Hinkles said on 17 February, noting a lack of pick-up in trading conditions.
Airlines and governments alike are wary of touting a fast return to flying after nearly a year of the pandemic that has brought several waves of Covid-19. Previous hopeful projections of a widescale return to flying have not come to pass, and restrictions are likely to persist for many more months at least.
"Things can change very quickly with the disease, as we have seen," notes Ascend by Cirium senior consultant Max Kingsley-Jones. "It is very unclear when lockdowns will lift enough for people to start flying internationally again."
Carriers can take comfort from evidence that when passengers are given a chance to travel, they take it.
The releasing of routes from travel restrictions, such as when the Canary Islands or the UAE were placed on the UK's safe travel corridor list – both actions that have since been withdrawn – released a surge of bookings that led to capacity being ramped up in response.
Likewise, following the UK government's announcement on 22 February that travel restrictions could be lifted from mid-May, several airlines reported an immediate boost in bookings to holiday destinations across Europe for late summer, and even on some long-haul routes.
The hope is that when travel restrictions are lifted across a wider range of countries there will be a "strong snap-back in demand", said Ryanair Group chief executive Michael O'Leary on 1 February.
This would take the form of a "modest" recovery through April to June, he believes, followed by a "substantial" return to services in the peak summer season: "We are already seeing a rise in bookings into that period," he noted. The carrier expects 75-90% of normal traffic by the end of the year.
"You've been cooped up at home for 12 months home-schooling children… You want to book a holiday," the inimitable O'Leary suggested.
Initial strong bookings following the UK government's announcement of an updated plan to allow a return to air travel from mid-May appears to support this rosy outlook.
Adding to such hopes is the amount of cash that has built up in consumers' bank accounts amid the pandemic, as those lucky enough to have retained their pre-pandemic salaries have bolstered their bank balances during lockdown.
Euro-area savings hit a record 25% in spring 2020, according to Eurostat, from 12-13% pre-pandemic. In the UK, the Bank of England's chief economist wrote in the Daily Mail newspaper on 12 February that household cash balances could reach with £250 billion ($350 billion) by June, something he equated with "enormous amounts of pent-up financial energy waiting to be released, like a coiled spring".
Data such as this indicates that airlines may be spared the need for widespread seat sales to attract travellers, suggests Kingsley-Jones. "This is different from other crashes like after 9/11 when people needed encouragement to fly again," he observes. "There is plenty of pent-up demand to travel this time round."
But when passengers do return – even at the lower levels expected through 2021 – the mix will be different.
CTAIRA principal Chris Tarry puts it thus: "We know that short-haul leisure and visiting friends and relatives will recover much more quickly than long-haul and business travel; if any more evidence is required in the leisure sector we only have to look at the booking reports following the issue of the UK's Covid exit roadmap and the impact on airline share prices."
As travellers are likely to have the confidence for only short trips initially, low-cost and leisure airlines stand to benefit more than legacy carriers, who will also suffer from the absence of long-haul passengers transferring to and from shorter flights.
Even within short-haul markets, things will be different. Many airlines will eschew marginal routes to focus on connections with the greatest return, and they will be careful to avoid adding so much capacity into the market as to drive prices down.
For those budget airlines with the lowest operating costs, principally Ryanair and Wizz Air in Europe, such a market would usually present them with a huge opportunity to expand, but this may be hampered by the extended waiving of European slot rules, constraining their ability to enter new markets.
"Passenger demand for travel is there. We know it's there," says Tarry. "But some of the normal market dynamics will have changed."
This analysis is written by Jonathan Robins, part of Cirium's London-based reporting team