The bleak economic outlook provided by FedEx at the end of last week served as a reminder to the airline industry that the Covid-era cargo boom is vulnerable to global uncertainties.
A $500 million revenue shortfall at air delivery service FedEx Express for the quarter ending 31 August came after "global volumes declined as macroeconomic trends significantly worsened later in the quarter, both internationally and in the US", the firm said.
It expects "business conditions to further weaken" in the second quarter and withdrew its 23 June earnings forecast for its 2023 fiscal year, amid "expectations for a continued volatile operating environment".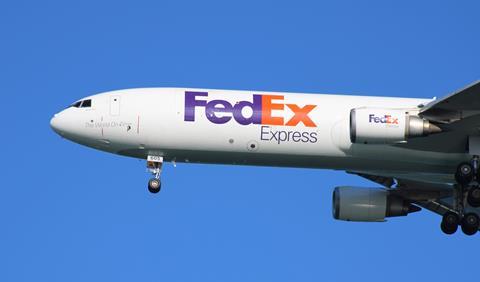 Elsewhere, in a September 2022 air freight update, DHL notes that "volumes remain softened" with inflation "playing a major role in global volume movements [and] reduced purchasing power".
Air freight demand was down 10% year on year in August, it says.
For September, DHL says global air freight capacity is down 9% versus September 2019 and up 16% against last year, as more airlines return bellyhold capacity in particular. This is "ample to support soft demand", it suggests.
DHL further cites "lower sales and high inventory across most sectors" and that "rates show signs of softening on most tradelanes" – even as they remain higher on a year-on-year basis.
At the same time, "improved conditions" in sea freight – struggles with which had helped to boost air cargo demand – were pulling some business away from airlines.
Earlier this month, IATA noted that global air cargo demand has been tracking at close to 2019 levels, but described this as "a step back compared to the extraordinary performance of 2020-2021".
Releasing data for July 2022, the airline association further says that "supply chain constraints and evolving economic conditions have seen cargo markets essentially move sideways since April".
"As is the case for almost all industries, we'll need to carefully watch both economic and political developments over the coming months," it states.
Ultimately, the strong air cargo growth seen at the height of Covid-19 was always unlikely to endure. Concerns of global recession create a danger, however, that the near-term 'normalisation' of markets might not be quite as favourable to airlines as some would have hoped.
Read this newsletter edition for free by signing up to the Airline Business Weekly Briefing