Irfan Setiaputra's Instagram account has the trappings of a social media influencer: plenty of followers, coupled with photos depicting various facets of his life, from work to family.
Setiaputra is the chief executive of Garuda Indonesia, and what interests him is not the number of followers – or what his friends and family post – but what lands in his direct message inbox.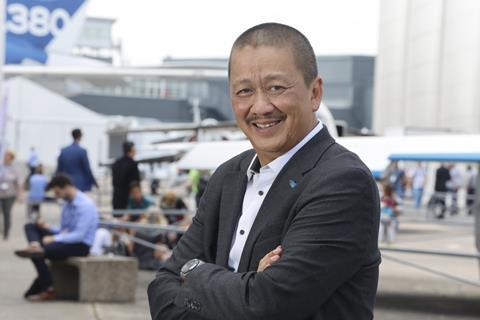 "Everytime I use Instagram, I see what messages I get. If there are any complaints or messages I will make sure it will get settled," says Setiaputra, who was speaking to FlightGlobal at the sidelines of June's Paris air show.
And contrary to what one might believe, Setiaputra readily welcomes complaints – or feedback – from passengers. "It's a good indication…if they complain it means they care about us, they care about Garuda," he says.
Upon receiving the complaints – sometimes on WhatsApp messages too "if they have my contact number" – Setiaputra reviews and forwards them to the relevant departments in the airline.
Indeed, it is all in a day's work for Setiaputra, who took helm of the struggling national carrier in 2020, right before the pandemic hit.
"We have millions of travellers. We should take care of them, because you know, people travel for a reason," he says, when asked why he takes pains to respond to passenger feedback.
"For our creditors, the most important thing [is that we] can make money and pay [them back]…not having the largest aircraft order"
Setiaputra also touts his background as an "outsider" to the aviation sector as a reason for his thinking – and as an advantage – as it "helps me think from the perspective of a flying customer".
He was appointed as airline chief in January 2020, as part of a senior leadership refresh after former chief executive Ari Askhara was unceremoniously dismissed. Setiaputra was the chief executive of the Indonesian unit of telecommunications equipment company Sigfox before entering the aviation sector, and has held leadership positions in technology companies such as LinkNet and Cisco.
At the Paris air show, where this interview took place, Setiaputra is, among other things, on a mission to "show others that Garuda is very much still alive".
The carrier undertook restructuring amid the pandemic, where, among other things, its fleet structure simplified and fleet size was reduced significantly. All of these happened while Setiaputra was at the helm, navigating the national carrier through the pandemic while attempting to turn its dire fortunes around.
PROFITABILITY PRIORITY
Setiaputra does not miss a beat when asked about his key priorities: "We are going to make this company more profitable moving forward."
The airline narrowed its losses in the quarter to 31 March on the back of a significant jump in revenue as markets reopened.
"For our creditors, the most important thing [is that we] can make money and pay [them back]…not having the largest aircraft order," he says, referencing the record aircraft order announced by Indian low-cost operator IndiGo during the air show.
"[We] have to be fair to our creditors…I never promised [them] that we are going to expand [and have a larger fleet]," he says.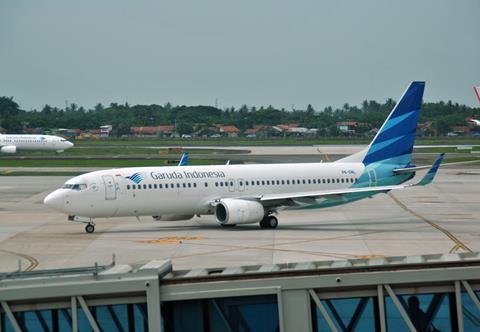 Indeed, it is clear speaking to Setiaputra that he wants the current restructuring to be a success, much like that of his regional competitors.
As he puts it: "We would like to make sure that this is the last restructuring."
One revenue opportunity Setiaputra identifies is from religious pilgrimages: Garuda has been ramping up its focus on flying Muslim pilgrims to the Middle East. The airline, says Setiaputra, has the advantage of flying pilgrims "directly" to the pilgrimage cities, instead of having to stop over in other cities.
"Most of the people who fly to Saudi Arabia, this is their first experience flying, and also going long-haul internationally. Their intention is to go to Saudi Arabia…not to enjoy Istanbul airport or [Singapore's] Changi airport," he adds, referring to stopover pilgrimage flights from its airlines in the region and the Middle East.
FOCUSED ON PASSENGER EXPERIENCES
He says the airline will now prioritise on "areas we have not focused on" in the past few years amid restructuring. These include improvements in passenger experience as well as its loyalty programme.
"We are going to be very focused on the passenger experience…things that make passengers feel that it is worth it for them to pay a higher price to fly with Garuda," he says.
Plans to refresh the airline's cabin products "are ongoing", but Setiaputra has his eye on the bottom line: "The cabin interiors for sure need to be upgraded, we understand that it can look and feel old. [But it] is expensive, but we are not just focusing on inflight, but what's before and after."
He notes that the pre- and post-flight services are an area "where passengers are forgotten by the airline".
"If [the pre-flight experience is bad], however fantastic the food, the cabin service and so on, it doesn't mean anything," he says.
To this end, Garuda is investing "more resources" into pre- and post-flight services, such as launching spa and massage services at its airport lounge in Jakarta.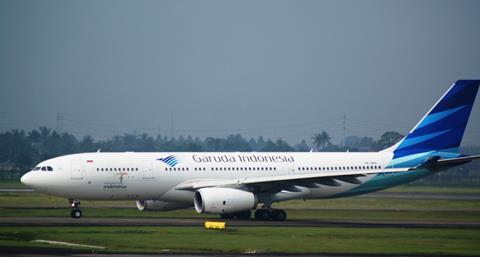 At the same time, Setiaputra is not rushing to ramp up its operating capacity. "I would rather fly to five cities only with five planes daily [all passengers] happy, rather than flying [more] and having so many complaints," he says.
He is aware of the supply chain challenges that are slowing down the airline's ability to bring aircraft back from storage. Garuda has an operational fleet of around 55 jets flying, and hopes to bring that number to 70 jets by the end of the year.
"Lots of Indonesians – even the president [Joko Widodo] himself – have complained we are flying too few aircraft. We are working on this," he says.
Setiaputra is also not too fussed about recapturing lost market share, especially in the face of stiff competition among Indonesian low-cost competitors.
He points to his priorities of profitability and passenger experience, "then maybe later we can talk about market share".
"By gaining market share, you may sacrifice other things, especially on profitability," says Setiaputra.
'BROTHERS' IN PARTNERSHIP
Setiaputra speaks fondly of his Southeast Asian competitors, especially SIA and Malaysia Airlines, calling their respective leaders – Goh Choon Phong and Izham Ismail – his "brothers".
He says the pandemic has "given us a lesson" to focus on partnerships, as he called for "collaboration, rather than competition".
The airline in May announced plans to deepen its partnership with Singapore Airlines, with the ultimate goal of jointly increasing capacity between Singapore and Indonesia.
Under the proposed agreement, both flag carriers could potentially coordinate their schedules on flights between the two countries.
The joint venture, if it gains regulatory approvals, will cover flights between Singapore and Jakarta, Surabaya and Denpasar. This is over and above existing codeshare agreements on each other's networks. Setiaputra says the partnership is "very beneficial" given Indonesia's vast market.
"We should not kill each other…but be friends with each other – [it is] more beneficial for each other," he says.
Perhaps that friendship could all start with Instagram.