Chief executive Celso Ferrer still makes time to fly Gol's 737s as he navigates the low-cost operator out of the Covid-19 crisis and into a new group structure
Celso Ferrer is as comfortable on the flight deck of a Gol Boeing 737 as he is in the airline's boardroom. Not just because he is the carrier's chief executive, but also because he is a pilot – type-rated and current on all versions of the airframe that the company operates.
"I try to fly at least once a week," Ferrer says. "I think I'm probably the only airline CEO who flies as an employee as well."
With 4,500 flight hours in his logbook and 13 years in Gol's cockpits, he is about to upgrade to captain. That is a major career milestone for any professional pilot, but even more impressive as the highest-ranking person at the third-biggest air carrier in Latin America.
Regularly transitioning between the disparate roles of aerial bus driver and top executive has helped Ferrer understand the company better, and it is giving him unique and valuable insights.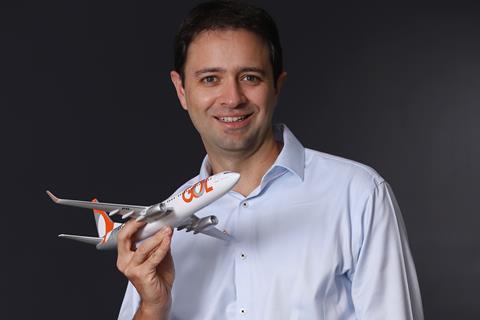 "If I go to the airport just with my badge, [employees] are going to treat me as the CEO," he says. "They are going to try to show me the best side of the airline.
"But if I go there in my pilot uniform, they're going to see me as one of them."
They will complain about the daily grind, as they would to any colleague, he says, or about air traffic control giving them a hard time, or about how terrible the hotel in Rio de Janeiro is.
Ferrer's split roles also come with greater responsibility. He is careful to let crews know whether he is on the clock as chief executive, or there for the safe conduct of a flight.
He tells them: "Today I am one of you. I'm Celso, I'm a pilot and I am here for safety reasons. I'm one of the crew members, so let's follow the procedures. If you want to tell me anything related to my agenda as a CEO, we can talk later."
Customers too, react differently when the chief executive goes incognito.
"If I come and say, 'Hello, I'm the Gol CEO, how can I help you?' the reaction is a certain way. But if I go there as a Gol employee, wearing the pilot uniform and say, 'Hello, welcome to your flight, I'll be your Captain today', the reaction is completely different.
"Being a frontline employee myself is very, very good for me, and it's powerful."
CAREER PROGRESSION
At 39 years old – he turns 40 in December – Ferrer is also one of the youngest airline chief executives. His career at Gol is almost as old as the airline itself. He joined 18 years ago as a trainee in the revenue management department, and has since worked in network planning, fleet planning, corporate planning and financial analysis. Ferrer was vice-president of operations before succeeding longtime Gol chief executive Paulo Kakinoff in July.
His insider knowledge is coupled with a strong educational pedigree. He holds degrees in economics and international relations from universities in his native Brazil, as well as an MBA from French business school Insead.
"I know the Gol culture, I know how things work. But what I have been doing these first 100 days is forcing myself to take a look at the company from the outside," Ferrer says. "We are in post-crisis mode, not yet at business-as-usual. We have a very solid platform, very solid network, very solid customer base, but [we are] flying much less than we used to fly."
At the height of the pandemic, the airline reduced its operations from 800 daily departures to 50. Gol has since returned its operation to about 550 daily flights, and Ferrer is working hard to crack the post-pandemic puzzle.
"How do we bring back the whole network, with all the productivity and the efficiency that we need for this new world? The good news is that we don't need a big change in our business model."
That model rests on simplicity, he says. The company has no desire to change up what it has been doing since 2001 – just to do it better.
"We will continue to have a single-fleet type, high utilisation, lower cost and flexibility on our fleet plan to be able to adapt capacity to demand, and navigate through a very volatile environment."
MAX UPGRADE
Gol is in the process of upgrading its all-Boeing 737 fleet, taking new Max aircraft that stretch its network range. Three Max 8s arrived during the third quarter, bringing the number of Max to 37 – just over a quarter of its 145-strong fleet. It plans to return 18 737NGs by the end of 2022 and will take six more Max 8s in the first quarter of 2023.
The airline has 96 aircraft on order: 66 Max 8s and 30 Max 10s – a variant with an uncertain certification timeline. Boeing recently pushed back the Max 10's expected certification until late 2023 or early 2024.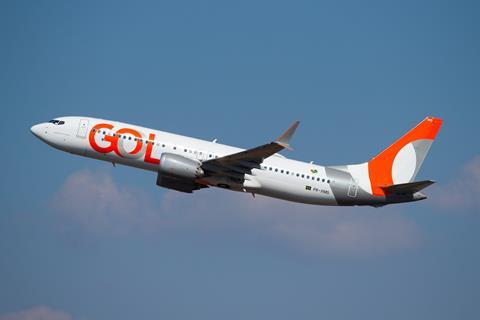 But Ferrer is confident the Max 10's delays will not derail Gol's long-term growth plan, which calls for it to receive the first of the type in 2025. Gol wants to use the aircraft for flights to the country's northeast, a plan that plays into the hands of its long-haul partners.
"Because we are not competing head-to-head with widebody operators, we are one of the best partners for an airline that flies widebodies to Brazil," says Ferrer. He envisions that more passengers, for instance, will fly from Europe or North America to Sao Paulo on partner airlines, then hop on Gol flights to places like the beach destinations of Fortaleza and Recife.
"As a feed for the long-haul carriers, the Max 10 is unbeatable."
He is talking about carriers like American Airlines. In 2021, the US giant invested $200 million in return for 5.2% of the company and a seat on its board.
American sees the deal as strengthening its competitive position in Latin America, which eroded following both a failed joint venture with Chile's LATAM Airlines Group in 2019 and recent competitive incursions by Delta Air Lines. Now, Gol and American are code-sharing and marketing their flights to each other's customers.
"Since the beginning of the recovery, we have been feeding record numbers of passengers to each other," Ferrer says. "[American] is flying widebodies to our main gateways of Rio and Sao Paulo, while we are going to be using the 737 Max to fly to their strong hub in Miami – from Brasilia, Fortaleza and Manaus. So, this is very complementary for both of us."
The daily Brasilia connection is already operating (in addition to daily service between the Brazilian capital and Orlando), with Fortaleza-Miami and Manaus-Miami set to launch imminently.
But Ferrer is not planning on Gol joining American's Oneworld alliance outright, nor SkyTeam, led by Air France-KLM, with which it has also got a close relationship. Gol has found success in going it alone and carefully choosing its partners, he says.
"We have a unique position in Brazil, and we want to leverage this as much as we can, collaborate with strategic partners instead of being part of a big alliance," he adds.
GROUP AMBITIONS
But Latin America is also ripe for consolidation. In May, Gol and Avianca said they planned to join forces under a UK-based holding company called Abra Group, while maintaining their individual brands, teams and cultures. The companies said at the time that the move was designed to create long-term stability for both, and it likely will not be the last such transaction in the region.
"Abra is a new way of consolidation," Ferrer says. "Consolidation in the future will be more through strong partnerships, joint ventures, or the concept of Abra. Abra created a platform where each airline keeps its own business model, extracts the most value with the know-how of having a local brand, a local customer base, very strong frequent flyer programme, and also having the advantages and the scale of a big airline.
"This type of thing can bring, if not the same, almost the same synergies in terms of value that you can capture with a traditional merger [or] acquisition, but without the complexity," he adds.
As the Abra Group awaits government approvals, a thorny fact of post-pandemic life is a marked shift in customer behaviour. Lines between traditional passenger segments have blurred. Corporate travellers, for example – of which about 70% have returned, he says – are no longer buying tickets through traditional travel agents, but rather directly. They may add a leisure component to their trips. They may also no longer be living in the primary metropoles of Rio de Janeiro and Sao Paulo.
"We are trying to understand the demand profile of the new segments, to be able to adapt our network to the new reality," Ferrer says.
Those shifts have kept Ferrer's revenue and network management teams busy.
"We used to have strong peaks on Monday morning and Friday afternoon. Today, Monday is strong all day, then you have a new peak on Tuesday morning. Thursday night is also a new peak, with traffic well distributed all day Friday. This is completely new for our revenue management [department]. Demand is behaving in a completely different way."
Gol is now preparing for the southern hemisphere's summer travel season, which promises to be robust. October's preliminary traffic figures indicate what is to come.
Total capacity, as measured in available seat kilometres (ASKs), in October was 46% above that of the same month in 2021. Total seats and number of departures increased by more than 37% each. Load factor is hovering around 80%.
By the end of 2022, Gol aims to fly "close to pre-pandemic levels" domestically, with international capacity about 20% lower than in 2019. The airline has still not resumed flights to Chile and Peru, while service to the USA is stronger than before, thanks to the Max.
The two daily non-stop connections from Brasilia – to Miami and to Orlando – are, at 3,127nm (5,791km) and 3,283nm, respectively, among the longest Max routes in the world.
DELIVERY DEMANDS
Meanwhile, in recent months, Gol, like its Brazilian peer Azul before it, also discovered the value of transporting cargo across the vast country, where ground-based networks are inadequate or nonexistent. During lockdowns, e-commerce boomed, and customers began to expect their purchased goods to arrive quicker.
Just a few years ago, only a handful of domestic freighter routes were profitable, Ferrer says. That has all changed. He lists at least 20 routes where demand now compels dedicated freighter operations.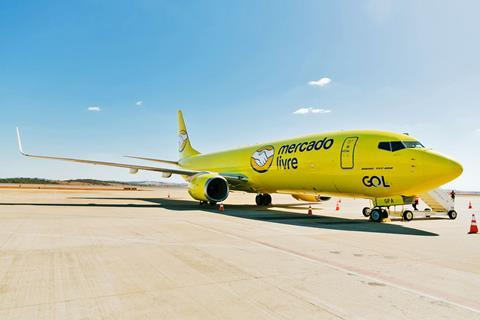 And Gol has found a suitable companion for its Gollog logistics business. In April the airline announced a 10-year deal with Brazilian e-commerce company Mercado Livre – a South American version of Amazon – under which it has started operating two cargo-converted 737-800Fs. They plan to expand to six aircraft, and the deal could include 12 aircraft in total in the next three years.
"We have found a good partner who is big enough to give us the scale, and to avoid any risks in the first implementation of that programme, with the right plane, that will not add complexity to our business," he says.
But even where there is light, problems dating back to before Covid-19 persist, and new ones, over which the airline has little control, make the headwinds in Latin America stronger than elsewhere.
FACING HEADWINDS
Coronavirus uncertainty aside, an impending recession, the highest jet fuel prices in the world, supply-chain issues, rampant inflation, ever-higher taxes and fees, regulatory obstacles as well as currency fluctuations are just some of the concerns.
"Latin America has the largest potential to grow," he says. "But what drives demand is per-capita income. Inflation, as well as foreign exchange volatility, are a big trap."
Customers' purchasing power has declined, leaving all the region's airlines in the same boat. He is counting on his peers not to rock it.
"The airlines that came through the pandemic know there is no room for irrational behaviour, like price wars. That is going to be on our minds – how much we suffered in the last couple of years," Ferrer says.
After his first hundred days, his to-do list for Gol is short and sweet, but his targets are ambitious.
"What keeps me really motivated is to expand the business model across the whole of Latin America, and grow the company using the 737 Max," he says. "Ten years from now, we want Gol to be the airline that revolutionised the Latin American market."
Celso Ferrer, the chief executive, knows that the economic and geopolitical conditions will remain challenging. But Celso Ferrer, the pilot, knows that an aircraft – and perhaps an airline too – climbs best when it is heading into the wind.

Pilar Wolfsteller, Americas Air Transport Editor, is an FAA-certified flight instructor (CFI), and holds a commercial pilot certificate with instrument rating. She joined FlightGlobal in 2019, and is based in Las Vegas. She covers airlines across the hemisphere and her interests also include future-oriented sustainable aviation technology, advanced air mobility projects and pilot training topics. Pilar began her journalism career at the global news agencies Bloomberg and Reuters, and has reported from more than 50 countries.
View full Profile