This week's Paris air show saw the Indian airline market take more steps towards the much-desired maturity that will enable its carriers to capitalise on the country's growth potential, as they dominated proceedings with commitments for more than 1,000 jets.
Indeed, on each of the show's first three days an Indian carrier announced commitments for aircraft – although budget operator Akasa Air's deal on Wednesday for four more Boeing 737 Max 8s was something of a comedown after the bonanza that had preceded it.
The IndiGo deal on Monday was most significant, given it represented hitherto unannounced business, even if rumours of such an order had been spreading for some time.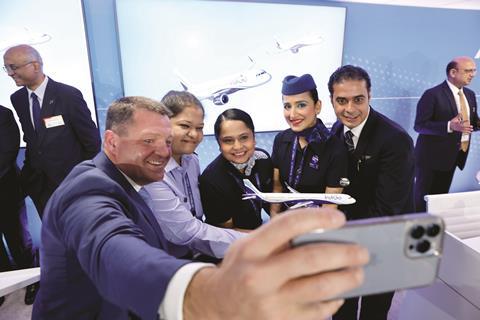 By placing a firm order for 500 Airbus A320neo-family aircraft in the 2030-2035 timeframe, while already having hundreds on order for nearer-term delivery, IndiGo has unrivalled visibility on its growth roadmap in India – a scary thought for any competitors facing off against what is becoming an irresistible force in the country's airline market.
At this stage, India's low-cost crown is very much IndiGo's to lose.
Air India's firming of Airbus and Boeing orders amounting to 470 jets on Tuesday, plus options for 70 more, represented the rubber-stamping of two large deals unveiled earlier this year.
As its transformation continues, Air India can now bank on a wealth of incoming narrowbodies and widebodies to feed its consolidated airline units – once the inevitable delivery delays are taken into account, of course.
The recently privatised flag carrier is at a very different stage of maturity to IndiGo, as it continues to stabilise the foundations on which it hopes to build an airline group worthy of the hype around growing passenger demand in India.
That hype continues to reverberate beyond the airline sector, with barely a day going by without positive coverage of the wider economic potential in India, driven by its young population and burgeoning middle class.
In India's tricky airline market, however, no-one will be taking anything for granted.
Read the newsletter for free every week by signing up to the Airline Business Weekly Briefing