For three decades it has been an article of faith that China is the future of the world's airline and aviation businesses, but trends suggest a darker path is ahead.
Throughout the course of the 2000s and 2010s, China led airliner deliveries on a monthly basis, often taking a quarter of all jets delivered globally, and half of the Asia-Pacific's total share. State-owned Air China, China Eastern Airlines, and China Southern Airlines became true behemoths.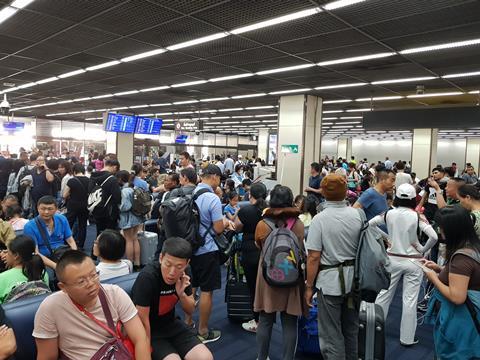 Eager to tap the boom in Chinese tourism demand, airlines in North and Southeast Asia piled on capacity. Legions of Chinese in group tours flooded Thailand's beaches and the shopping districts of Japan and South Korea.
According to Statista 2022, in 2019 there were 154 million outbound overnight tourists from China, triple 2010's number after a decade of relentless growth.
But then the coronavirus pandemic emerged in the Chinese city of Wuhan. Initially Beijing castigated countries for cutting China flights, but as the pandemic went global, travel restrictions choked off most international travel, particularly in Asia. China shut its doors.
For a time, Chinese leader Xi Jinping appeared to have things under control with his tough 'zero-Covid' policy. Wuhan was soon rid of Covid-19, as was China. As the pandemic ravaged the world in 2020 and 2021, the Chinese Communist Party cast itself as a paragon of pandemic leadership.
International travellers to China faced a difficult approval process and tough quarantines. Chinese tourists stayed home. Meanwhile, China's domestic market was the only bright spot for the global airline business.
Airlines operating from countries on China's periphery could only hope that one day the virus in their home countries would be brought under control. Only then would Beijing once again open its vast market.
But as Asia starts opening in earnest thanks to successful vaccination campaigns, the prospects of Chinese traffic joining the party any time soon look vanishingly remote.
Recent months have put paid to the wisdom of the zero-Covid strategy into which Xi has invested so much political capital. As outbreaks of the highly transmissible Omicron variant greatly restrict movement on the Mainland, domestic air travel has collapsed.
The lack of effective vaccines on the Mainland – nationalism precludes Beijing from approving effective western mRNA vaccines – and a vast population with no experience of Covid-19 create a diabolical conundrum.
Should Beijing drop zero-Covid, a public health disaster is all but inevitable, particularly given that large numbers of older Chinese lack even the basic protection of local vaccines. This is a political cost Xi will not countenance. Yet by keeping Chinese cities in lockdown, Xi undermines China's economy and, potentially, its political stability.
Neither situation is conducive to a Chinese air travel rebound of any scale. Indeed, China could well be cut off from the international market for many more months, very possibly years.
Moreover, there are other warning signs. In February Beijing stopped renewing passports for non-essential travel, ostensibly to protect its populace from Covid-19. It is far from clear when this will change.
And even when Chinese international tourism restarts, an increasingly nationalistic Beijing will be more prone to cutting off countries that displease it. In 2017, for example, Beijing effectively banned outbound tourism to South Korea to vent its displeasure about Seoul's deployment of a US anti-missile system in the country.
Where does this leave airlines? China's 'Big Three' airlines at least will survive just fine with the backing and support of Beijing. International carriers, however, will need to make a sober assessment about China's trajectory as the pandemic runs its course. They must also recognise that geopolitical tensions in North Asia have risen, and that a weakening Chinese economy will only exacerbate this.
China will always be a key market, but the golden age of Chinese air travel is over.
Subscribers to the Airline Business newsletter receive the Weekly Briefing first every week. For more information, click here.