Brazilian carrier Gol is already plotting the network and operations as it sees an opportunity for new electric vertical take-off and landing craft to provide a step change in countering Sao Paulo's congested traffic for its passengers
Sao Paulo is the largest and busiest city in Brazil, and the fourth most populous in the world. It's the nation's financial and commercial hub, home to almost 23 million people, and a major drawcard for tourists.
Unsurprisingly, Sao Paulo is also one of the planet's most congested cities. Traffic jams are legendary here, routinely stretching more than 100 kilometres, and up to 200 in rain. If only you could fly above the chaos.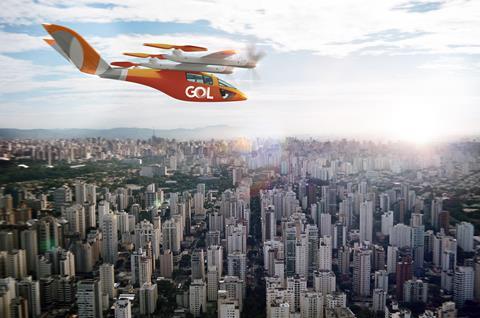 Captain Sergio Quito thinks you can. He is a senior management pilot with Brazil's largest airline, the low-cost carrier Gol, and leader of the project team assembled to explore its introduction of air taxis, or electric vertical takeoff and landing craft (eVTOLs) as they are properly known.
"Sao Paulo is a huge opportunity. The traffic is really crazy," says Quito, a pilot for more than 40 years, almost half of them with Gol, of which he is the former chief operating officer, and now chairman of the Safety Review Board.
He singled out the 35-kilometre transfer between the city's two airports, Guarulhos International and the domestic hub of Congonhas, as a textbook application for eVTOLs in Brazil.
"In peak traffic times," he says, "it takes about two hours to drive. But we should make this journey in less than 10 minutes in an eVTOL."
Gol has partnered with Grupo Comporte, one of Brazil's largest transport companies, to investigate whether and how to introduce air taxi operations across the country. Beyond Sao Paulo, their initial focus, they are also assessing services in iconic Rio de Janeiro, and other yet-to-be-revealed locations in the south of the country which are also frequently choked by traffic.
In 2021 the companies announced a non-binding agreement to buy or lease up to 250 Vertical Aersopace VX4 air taxis from Avolon, the second-largest lessor of commercial airliners, and a long-time supplier to Gol.
By 2026, says Quito, Gol expects to introduce "five to 10" air taxis into commercial service once the aircraft are certificated, the infrastructure is in place, and national regulatory sign-off achieved – all issues to be addressed in coming months when key stakeholders in Brazil's emerging eVTOL ecosystem come together to determine and expedite the next steps.
"We need to start modestly," he says. "We need to understand how feasible it is going to be." But there's more than a hint of confidence, even excitement. "We have built the first draft of our network," he says. "There are 10 lines initially. The first five we are convinced are going to be main markets. The next five are possibilities."
'Possibilities' is a key word in eVTOL-land. It can reflect exciting possibilities (read opportunities) for an all-new segment of air travel. Or it can allude to less certain outcomes (read maybe, maybe not) given the enormity and complexity of building a whole new aviation ecosystem.
AVOLON ENTERS EVTOL MARKET
Two years ago, in its first excursion into zero emission aircraft, Avolon became a founding investor in the VX4's developer, the Bristol-based start-up Vertical Aerospace, along with others including American Airlines, propulsion giant Rolls Royce, and aerospace technology provider Honeywell.
To date, Avolon is also the only major lessor to invest in or commit to so-called novel propulsion aircraft, having also announced orders for 500 of the four-passenger, one-pilot VX4s, all of which have now been provisionally placed with customers, subject to the type's certification, establishment and approval of infrastructure, sourcing and training of pilots, and industrial-scale production of the aircraft.
"We identified Vertical as the right partner to start our exploration of the potential for electric air travel," says Marc Tembleque-Vilalta, head of Avolon-e. "The best way for us to help the business scale up from a concept to a full production OEM was to get involved as a shareholder. This has enabled us to accelerate Vertical's growth, and formed part of Avolon's broader commitment to invest in and support measures to help the aviation sector to decarbonise.
"Our investment has also meant, as a lessor, we have the leading understanding on electric aviation, and are among the first to market and finance this technology for our customers," he says.
"We are proud of the level of engagement our order has generated from the day we announced it. It has transformed the nature of conversations with airline leaders and created interest that wasn't here before."
AIRLINE COMMITMENTS CONTINUE
Gol and Grupo Comporte were among the first to declare an interest in the VX4, along with American, Virgin Atlantic Airways, and others including Avolon customers Japan Airlines, Air Asia, Air Greenland, and Turkey's Freebird Airlines.
The world's third-largest carrier, United, invested through its United Ventures arm in two other eVTOL companies, Archer and Embraer-owned Eve, and announced plans to acquire up to 600 craft, while another Brazilian airline, Azul, partnered with German manufacturer Lilium.
Japan's largest airline, ANA, teamed with Joby, a US-based eVTOL company, to develop air taxi operations by 2025, initially for operation during the Osaka-Kansai World Expo.
"The eVTOL project is of great importance, as it is an opportunity for us to enter an entirely new business domain," says Yuki Horie, chief innovation researcher of the Digital Design Lab at ANA Holdings. "We believe that by making use of our 70 years of experience and knowledge, we can create a new air mobility service and new air taxi market."
Initially, ANA plans to operate point-to-point services in Tokyo and Osaka. "But in the future," saysHorie, "we hope that this new business will become integrated into our airline network as well."
Virgin Atlantic, too, sees opportunities to fly eVTOLs over congested cities in a fraction of the time it would take to travel by road, and is preparing for trials with Vertical Aerospace and other partners as part of a UK-Government funded test programme.
Its initial concept is for transfer flights to and from its bases at London Heathrow and Manchester airports, a plan well validated by a recent study conducted by Inrix, a global consultancy which studies road traffic trends. Of 1,000 cities surveyed in 50 countries, it ranked London the worst for time spent stuck in traffic.
Gol's strategy is arguably the most detailed yet revealed by any of the airlines with air taxi ambitions. Together with Grupo Comporte, it has announced plans to place firm orders for 150 Vertical Aerospace VX4s, with options to for up to 100 more, once it completes a detailed assessment of the concept and the ecosystem it will need.
HOW GOL WILL FLY VX4s
Initially, Gol anticipates that most of its eVTOL services will connect to and from its core air network. Three business segments have been identified - flights between airports in the same city, flights between airports and city centres, and non-airport routes within cities or between significant population centres, which could still link into airport routes.
"The average sector distance on our eVTOL network is 65 kilometres, but it can go as low as 35 kilometres or up to 100, even 110," says Quito. "None of this is a problem as the range of the VX4 is 160 kilometres."
Gol's air taxis would follow schedules and set routes, he says, as "air traffic control could not support point-to-point operations."
The airline anticipates using a mix of existing low-altitude flight paths and new, dedicated eVTOL routes where automated messaging to pilots replaces verbal exchanges with air traffic controllers.
But amidst a global skills shortage, and forecasts that air travel will double in coming years, where on earth will these pilots come from? Quito sees opportunities to draw experienced commercial pilots from helicopter and smaller fixed-wing operations, transition them to eVTOLs, and potentially use this new segment as an added stepping stone to a career in airline flying.
"It's an easy-to-fly aircraft, you learn very quickly," says Quito, who, having logged over 25,000 hours as a pilot on aircraft ranging from commuter planes and business jets to narrowbody and widebody airliners, has just added to his resume a simulator flight of a VX4 air taxi. "Apart from vertical lift off and landing, it shares the same flight principles as any other fixed wing aircraft," he says.
The first eVTOL services Gol is considering are premium transfers, not just to perfect swift, seamless connections for high yield customers, but also to build operating experience and sufficient scale to eventually underpin lower fares. As well as fast flights, the Gol plan also calls for high quality, conveniently located vertiports to help streamline journey and connection times.
Although Sao Paulo is one of the busiest helicopter markets in the world, Quito says fewer than 20 percent of current heliports in the markets being studied are suitable for eVTOLs.
Many are exposed to weather or are difficult to access in high rise buildings, where elevators often stopped below helipad level, requiring passengers to traipse up flights of stairs, sometimes external, to reach their aircraft.
Custom-built facilities would be needed to ensure consistent network-wide standards and high-quality facilities at each end of the eVTOL journey, and expedited transfers between air taxis and conventional flights at airport terminals. The flights would also be accessible via the airline's booking apps or web portals, like any other scheduled operations.
Once aboard their air taxis, Quito says Gol passengers would experience a cabin of comparable size to London's iconic taxis, "very comfortable and huge inside, with the feeling of a business class seat." Initial designs would accommodate four passengers, with the pilot located separately, but multiple configurations eventually could be deployed, depending on the route and requirement.
While Gol's eVTOLs initially would deliver high-end service, they would not be equipped with premium extras such as wi-fi connectivity, as the flights would be short and at low enough altitude "that you could probably use the 5G network."
They would have space for luggage, albeit limited, though if it was too bulky or heavy – highly likely for passengers connecting to or from long haul flights - the airline would consider transporting these items separately, potentially even on another eVTOL. That's because air taxis will be weight-and-range constrained, mainly due to limited battery capacity, though this is likely to improve quickly as technology advances.
CHANCE TO BYPASS CONGESTION
Beyond the scheduled applications it sees for eVTOLs, Quito says Gol is also exploring incremental services, such as high-speed premium transfers between central Rio de Janeiro and its world-famous beaches, bypassing its world-infamous road congestion.
Avolon has also flagged roles including high-end tourism, short-range freight flights, connections to islands and remote locations, and emergency flights such as medical evacuations or urgent transfers of donor organs.
"We are working with our five airline customers through the challenges of operating eVTOLs and are building a global network of partners to support operators build and execute their business plan," says Tembleque-Vilalta. "These partners include regulators, airports, charging providers, aircraft manufacturers, etc. The number of cross-learning opportunities that our global eVTOL platform offers just keeps growing.
"We think eVTOL production rates will be low in the early years, which supports the logic of our first-mover strategy, as we will be able to provide our customers access and capital for zero emissions technology as fast as possible."
And does Avolon see significant long-term growth in eVTOL operations? Or will air taxis be a niche segment of the lessor's global portfolio?
"This remains to be seen," says Tembleque-Vilalta. "Manufacturers first need to demonstrate their ability to certify and produce these products at scale before we can fully assess the potential long-term contribution to our business. We are, however, excited by the prospect, and believe we are best placed among our sector to help stakeholders get exposure to new aviation technologies, be it from a financial or operational perspective."
Quito is also excited about the prospects presented by eVTOL aircraft, not just for Gol, or for its passengers, but for connectivity within Brazil. "We don't want to distract the airline with this new business. But there is lots of movement in the eVTOL space," he says.
"The philosophy at Gol is inclusive. We are a low cost, high-efficiency, low fares company. The idea is to provide accessibility to a big segment of the population," he adds. "For now, we're looking at the premium market for the eVTOL. But I'm already thinking about coach class for six passengers."