As leaders of Europe's airports gathered in Barcelona for their annual general meeting this week, a UK Parliamentary committee on climate change underscored the fundamental challenge the sector faces if it is to continue grow.
Noting that UK airports continue to develop capacity expansion plans, the Climate Change Committee on Wednesday reiterated its recommendation that there "be no net expansion of UK airports" until a wider capacity framework is in place to ensure the sector can achieve the "required pathway for UK aviation emissions".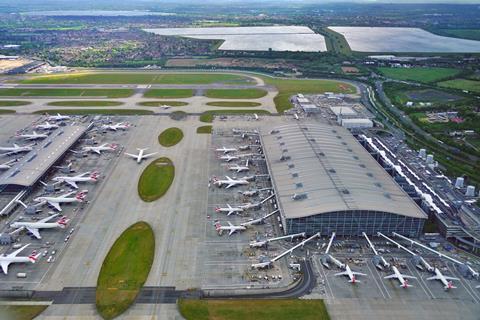 The UK is not alone in making calls to curb air travel growth on environmental grounds, as evidenced by Dutch proposals to reduce flights at Amsterdam Schiphol airport to tackle noise, or the French move to ban, albeit once transfer flights are excluded, a small number of domestic services.
While airlines have been quick to call out the bluntness of such approaches, it is clear airport expansion within Europe is politically difficult. ACI Europe director general Olivier Jankovec believes the industry is at risk from "knee-jerk" reactions from politicians seeking quick ways to accelerate decarbonisation.
"I think we are very vulnerable, as this is linked to inequality and aviation is still considered as, by and large, a transportation mode that is used by people who can afford to travel," he says.
"Because of the inequality dimension of the debate, policy-makers ignore the role aviation plays for the economy and social cohesion."
Airports, like the wider aviation sector, are stepping up their own sustainability initiatives and Jankovec sees a role they can play in the green energy transition. Notably, Paris airports operator Groupe ADP earlier this month announced it is creating an engineering and consulting joint venture with Air Liquide focused on helping airports integrate hydrogen projects.
Diversification becomes more significant given the impact of Covid, which saw airport debt levels soar, and the likely effect on air-travel growth rates from sustainability challenges. This brings more focus on the thorny issue of charges, which airports argue will need to increase to fund future development if lower growth rates come to pass.
This puts them on collision course with airline body IATA, which has been highly critical of some high-profile price hikes.
ACI World director general Luis Felipe de Oliveira though is focusing on the common ground. "We have 85% of our issues in common. We have this common ground that we need to reach this huge target of decarbonisation," he says. "If you focus on this 85% and you continue to discuss this 15% in a different manner, I think it will be much more positive."