A carrier-by-carrier guide to the progress Asia-Pacific airlines continued to make in their recovery from the Covid-19 crisis during the past year and a look at how much further they have to go in 2023.
A year which began with Asia-Pacifc borders only slowly reopening has ended with moves to reopen even some of the most controlled of markets through the pandemic, though operators both within and outside of Asia-Pacific continue to wait on developments in China before full recovery can be contemplated.
Markets within the region began to reopen more confidently as the year unfolded and international passenger travel began to play a role improved Asian airline results, which for much of the pandemic had been almost entirely dependent on domestic markets and in-demand cargo activities.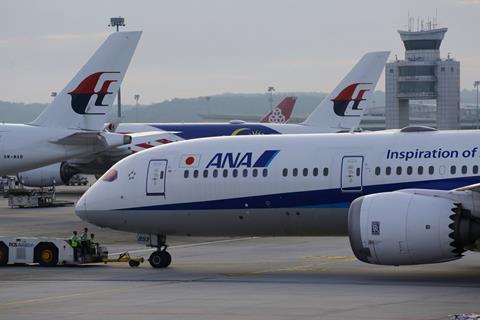 Towards the end of the year the environment improved further as key North Asia markets reopened in October. In December Hong Kong further eased travel restrictions for passengers arriving in the city.
However the region's biggest market, China, has effectively been all but closed to international travel given its adherence until recently to a zero-Covid policy.
As a result IATA data shows Asia-Pacific airline capacity will still be around only half that of 2019 this year and, in its early December outlook, it projected this was likely to remain 25% down on pre-pandemic highs in 2023.
That was based on a "conservative view" of how quickly China eased travel restrictions. Beijing, having abandoned the zero-Covid policy in early December, has since taken a further major step by dropping the quarantine requirement for arriving passengers and other airline restrictions from 8 January, in what is likely to spark a sharp capacity uptick from airlines.
An early re-opening of the Chinese market would provide a welcome boost for the region's carriers, which despite improved fortunes in the third quarter and a strong cargo performance, will lose more than any other region this year in making a collective net loss of $10 billion.
"Asia-Pacific is critically held back by the impact of China's zero-Covid policies on travel and the region's losses are largely skewed by the performance of China's airlines who face the full impact of this policy in both domestic and international markets," IATA says.
AIRASIA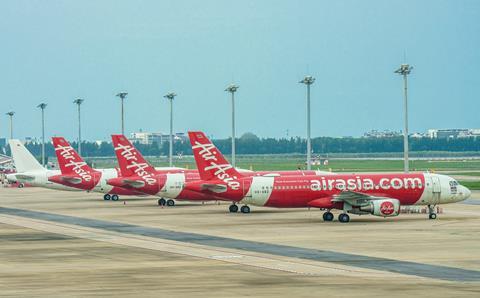 How much did things improve in 2022?
An upswing in travel demand in the region enabled AirAsia Aviation Group back into the black in the third quarter as the group's carriers remained profitable for a second consecutive quarter. The aviation group of Capital A, which has airline units in Malaysia, Thailand, Indonesia and the Philippines, achieved the results despite still only operating around half of pre-pandemic capacity.
AirAsia Aviation ended the quarter with an operational fleet of 103 aircraft, and is targeting to operate 140 aircraft – and at 62% pre-pandemic capacity – by year end.
During the year the Malaysian group also ended its involvement in AirAsia India, selling its stake to majority partner Tata Group, which in turn is merging the operator with Air India Express.
What lies ahead in 2023?
Capital A is set to submit a restructuring plan, under which its aviation interests will come together with separately-owned medium-haul unit AirAsia X. While operating under a consolidated holding company, the units will continue to operate separately. The move forms part of Capital A's efforts to tackle its PN17 status -- a categorisation for distressed stock issued by the Malaysian stock exchange during 2022.
The Malaysian group has never been shy about trying new markets in the region, and Capital A will launch a new airline in Cambodia. The joint venture with local firm Siviai Asia, for which plans for which were unveiled in December, aims to be flying in the second half of 2023.
AIR INDIA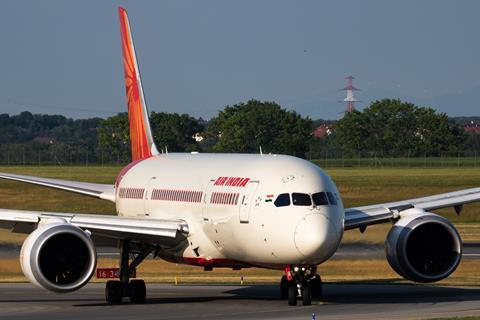 How much did things improve in 2022?
After decades of mismanagement under government ownership, 2022 will be remembered as the year that Air India's fortunes finally turned around.
The year saw India's Tata Group assume full control. They promptly appointed Singapore Airlines veteran Campbell Wilson as chief executive. Wilson has been busy: Air India's Vihaan.AI is transforming the once moribund carrier.
Meanwhile, the long-awaited merging of Tata's airline interests was announced, with Air India to merge with Vistara, and Air India Express with AirAsia India. As part of the latter, Air India acquired the remaining 16% of AirAsia India in November to take full ownership of the airline.
What lies ahead in 2023?
Air India's rebirth will pick up pace and intensity in 2023. Wilson has said that a "historic" order is in the works. Media reports have suggested commitments in the range of 200-500 aircraft.
The process of merging the two low-cost units (expected to be completed by end-2023) will continue, as will integration work related to the pivotal Air India-Vistara merger – owing to SIA's 49% stake in Vistara, the Singapore carrier will own 25.1% of the transformed Indian flag carrier.
Air India will also get to work on a widebody cabin update, with 27 Boeing 787s and 13 777s to receive new seats and a modern inflight entertainment system.
ALL NIPPON AIRWAYS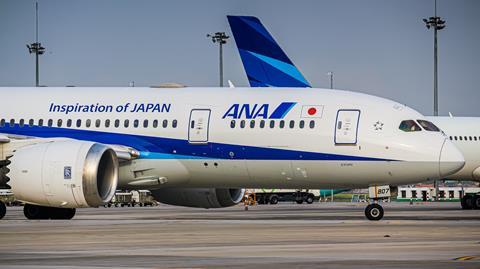 How much did things improve in 2022?
Japan's move to remove remaining Covid international travel restrictions in October provided a further lift to ANA, which had already enjoyed a return to profit in the six months to 30 September.
That was built in recovering traffic demand, which had already seen domestic capacity across ANA and its low-cost unit Peach return to pre-pandemic levels.
The boost in fully opening borders means ANA has upped its ambitions to be operating 60% of 2019 international capacity by March 2023. The carrier is already 90% of its previous North American capacity this winter, having restored its Airbus A380s on the Tokyo Narita-Honolulu route in the summer.
ANA also firmed up a Boeing 737 Max commitment, first made four years ago before the type's grounding, for up to 30 of the narrowbody jets. The aircraft are set for delivery in 2025. The Star Alliance carrier also commited to take a pair of Boeing's new 777-8 freightairs.
What lies ahead in 2023?
After two years of heavy losses, ANA is targeting a return to the black for the year ending 31 March 2023 with an operating profit of Y65 billion ($489 million) and for revenues to surpass pre-pandemic highs at Y1.7 trillion.
ANA is also set to launch its new medium-haul operation, AirJapan, during 2023. The airline outlined plans to launch the new operation in the back-end of its current financial year, though it is still to confirm launch and route details.
CATHAY PACIFIC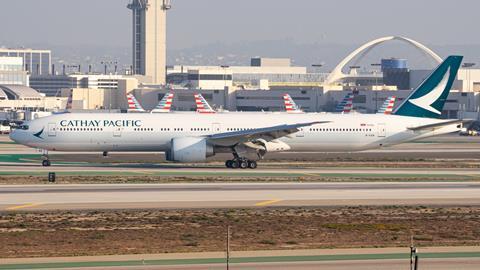 How much did things improve in 2022
While Cathay Pacific closed the year with an upward momentum in passenger traffic, the challenge the Hong Kong carrier has faced amid travel restrictions imposed during the pandemic is underlined by the 527,000 passengers it carried in November, still 80% down on the corresponding month in 2019.
Still the carrier sees continues momentum, not least after further easing in onerous Covid travel restrictions in Hong Kong. It expects to end this year with capacity at roughly a third of pre-pandemic levels
Unsurprisingly, given the restricted travel backdrop, Cathay has already warned of another "substantial loss" in 2022 -- although it does expect to be cash positive for the second half of the year.
What lies ahead in 2023?
Chief commercial officer Ronald Lam is tasked with carrying out Cathay's recovery, as he takes the helm of the Oneworld carrier in January after Augustus Tang stepped down from the role.
A further easing in border restrictions should support Cathay in its efforts to restore capacity to 70% 2019 levels by the end of 2023. That is a stepping stone to restore pre-pandemic capacity by the end of 2024.
Lam has also raised the prospect of a potential order for new medium-haul and cargo aircraft as it bids to return its attention to growth.
CHINA BIG THREE (AIR CHINA, CHINA EASTERN, CHINA SOUTHERN)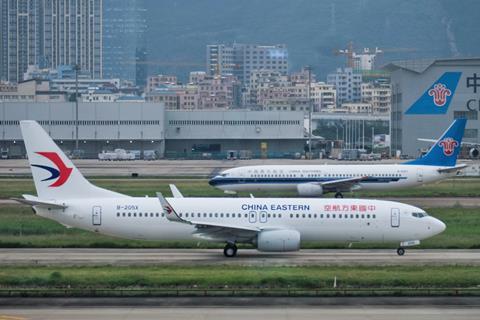 How much did things improve in 2022
China's now-eased 'zero-Covid' strategy threw a spanner in the works for its three largest carriers, thwarting any indication of recovery in both international and domestic networks.
Add to the mix rising fuel costs and a slowing economy, and the 'Big Three' -- comprising Air China, China Eastern Airlines and China Southern Airlines -- bled heavily in their third-quarter earnings.
They plunged to even steeper losses for the three months to 30 September -- their worst showing since the pandemic first started in 2020. Ironically the country's carriers, supported by a large domestic market, had initially been among the airlines to recover the quickest.
China's 'zero-Covid' policy had resulted in onerous quarantine and testing measures for international arrivals, as well as strict flight caps. On the domestic front, the policy meant travel within the country was limited should an outbreak be detected.
In November traffic data, the three carriers also saw sharp declines in passenger numbers, capacity and traffic, against the year-ago period.
Bleak performance notwithstanding, the 'Big Three' made headlines in July when they jointly signed for nearly 300 Airbus A320neo family aircraft, with deliveries set to begin in 2024.
What lies ahead in 2023?
Beijing's decision in late December to lift the requirement to quarantine for arriving passengers and other airline restrictions from 8 January will be welcome relief for China's carriers in the new year, especially for their international network, which is effectively in hibernation.
In a region where airlines are starting to forecast a swing back to profitability, China's major carriers will have some way to go to turn around their steep losses.
On the fleet side, it remains to be seen when and if Chinese carriers will return the Boeing 737 Max to service. As it stands, all three carriers have excluded deliveries of the narrowbody from its fleet plans through 2024, signalling some uncertainty over the fate of the aircraft in what Boeing considers a major market.
China Eastern meanwhile is aiming to put its first Comac C919 jet into service in the spring. The airline, launch customer for the type, is embarking on a test campaign with the aircraft after taking its first of the type in December.
GARUDA INDONESIA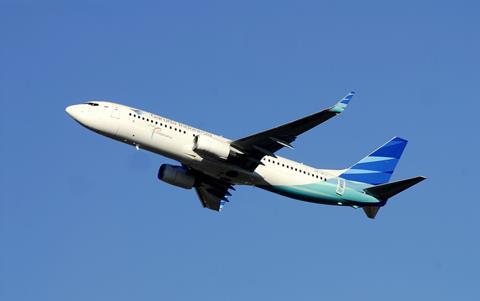 How much did things improve in 2022?
Garuda Indonesia was financially weak going into the coronavirus pandemic, and Covid-19 nearly rendered the death blow. In 2022, on the brink of oblivion, the SkyTeam carrier received a new lease on life via a major restructuring exercise, which is now being executed under the anxious eyes of the Indonesian government.
Lessors and creditors with a certain level of exposure receive bonds, while some creditors also receive equity. The package includes generous loan extensions related to borrowings from Indonesian state-owned enterprises and banks.
Garuda has also secured Rp7.5 trillion ($478 million) in government funds that had been contingent on the execution of its restructuring plan. The funds will go to fleet restoration, maintenance, spare parts, and operating cash.
Staff levels are at 4,000, down from 7,300 before the pandemic, and the Garuda fleet is down 50% to 60 aircraft.
What lies ahead in 2023?
Having secured its financial lifeline, chief executive Irfran Setiaputra will continue rebooting the Garuda, rebuilding its fleet to 70 aircraft by the end of 2023.
Managing costs will be a major focus, with mainline Garuda selling full-service tickets, and low-cost unit Citilink fighting directly with Lion Air and Super Air Jet.
Garuda will also start looking to replace its 737-800s. Garuda had orders for 50 737 Max 8s, and actually took delivery of one example, but has terminated this commitment with Boeing. The US airframer, for its part, still lists Garuda has having 49 unfilled orders for the 737 Max.
INDIGO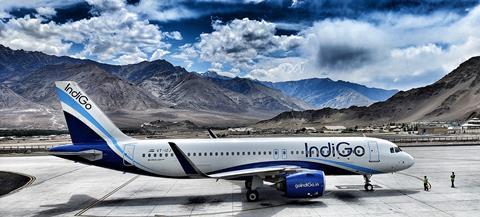 How did things improve in 2022?
IndiGo has seen traffic improve sharply in 2022 along with the rest of India, but a week Indian rupee contributed to a net loss of INR15.8 billion in the three months to 30 September.
Still, IndiGo's results show that India's recovery from the pandemic is well underway, with revenue from operations increasing by 123% year on year to Rs124 billion, while yields rose 21% and load factors rose eight percentage points to 79.2%.
The year also marked a major management change at IndiGo, with former KLM chief Pieter Elbers stepping in to replace Ronojoy Dutta.
At the end of 2022, IndiGo dominates the Indian market, with a market share around 58%.
What lies ahead in 2023?
IndiGo will continue to beef up its domestic and international network but faces similar supply challenges to the rest of the industry.
To add sufficient capacity to meet growth, IndiGo is close to securing approval to operate 777s under a wet lease arrangement. These aircraft will serve on the Delhi-Istanbul route and free up A321neos for other operations.
Strategically, IndiGo will continue to leverage its dominance in the Indian domestic market to provide feed to international flights.
KOREAN AIR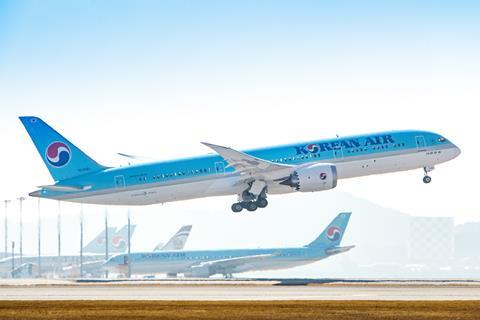 How much did things improve in 2022?
Korean Air was among the few airlines that starred during the coronavirus pandemic owing to its strong cargo operation. Despite the collapse in passenger traffic, cargo provided not only a lifeline to the carrier, but helped it record quarter after quarter of record operating profits.
Passenger activities stepped up as the year progressed, the airline even adding back flights with its Airbus A380s over the summer and in October it began rehiring after a three-year recruitment freeze. Yet third quarter passenger capacity remained at only about half of pre-pandemic levels.
The SkyTeam carrier has also continued to add new aircraft. The airline at the end of November took delivery of the first of 30 Airbus A321neos, having added its first Boeing 737 Max jets in March.
Yet, the salient element of Korean's story in 2022 were its continued efforts to get approval from global regulators for its acquisition of rival Asiana Airlines, a move first announced in 2020.
What lies ahead in 2023?
South Korea is seeing a travel boom owing to the elimination of travel restrictions, which has helped Korean reboot its passenger business. The unavailability of airspace over Russia will complicate Korean's European network. Demand for air cargo could also diminish owing to a weaker global economy, as well as the return of bellyhold capacity in passenger jets.
Korean, boosted after securing regulatory approval of its Asiana acquisition from the Chinese authorities in late December, will press for remaining approvals in key markets such as the European Union, and the USA.
MALAYSIA AIRLINES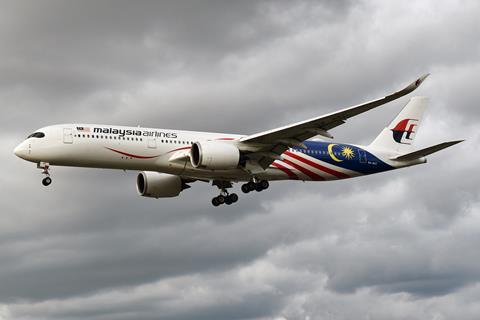 How much did things improve in 2022
The airline has benefited from a reopening of markets in Asia-Pacific, with airline chief Izham Ismail telling FlightGlobal in June that "revenge travel" helped push passenger numbers far higher than the airline's own projections.
As at end-2022, the airline is operating at around 80% pre-pandemic capacity and has rolled out a number of new routes, including to Tokyo Haneda and Yogyakarta.
Malaysia Airlines has had the advantage of going into the year have already completed restructuring, exiting it just as the first signs of travel recovery began appearing. Consequently, the airline's parent, Malaysia Aviation Group, swung to profitability in its 2021 financial results, after eliminating significant amounts of debt and liabilities.
In August, the airline made its first aircraft order since the pandemic began, with an order for 20 Airbus A330neos as part of renewal plans for the medium haul fleet. The new widebodies will replace the existing A330ceo fleet when they enter service in 2024.
What lies ahead in 2023?
The airline will take delivery of its first Boeing 737 Max 8, its first new aircraft type in more than five years. Deliveries of the 737 Max are expected to begin in the second quarter. The airline has 25 Max jets on order to replace its fleet of 737-800s.
Malaysia Airlines is also expected to kick off -- and possibly wrap up -- discussions for an order of 25 more narrowbodies.
On the network front, a gradual reopening of Mainland China should bode well for the airline, especially since Chinese traffic accounted for around 17% of pre-pandemic capacity. However, given that the airline has redeployed capacity across other parts of its network, it will have a delicate job of rebalancing capacity while tapping into a reopened Chinese market.
QANTAS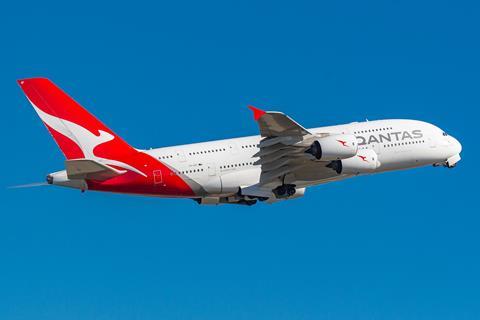 How much did things improve in 2022?
Qantas benefited from Australia's full reopening of international travel in 2022, but the hangover of the coronavirus pandemic lingered on its full-year results to 30 June, when it had an underlying loss before tax of A$1.86 billion ($1.7 billion), slightly worse than a year earlier.
Nonetheless, 2022 saw passenger traffic surge, and chief executive Alan Joyce felt confident enough to order 12 Airbus A350-1000s for its ultra-long-haul Project Sunrise, which will see direct flights from Sydney to New York and London from late 2025.
Qantas's recovery was not all smooth: in mid-year it suffered a public relations crisis owing to lost bags and cancelled flights, prompting a rare moment of contrition from the pugnacious Joyce.
What lies ahead in 2023?
Qantas is optimistic about the new year and is certain to keep adding capacity – a sixth A380 returned to the fleet in December. It also anticipates a return to profitability: in November, it upped its underlying profit forecast for the six months to 31 December.
The new year could also bring more clarity about Qantas's proposed acquisition of Alliance Aviation, in which it already owns 20%. In October, the Australian Competition & Consumer Commission (ACCC) said that it would delay the release of its findings about the deal until March 2023. Approval is not a given: the ACCC has several concerns, such as the reduction of competition for air transport services to regional remote areas in Queensland and Western Australia.
SINGAPORE AIRLINES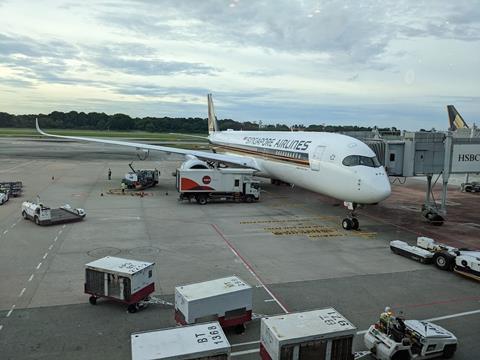 How did things improve in 2022?
Strong financial support from the Singapore government gave SIA a leg up as the world emerged from the pandemic in late 2021 and early 2022. With capacity in place, SIA has fully enjoyed the year's travel recovery. In November, it pegged its capacity at just under 75% of pre-pandemic levels, whereas regional peers at the time had just 40% of pre-pandemic capacity back on-line.
The six months to 30 September saw SIA swing to a record operating profit of S$1.2 billion ($888 million) with revenue tripling to S$8.4 billion.
What lies ahead in 2023?
While SIA and low-cost unit Scoot will continue to restore their networks, in November SIA Group chief executive Goh Choon Phong warned that the road will get harder. Other airlines are adding flights, which will depress yields, and fuel costs remain high, and the globally economy faces challenges.
SIA will continue to watch for a possible reopening of China, which accounted for 10% of SIA's capacity before the pandemic, and an even greater portion for Scoot.
SIA is still committed to its "multi-hub" strategy, which seeks to mitigate the group's reliance on a tiny home market with no domestic network. Notably that will see it continue its partnership with Tata Group, through which it is set to be a 25% shareholder in the enlarged Air India operation.
THAI AIRWAYS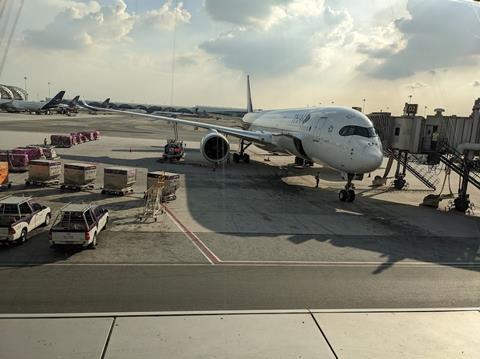 How did things improve in 2022?
After a devastating experience during the pandemic, which includes becoming subject to a major rehabilitation exercise, Thai Airways International is enjoying a strong a recovery in international tourists.
In late November, airline commercial chief Korakot Chatasingha said that the carrier had recovered 60% of its pre-pandemic capacity. A good part of the remaining shortfall is due to China's continued closure.
Anticipating a China reopening, Thai had four widebodies (two A330s and two A350s) on standby for China flights.
Thai's results also show some improvement: for the nine months to 30 September. It more than halved operating losses before one-off items to Bt9.5 billion ($264 million). Revenue rose four-fold to nearly Bt66 billion, led by a sharp increase in passenger travel.
What lies ahead in 2023?
Thai recently came under new leadership, with finance chief Chai Eamsiri stepping up to the chief executive role, to help shepherd the carrier through rehabilitation.
The appointment, effective 1 February 2023, will mark the end of a series of acting airline chiefs since 2020. Eamsiri replaces Suvadhana Sibunruang, who was appointed to the role in June 2021.
Should Thailand passenger growth gain more steam boom, Thai could reinstate some stored A380s in order to add capacity – a move the airline was considering in late 2022.
Key to Thai's fortunes will be a continued rebound in air traffic, potentially aided by the return of the critical Chinese tourism market.
Additional reporting Alfred Chua and Graham Dunn
How far through recovery is airline industry?
1

2

3

Currently reading

How far through recovery are Asia-Pacific airlines?

4

5

6

7