While many international services remained heavily restricted for US carriers until November's easing of travel rules into the country, access to the large domestic market had already helped give the travel recovery momentum.
Indeed as early March, as the vaccination programme picked up pace, signs of a sharp rebound in travel demand were enough to have US airline executives predicting a return to profitable operations by the summer - albeit underpinned by the state payroll assistance scheme.
While the strength of that recovery was curtailed as the Delta variant took hold in late summer, US carriers were able to deliver a profitable third quarter and move closer to pre-pandemic levels of activity.
Such was the strength of the rebound in the US market, IATA projected North American airlines would lose only $5.5 billion in 2021 – a quarter of the losses forecast for European carriers over the same period – and the only region's carriers to be profitable next year. It remains to be seen what impact the Omicron variant may have on these projections.
Canadian carriers faced tougher travel restrictions, until in August the nation once again opened to fully-vaccinated travellers from the USA, and then to further international markets a month later.
In South America, Latin operators have benefited from relatively open borders – notably in Mexico and Brazil. Indeed seat capacity between the US and Mexico was by May already outstripping pre-crisis levels. However in the absence of state support, Latin carriers have in some cases turned to formal restructurings. These processes, notably at Aeromexico, Avianca and LATAM Airlines Group, were nearing completion as 2021 drew to a close.
American Airlines
American Airlines, while expanding its reach through collaboration agreements with JetBlue Airways in the northeast and Alaska Airlines in the northwest USA, has also had to deal with staffing challenges through the year. It cancelled hundreds of flights in June, just as the busy summer holiday travel season was getting underway, and several thousand in late October as weather-related issues created chaos in its tightly synchronized system.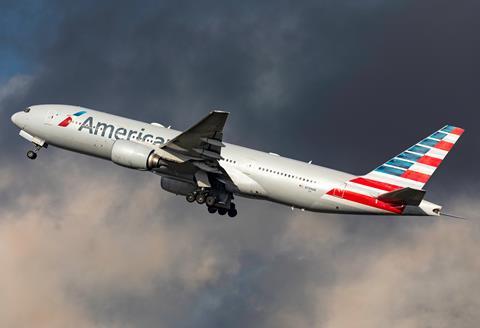 The Oneworld carrier recorded small profits in the second and third quarters, though remained in the red when the US government's pandemic-related payroll assistance is discounted.
The Fort Worth-based carrier said it expects overall fourth-quarter revenue will still be about 20% lower than during the same quarter in pre-pandemic 2019, as capacity will be 11-13% lower.
Fleet
American Airlines was the first US carrier to return the Boeing 737 Max to service after its grounding and Cirium fleets data shows it has 42 of the type now in service.
In December American said it will be forced to cut some international routes in summer 2022 due to the delayed deliveries of Boeing 787 Dreamliners, which are suffering from production issues. The company has 45 in service and another 43 on order, according to Cirium fleets data.
Outlook
The surge of the Delta variant of the coronavirus in the summer, followed by Omicron in the first weeks of the winter, likely delayed a corporate travel rebound by three to six months, management has said. The airline expects that segment's revenue to recover to about 50% of 2019 levels by the end of the year. Leisure revenue is expected to have fully recovered by the end of 2021, due to peak holiday demand.
American will welcome a new chief executive at the end of March: company president Robert Isom will take over as CEO when Doug Parker retires from the post. Parker will remain on the airline's board.
Delta Air Lines
During the third quarter, Delta Air Lines posted its first profitable three-month-period since the beginning of the Coronavirus crisis, and is looking to hit an adjusted pre-tax profit of about $200 million for the fourth quarter of 2021. That though again excludes the US payroll scheme impact.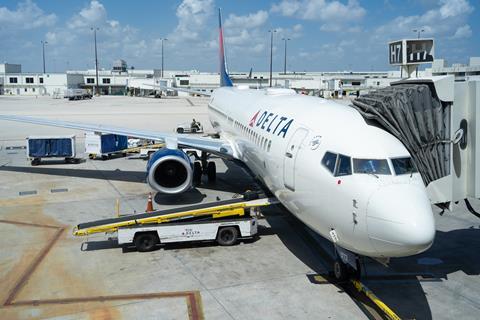 Like its peers, Delta has warned that fuel prices will put pressure on the airline's earnings in the short term.
The SkyTeam carrier has continued to back its various restructuring airline partners, most recently outlining €1.2 billion investments to retain equity in and support Aeromexico, LATAM Airlines Group and Virgin Atlantic.
Fleet
In July, Delta said it would add 29 used Boeing 737-900ERs and seven used A350-900s to its fleet, with delivery expected by the first quarter of 2022. Later in the year, it added two more second-hand Airbus A350s, bringing to 38 the number of "gently used" aircraft the SkyTeam carrier announced it was acquiring in 2021. During the year, Delta finalised the exercise of 55 A321neo options scheduled to deliver between 2022 and 2027.
Outlook
Delta's plans call for "meaningful profitability" in 2022 and it expects to surpass pre-pandemic capacity levels "by 2024".
United Airlines
United Airlines returned to the black in third quarter – though again it remained loss-making after payroll assistance support is excluded.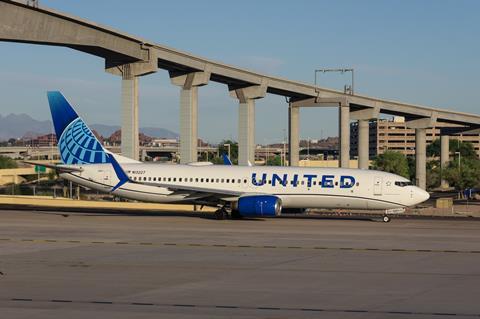 Chief executive officer Scott Kirby has made sustainability a top priority for the airline. Investments in electric aircraft, sustainable aviation fuel and other "green" projects are defining his agenda. The airline was also the first US passenger carrier to require all its US-based staff to be vaccinated against Covid.
The carrier launched its "United Next" strategy, which calls for a fleet transformation by adding and upgrading hundreds of aircraft as well as investing in features like larger overhead bins, seatback entertainment and high-speed wireless connectivity on board. In addition, it has committed to training at least 5,000 pilots by 2030, at least half of those candidates being women and people of colour, to counter the looming pilot shortage.
Fleet
In mid-December Kirby told a Congressional oversight hearing that the airline still had 100 aircraft in storage, as it continues to match capacity with demand. In addition, its 52 777-200 series aircraft remain idle after an engine failure due to a broken fan blade in February grounded the type.
In June the airline placed the biggest aircraft order in its history, looking to take 270 narrowbodies from Boeing (737 Max) and Airbus (A321neo) in the course of the decade. It also announced investments in supersonic aircraft from Boom Aviation, electric vertical take-off and landing craft from Archer Aviation, and small regional jets from Heart Aviation. United has also invested in hybrid-electric engine maker ZeroAvia.
Outlook
United expects 2022 capacity to be up about 5% over 2019 levels, driven by growth in international routes, especially across the Atlantic. That said, the Omicron variant of the coronavirus could delay a full recovery, especially in the corporate travel segment. On the domestic front, United said it was forced to cut numerous routes to and from secondary cities across the midwestern USA due to a critical shortage of cockpit crew.
Southwest Airlines
In 2020, the Dallas-based low-cost carrier lost $3 billion, the first year in its almost five decades of business that it did not turn a profit. The carrier has been aggressive in returning to its pre-pandemic offering, and has gone on a hiring spree. A staffing squeeze coupled with unpredictable weather created bottlenecks throughout the summer and a massive disruption in the early days of the fourth quarter that cost the carrier $75 million.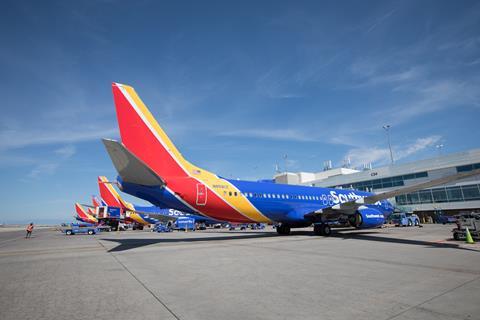 Southwest was able to return to profit in the first quarter - and remained so in the following two quarters. Though this profit was only achieved due to the payroll support scheme, Southwest had limited losses to $135 million by the third quarter.
Fleet
At the end of the third quarter, the leisure-focused airline had 737 aircraft in its all-Boeing 737 fleet, 24 of which were still in storage. The airline plans to retire 30 to 35 older generation 737-700 annually as it ramps up its Boeing 737 Max fleet. The biggest customer for the type now has 69 of the type in service, and expects to add more than 70 in the course of 2022. It has 413 of the -7 and -8 models on order with Boeing, and 238 more options.
By the first quarter, the carrier plans to have 727 aircraft in its operating fleet, with that number rising to 814 by the end of 2022.
Outlook
The airline has said in 2022 it will be focusing "on the basics" as it restores its route network. "Our goal is to be solidly profitable in 2022, including all quarters." It expects to increase capacity to between 3% less and 2% more than 2019 levels.
Southwest will also see a change in top leadership as Bob Jordan takes over as chief executive from Gary Kelly in February.
JetBlue Airways has forged ahead with its northeast alliance with American Airlines, which is designed to strengthen its presence in New York and Boston. The two carriers in December announced an expansion of routes and frequencies from the cities, and plan to offer some 700 daily departures between them, despite a pending lawsuit concerning the alliance. The airlines are now already codesharing on 185 routes.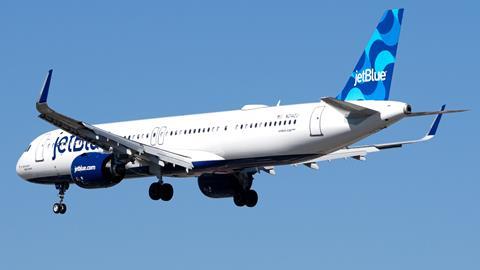 In Augst 2021 the carrier launched its first transatlantic route, from New York JFK Airport to London Heathrow and plans to offer more flights to the UK capital in the coming months from New York and Boston.
JetBlue turned a profit in the second and third quarters, after payroll assistance support is included.
Fleet
The New York-based carrier has taken delivery of three of its A321LR aircraft, which serve the London routes. It expects more deliveries of this type in 2022. JetBlue also holds orders for A321XLRs – an aircraft that can easily connect New York or Boston to the European continent. In addition, it introduced a revamped "Mint" premium product on the aircraft, with lie-flat seats.
Outlook
In October, chief executive Robin Hayes said the airline was "marching towards a full recovery and a return to sustained profitability" but the new Omicron variant of the coronavirus could now disrupt that charge.
The year has been a roller-coaster for Canada's largest carrier. Hamstrung by long-running, strict federal and provincial travel restrictions, Air Canada finally received a package of financial aid from the Canadian government in April 2021. In the third quarter of the year, the airline tripled its revenue from the same three-month period in 2020. However it still lost C$640 million ($497 million).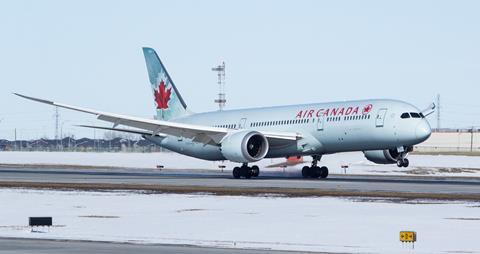 New chief executive Michael Rousseau, who took the helm in February, said in November that he is "very encouraged" by the recovery so far. Omicron though threatens to throw another wrench into the carrier's recovery expectations.
Air Canada in April dropped a plan to acquire Canadian leisure carrier Transat amid conditions set out by European regulators in order to clear the deal.
Fleet
Air Canada plans to end the year with 173 aircraft, up from 169 at the end of 2020, including some temporarily converted Boeing 777-300ERs and Airbus A330s. Those will be returned to passenger configuration by the end of 2022, as the carrier takes five dedicated Boeing 767 freighters by the end of next year.
Outlook
Despite the threat of Omicron, Air Canada remains focused on rebuilding its international network. In October, it said it would be re-instate numerous routes, and introduce seasonal flights between various cities in Canada and Barcelona, Venice, Nice, Manchester, Edinburgh and Reykjavik next summer.
LATAM Airlines Group
LATAM Airlines Group is working through the bankruptcy protection process into which it voluntarily entered in mid-2020 as Covid tore around the world and demand dropped precipitously. It submitted a restructuring plan to a US court and is awaiting its approval.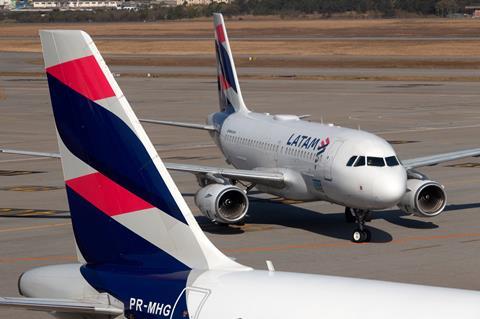 Under its new strategy, the airline is forecasting efficiencies of nearly $900 million per year across the group. The airline has said it will emerge from the Chapter 11 process "more competitive, with a more efficient, simpler, more environmentally friendly fleet and a better travel experience for its passengers".
Fleet
The airline had cut its fleet to 320 aircraft as of the end of September 2021 compared to 340 aircraft prior to the pandemic. It has also renegotiated the group's fleet commitments for the coming years.
Outlook
The Santiago, Chile-based carrier says the domestic market will return 100% of pre-pandemic levels in 2022, while the international demand recovery will lag behind, and is expected in 2024. The group ended 2020 with a net loss of $4.5 billion, and in the first three quarters of 2021, it posted a loss of $1.9 billion. LATAM hopes to return to break-even in 2023.
Azul
Azul was operating almost 1,000 daily flights in January 2020 before the pandemic hit. At the height of the crisis in mid-2020, its daily departures shrank to a low of 70 flights a day. To manage through the crisis, the carrier suspended operations at some bases and renegotiated contracts with partners and suppliers. In addition, its cargo unit saw a surge in growth, as more and more Brazilians began to shop online.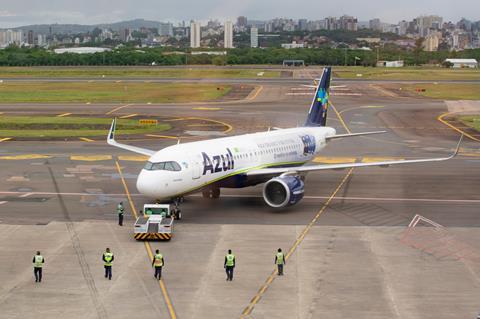 The company says it expects its logistics business to continue to track with the boom in the country's e-commerce industry. Revenue for the year in that segment is expected to be over R$1 billion, double the 2019 figure.
Fleet
Azul is currently flying more than 90% of its fleet capacity. The company has an operating fleet of 162 aircraft, ranging in size from nine-seat Cessna Caravans to widebody Airbus A330s.
Outlook
Azul aims to keep building its schedule through the Southern Hemisphere's summer travel season. As the vaccination rate rises and Brazilians become more comfortable with travelling by air again, the airline expects pent-up demand to drive strong revenues in the coming months.
Domestically, Azul is already at close to pre-pandemic levels, and it anticipates it will be operating at more than 100% of 2019 capacity shortly.
The international recovery will be slower due to an unfavourable currency exchange rate, that makes travel abroad more expensive for Brazilians. The airline currently serves 130 cities and is looking to expand to 200 destinations during 2022.
Additional reporting Graham Dunn