Almost half of ultra-low-cost carrier JetSmart's existence has been within the Covid-19 pandemic, but chief executive Estuardo Ortiz says the Chile-based operator is back on the growth path and hopes to persuade one bus passenger at a time to try its services
Estuardo Ortiz arrived in Santiago, Chile in 2016 with his wife, four kids, their dog and 27 suitcases. His mission: to completely reinvent the way Latin America travels.
The seasoned Avianca manager came to Chile to head up a new Indigo Partners project called JetSmart, the first ultra-low-cost carrier on the continent.
"We wanted to bring something to South America that wasn't here yet," Ortiz says. "Indigo Partners realised there was a big white spot on the world map – a region of almost 500 million people – with very little low-cost-carrier presence, and pretty much no ultra-low-cost carriers."
Legacy airlines operating in Latin America had centralised route maps, connecting countries via capital cities, with out-and-back flights to secondary cities. Prices were high, and airlines seemed to cater to the top few percent.
"We came here to reach out to all 500 million South Americans," Ortiz says. "We believe at least half have never travelled in an airplane. In 2019, there were 268 million trips across the region, so less than 0.6 trips per capita, compared to the US or Europe where that number is three to four.
"So it was a huge opportunity for us," Ortiz says. "I call it a revolution."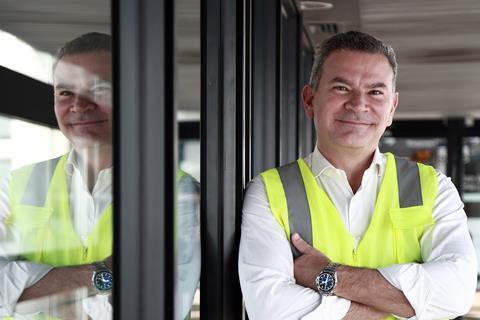 JetSmart adopted the no-frills formula that private equity firm Indigo made wildly successful in other parts of the world. That formula calls for strict adherence to the two most important features of a successful budget airline: high efficiency and strict cost control.
JetSmart was born in Chile in July 2017, with its catchy tagline, "Flying smart is flying more and paying less". That pitch has already convinced 10 million passengers to try it out.
In 2022, the airline is on track to add 5 million more. It's shooting for 100 million passengers by the end of 2028.
"We have this vision of reaching out to every country, to every city in South America, that every South American who wants to travel by air can do it," Ortiz says.
"You can fly in a brand-new Airbus A320 for ultra-low fares, be safe, reliable and on time, book your ticket on the phone, and have a good vibe on board," Ortiz says. "That model has proven to be very successful."
Across the vast continent, the primary means of mass public transportation is still ground-based. Overland buses crisscross the countries on gruelling and treacherous hours-long journeys to far-flung cities on a less-than-perfect highway network. Ortiz is convinced these bus travellers are all future JetSmart passengers. And he's not afraid to go out and get first-hand experience.
CHANGING MINDSETS
"When I started the airline, I decided that if I wanted to bring people from the bus, I should travel in a bus. So, I took a 30-hour bus trip to the north of the country. It was an adventure. But it was also an epiphany."
He stopped in La Serena, a town about 500km from Santiago, and spoke to a fellow traveller. She was on her way to the capital, and rather than taking a more-expensive but faster non-stop bus route, she chose the less-expensive journey, which would take eight hours longer.
"This is our target customer," Ortiz says. "For this lady, time is less important than money. She was able to save $10 by extending her journey. Traditional aviation targets a customer that is the opposite – time is more important than money."
He is adamant that his leadership team internalise this mindset. When new managers join the company, he asks them to travel by public transportation to the city's bus depot, and get to know their potential customers – for whom air travel never was an option because it was simply too expensive. All that changes with the presence of a ULCC.
"When we see the market in South America, we don't see the air travel market, we see the entire transportation market – and that's a big difference," he says. "It's not market share we're looking for, it's market stimulation.
"Instead of celebrating the frequent flyer like other airlines do, we love to celebrate the customers who have never travelled by air before."
Five years ago, when Ortiz set up the company's first office in Santiago, he needed to improvise, and in doing so set the tone for the company's corporate culture. Like every entrepreneur since the beginning of time, he got creative.
"I'm cheap. I went to the home improvement store with my CCO… I wanted to buy a big piece of wood and put it on two sawhorses to make a desk. But a very sharp saleslady said, 'Why do you want to do that? It's expensive, and it's very heavy. Why don't you just use a door?'.
"So we bought two doors, four sawhorses and eight chairs. We had an office."
The only problem, he says, were the splinters. "The doors were rough around the edges and we had to sand them down."
Some potential employees balked at the minimalism.
"It takes a certain profile of people with an adventurous spirit and entrepreneurship in their DNA to like this kind of thing, but the people who like it, they love it," he says. "You have to create a unique experience that is different from the rest of the corporate world to attract top talent."
Despite his initial success in bringing that start-up mentality to Chilean aviation, JetSmart too had to figure out a way to endure the global health scare that threatened the carrier's very existence, two-and-a-half years after its first flight.
TOUGH START
"We've been operating almost five years now. Half of that time we have been in a pandemic," Ortiz says. "To put it into an aviation analogy: we had just taken off, and during our ascent we had to come back and land.
"It was very frustrating."
In January 2020, the airline was operating 17 A320s across the continent. It had recently started operations in Brazil and Colombia, and was planning to launch in Peru. In December 2019, it acquired the operations of Norwegian Air Argentina, intending to take the country by storm after the previous government had eliminated regulatory shackles under which commercial aviation in the country had suffered for years.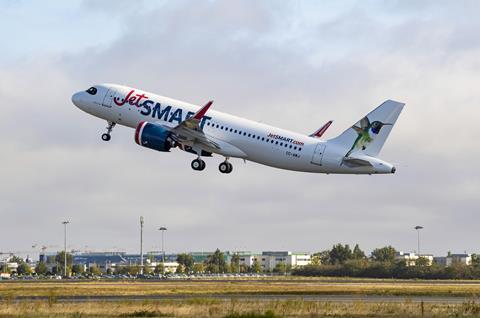 The JetSmart group controlled around 10% of the domestic Argentine market and was the third-largest operator in the country.
All of that came to a screeching halt in March 2020. Like fellow airline executives around the world, Ortiz went into crisis mode.
Much of Latin America locked down – stricter and longer than in other regions – making travel almost impossible to plan, for both passengers and airlines. Financial aid, similar to sector-specific support offered by governments in Europe and the USA, was unavailable. The Latin American aviation industry took a catastrophic hit.
"During the first months of the pandemic, we were deciding from one day to the next what we were going to fly. Twenty-four hours before the scheduled flights we're saying, 'this flight we are going to cancel, this flight we are going to consolidate, this flight is going to move'.
"You need to manage your cash, your costs, your people, and communication with your team. You need to keep them engaged," he says.
Ortiz was exhausted, leading a start-up that was not technically actually in the process of starting up.
"Crisis mode is not sustainable for two-and-a-half years."
He searched for sources of revenue, but the last thing he would do was introduce complexity into an operation that was supposed to be simple.
JetSmart shifted to take advantage of the region's cargo transportation opportunity, stemming from a budding e-commerce boom. It did not store any of its aircraft at the height of the global health crisis, he adds, but pivoted as best it could to transporting freight.
"In January 2021, the passenger business was still minus 70%, but cargo was up 30%," he says. As passengers return, the cargo operation remains an important incremental source of revenue for the airline.
Now, the carrier's all-Airbus fleet is still 17 strong, with 11 aircraft registered to its Chilean operation – two of which are assigned to the group's new Peru unit – and six in Argentina. By 2028, the airline's strategy calls for a fleet of over 100 aircraft. It has ordered 108 jets from the European manufacturer.
JetSmart took delivery of its first 240-seat A321neo in June, which, Ortiz says, is the lowest-cost and lowest-emissions aircraft in Latin America.
HIGH-GROWTH PROJECT
"We are back and growing, and we are going to go full-power take-off," he says, clearly enjoying effectively launching his start-up airline for the second time. "JetSmart was always conceived to be a high-growth project. We've been preparing for this from day one."
The airline currently flies 69 routes, including 13 in the new Peru operation, which began revenue service on 14 June. That's 24% more than in March 2020, with the same number of aircraft. JetSmart is aiming to operate 75 routes by the end of the year. In the first quarter of 2022, it carried 64% more passengers than during the same three-month period in pre-pandemic 2019.
More than one-third of the airline's routes do not go through capitals, underlining its strategy to build point-to-point connectivity between secondary cities.
Ortiz's team is focusing on solidifying the carrier's position in domestic markets in 2022, and he says JetSmart will return to Brazil in the second half of the year. Further international expansion is slated for 2023 and beyond. Flights to North America could be on the horizon when the airline begins taking delivery of the first of 14 Airbus A321XLRs in 2025.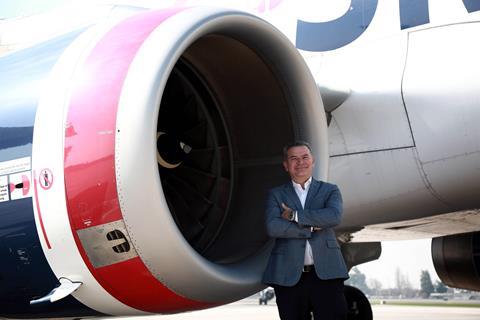 While some may question the comfort of travelling long-haul in a ULCC aircraft, Ortiz has a down-to-earth response.
"If people are willing to sit in a bus for 18 hours, I'm sure they'll be fine sitting in a single-aisle Airbus for eight hours," he says.
But the 51-year-old airline veteran remains clear-eyed about challenges that lie ahead.
"We're not out the woods yet. The pandemic is still around and the region will become more competitive than it was before," he says. "Competitors are restructuring, reducing costs, bringing in new [aircraft]. There is a trend in the region to adopt more LCC practices, so JetSmart needs to make sure we are always the lowest-cost producer. That's our top priority."
Governments are also going to have to play along in this new post-Covid world, he adds, if competition is to thrive in Latin America.
The countries have four important (and familiar) tasks, Ortiz says. They need to lower taxes and fees, deregulate to allow airlines more flexible route planning and to give them the ability to offer a wider range of point-to-point connections, and invest heavily in infrastructure.
SUSTAINABLE ACTION
The continent also lags other regions in meaningful sustainability initiatives.
"We were the first Latin American carrier to operate a flight with sustainable aviation fuel, in January 2021, when we took delivery of an aircraft. We could get SAF at Airbus in Toulouse, but we can't get it here," he says.
In April, Chile's legacy carrier LATAM Airlines Group pledged to use 5% of SAF on all of its flights by 2030, but investment in SAF production have been minimal so far.
Ultimately, as Ortiz builds his ULCC empire from Santiago – leading air-travel-deprived Latin Americans to the refreshing idea of shorter, safer, more-comfortable and affordable long-distance journeys – he knows that JetSmart needs to maintain its unique profile as it grows beyond its current 700 employees and 17 aircraft.
"The magic of JetSmart is in our purpose," he says. "We have always been the underdog – the small, start-up airline. All of our competitors are bigger than us and stronger than we are.
"For me, it's about, how do we get an airline to be a consumer good? How do we make it easy for people, having drinks at a bar on a Friday night, to say, 'Why don't we go somewhere tomorrow?' They pick up their phone, and are one click away, and off they go."