As airline quarterly earnings 'normalise' in the Covid-19 recovery, many large European and US carriers are beginning to quantify how strongly – or not – corporate travel is coming back.
In most cases, predictions at the height of the pandemic of wholesale changes in corporate travel behaviour post-Covid have not come to pass. But there are still differing views on where the market will settle.
One complicating factor is the different metrics airlines use to measure corporate demand. Current high yields mean an airline might reasonably talk about business-travel sales nearing 2019 levels in 2023, despite actual passenger numbers still being significantly down. In the industry's constrained-capacity environment, perhaps this does not matter.
Lufthansa, for example, reported first-quarter corporate performance at 70% of 2019 revenue – but 60% of passengers.
The other big European airline groups also suggested that corporate demand was lagging strong leisure sales, with most working on the assumption that the former will settle at around 80-85% of pre-Covid levels.
But within those figures are different stories depending on the local market. IAG chief executive Luis Gallego pointed out that while Iberia's corporate travel was at around 95% of pre-crisis levels in the first quarter (without specifying the metric), British Airways was at 65%. His view was that this partly reflected different work cultures in Spain versus the UK, with working from home being less common in the former.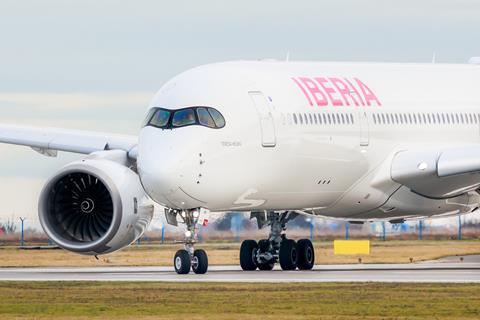 Another complicating factor for European carriers is the still relatively slow recovery of Asia-Pacific markets that would have driven much corporate demand pre-pandemic. Gallego suggests a full recovery to that region is a number of years away.
In the USA, United Airlines – which has a larger domestic market than its European peers – reckons business travel sales will achieve a full recovery towards the middle of year, theoretically making good on chief executive Scott Kirby's predictions at the height of the pandemic that business travel habits would not change – in terms of money spent by corporates, anyway.
Delta, too, reports a strong recovery in business travel, although is one of several carriers to note that fewer journeys are being undertaken by employees of large businesses. Most executives suggest this is as a result of less 'internal' business travel.
Delta's domestic corporate sales were 85% of the 2019 figure and international corporate sales – excluding tickets to China – reached 90% in the first quarter.
In terms of the consequences of any change in passenger mix for airlines, most chief executives seem relaxed, buoyed by the rampant leisure demand across all cabins, which is offsetting lost corporate revenue amid the aforementioned high yields.
Demonstrating the strength of that revenue, Air France-KLM, American Airlines, Delta Air Lines, IAG and United Airlines all reported first-quarter 2023 income above that in the same period in 2019, despite capacity being lower in most cases and the uplift from cargo falling away as that market settles down. Lufthansa was an exception to the revenue outperformance, but its Covid recovery has been marked by a relatively cautious approach to bringing back capacity.
Still, more than one airline mentioned a new seasonality dynamic – for now, at least – where the first quarter is weaker but the summer peaks are stronger against pre-Covid levels, reflecting the outsized importance of corporate travel during the first three months of the year before the pandemic.
The cabin is another area of consideration in terms of the shift in the passenger mix, with British Airways chief executive Sean Doyle highlighting the key role played by the IAG carrier's premium-economy offering when leisure demand is so strong.
One risk factor might be the fragility of such strong leisure demand, although better economic outlooks have alleviated some concerns in that area.
And ultimately, given the dire predictions for corporate travel a couple of years ago, the current outcome is more than acceptable to most chief executives.
Read the newsletter for free every week by signing up to the Airline Business Weekly Briefing