The past decade has been the most profitable in airline history, one in which consolidation has helped the strong grow stronger but seen a host of famous brands depart, and in which the spread of low-cost carriers left almost no market untouched.
While IATA has downgraded its industry outlook for 2019, the airline sector as a whole still capped an unprecedented run of profits by completing a decade in the black.
IATA figures for annual industry net profits - including the $25.9 billion it projects airlines will collectively make in 2019 - show an unbroken decade of profits in 2010. Cumulative profits during this period top $220 billion.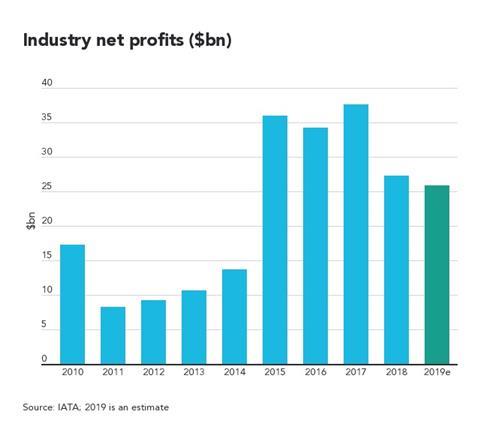 This is in remarkable contrast to the previous decade. During 2000 to 2009, a tumultuous period book-ended by the 9/11 terror attacks and the global financial crisis, airlines turned a profit collectively in just three of the 10 years.
MAJOR AIRLINES LEAD AIRLINE PROFITABILITY
The shift in airline financial performance owes much to a positive economic cycle during the decade. While there have been a number of economic and geopolitical challenges during this decade, such as those impacting Brazil and Russia, globally it has been a recession-free decade.
Arguably, however, it was the major global recession at the end of the previous decade and the actions carriers subsequently took which laid the groundwork for airlines' improved financial performance of the last 10 years.
The decade began with airlines stabilising their financial performance from the major hits taken in the fallout from the financial crisis.
The Airline Business World Airline Rankings – covering the 150 biggest airlines – showed collective operating losses of $15 billion in 2008 and net losses in excess of $30 billion. Nearly two-thirds of that stemmed from North American carriers, with around a third attributable to Asia-Pacific operators. By the end of 2009 the same rankings showed leading carriers had crept into profit but remained in the red at a net level.
Airlines returned comfortably to the black in the 2010/11 financial year – which was to start an unprecedented run of profitability.
The industry has recorded a collective profit every year since. While profits peaked at record high levels during the middle years of the decade, they have remained relatively high even as pressures increased. The World Airline Rankings showed the 100 biggest airline group posted collective operating profits of almost $50 billion in 2018.
And though profits levels will have fallen in 2019 as air travel demand has softened, the industry remains by its historical standards, in pretty profitable shape.
In 2018, 17 airline groups recorded operating profits in excess of $1 billion – with the majority of these on track to do again in 2019.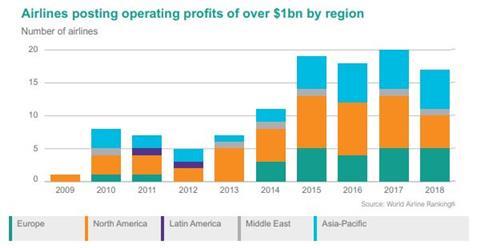 That compares with just one operator – freight company FedEx Express - which posted an operating in excess of $1 billion in 2009. Indeed only one of the 10 biggest airlines in 2009 made it into the black that year.
US carriers have led industry profitability. This was evident again in 2018 when five of the 10 most profitable airline groups were from North America. The turnaround in US carrier profitability across the decade was perhaps most evident when in 2016 Warren Buffett's Berkshire Hathaway holding company took stakes in the three US majors. Buffett had famously stayed away from investing in airlines after writing down a $358 million investment in USAir Group in 1989.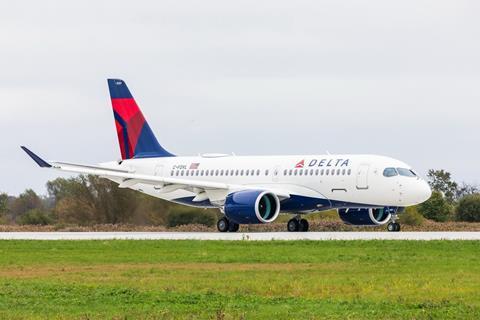 Delta Air Lines, the most profitable airline group of the past decade, has alone amassed almost $30 billion in net profits over the first nine years of this decade - with another strong profit set to follow for 2019.
OIL PRICE FUELS PROFITS JUMP
The particularly strong airline profits - and passenger traffic demand - over the second half of the last decade for airlines in part reflects a period of lower fuel costs.
Airlines had grown used to operating within an environment where oil prices were well over the $100 per barrel level. These higher costs were only partially offset by fuel surcharges the airlines implemented to mitigate the higher fuel costs. Airlines, particularly struggling network carriers, were forced to adopt a more watchful approach to capacity and accelerated fleet renewal plans to remove their least fuel-efficient aircraft to counter higher fuel costs.
But a surprise and unprecedented drop in fuel prices over the second half of 2014 brought much-needed relief to airlines, instantly for those carriers with little fuel hedging in place.
Oil prices dipped further, reaching their lowest level for more than decade in early 2016. While prices subsequently recovered, they have remained relatively stable since. The barrel price of crude oil has largely settled in a range between $50-70 over the last three years.
IATA expects the global airline fuel bill will be around $188 billion in 2019, accounting for 23.7% of average operating costs. In 2013, prior to the decline in oil prices, the industry fuel bill stood at $211 billion. That higher fuel bill is even with the lower amount of flight capacity at the time.
AIRLINES KEEP LIFTING CAPACITY
Not unsurprisingly given the relatively benign economic backdrop of the decade, the last 10 years has seen global airline capacity on the rise every year.
Cirium schedules data shows for the past period between December 2009 and December 2019 compound annual growth rates for airline seat capacity of 5% and ASK capacity of 5.8%. Airline capacity in terms of flights has been lifted 3%. The higher rates of seat and ASK capacity growth reflect a move to larger aircraft types or higher-density configurations, as well as longer sector lengths.
Airline capacity development: 2010-19
Year
Flights
Change %
Seats
Change %
ASKs
Change %
Source: Cirium schedules data, change figures are year-on-year
2010
29,665,145
3.6
3,713,095,247
5.1
6,286,149,247,329
6.1
2011
30,647,023
3.3
3,900,097,200
5.0
6,697,675,827,943
6.5
2012
30,956,373
1.0
4,028,877,239
3.3
6,941,059,505,572
3.6
2013
31,625,980
2.2
4,219,916,883
4.7
7,308,190,230,470
5.3
2014
32,376,481
2.4
4,423,342,208
4.8
7,760,463,389,416
6.2
2015
33,391,345
3.1
4,666,709,255
5.5
8,254,448,119,180
6.4
2016
34,740,387
4.0
4,947,168,643
6.0
8,815,257,193,414
6.8
2017
36,002,124
3.6
5,233,183,409
5.8
9,411,156,994,849
6.8
2018
37,614,222
4.5
5,552,700,971
6.1
10,073,289,814,537
7.0
2019
38,289,970
1.8
5,729,369,617
3.2
10,437,516,947,726
3.6
TOTAL
33.7
62.2
76.2
Airline capacity rose at its quickest rate over the second half of the decade as fuel prices relented. ASK capacity growth peaking at 7% in 2018. Crucially airlines have done a good job of filling that additional capacity. IATA figures show passenger load factors steadily rising across the decade, topping 82% in 2019.
However airlines have eased back on the capacity throttle this year. Seat capacity has been increased 3.2% - the slowest rate of annual growth across the decade – while ASK capacity growth of 3.6% matches that of 2012, the only other year of sub-5% growth by that metric.
It means global airline ASK capacity stands some 75% higher in December 2019 than it did in the same month in 2009. Airline seat capacity 62% higher and there are roughly a third more flights than in December 2009.
CAPACITY DOUBLES ON ASIA-PACIFIC ROUTES
As the decade began airline capacity was pretty evenly spread across the three biggest regions. Airline seat capacity on services within, to and from North America stood at just over 1.15 billion across 2009 – and capacity on routes to Asia Pacific just below that level. Seat capacity on services touching Europe was 1.08 billion.
Over the decade though airline expansion in Asia means it is by far the biggest region as 2019 draws to a close. Airlines have doubled seat capacity on services to and within Asia-Pacific, Cirium schedules data showing seat capacity of 2.36 billion for the 12 months ending December 2019.
Notably growth on services touching China increased by 150% - at an annual compound growth rate of just shy of 10%.
Airline seat capacity development by region: 2010-19
Year
Asia-Pacific
Europe
North America
Africa
Middle East
Latin America
SourceL Cirium schedules data, figures cover full-year seat capacity for all routes to, from and within each region
2009
1,149,364,543
1,076,233,229
1,151,600,434
146,231,692
187,810,212
336,686,320
2010
1,236,760,393
1,128,054,445
1,154,659,021
159,219,847
209,361,132
368,70,8011
2011
1,339,313,651
1,174,022,432
1,171,505,151
160,903,345
226,169,763
402,326,555
2012
1,449,754,024
1,184,085,985
1,172,107,971
163,210,118
237,772,716
419,782,907
2013
1,583,151,539
1,214,745,101
1,187,470,951
171,646,185
259,528,733
436,910,884
2014
1,696,097,886
1,271,267,818
1,216,900,046
180,408,942
284,756,024
455,268,031
2015
1,814,513,491
1,338,141,646
1,268,968,577
187,102,917
316,124,365
472106040
2016
1,964,069,975
1,407,551,095
1,329,640,363
187,177,940
354,631,191
479,022,265
2017
2,127,048,090
1,489,553,485
1,383,478,225
195,030,754
373,963,011
489,527,482
2018
2,285,752,148
1,588,956,594
1,446,315,782
206,653,862
391,031,056
513,020,482
2019
2,360,624,566
1,638,949,702
1,493,451,950
220,657,599
393,680,643
533,725,860
Change vs FY 2009
105%
52%
30%
51%
110%
59%
By contrast airline seat capacity on routes within, to and from North America rose just under 30% to 1.5 billion. Notably capacity in terms of flights is almost unchanged across 2019 compared with 2009.
Whilst both these capacity elements are in part impacted by the grounding of the Boeing 737 Max for much of this year, it also illustrates the extent to which consolidation has led development of the US sector – rather than capacity expansion as a whole. That more restrained capacity growth has contributed to the stronger profit performance of US carriers over that period.
Airlines increased by a little over half their seat capacity on Europe services during the decade, making it the second largest region at 1.64 billion seats.
Seat capacity routes touching the Middle East more than doubled over the decade. That was driven by rapid expansion over the first seven years of the decade – at an average annual growth rate of 9.5%.
But that roughly halved in 2017 and 2018 as the big Gulf carriers began moderating growth for a variety of internal and external reasons, and seat capacity on Middle East routes will be increased only fractionally in 2019 compared with the previous year.
MERGERS AND COLLAPSES SHAPE INDUSTRY
Seven of the 100 biggest airlines by passenger number in 2009 have ceased operations during the last decade, including two casualties this year after the grounding in April of India's Jet Airways and UK leisure Thomas Cook Airlines..
They join the likes of Indian carrier Kingfisher, Mexicana, Spanair, UK charter carrier Monarch Airlines and Air Berlin in ceasing operations – though attempts to revive Jet continue.
Other established brands disappeared through mergers and acquisitions, most notably in the USA where Continental Airlines and US Airways merged with United Airlines and American Airlines respectively. That followed Delta's merger with Northwest Airlines at the end of the previous decade.
Consolidation in the US sector was not restricted to the majors, as both Southwest Airlines and Virgin America got in on the act through the acquisition of AirTran Airways and Virgin America respectively.
20 biggest airline groups 2009 by revenue in US$
2009
Airline/Group
Country
$ million
Source: Airline Business World Airline Rankings
1
Lufthansa Group
Germany
31,013
2
Air France-KLM Group
France
29,664
3
Delta Air Lines
United States
28,063
4
FedEx
United States
21,555
5
AMR Corporation
United States
19,917
6
Japan Airlines Corporation
Japan
16,421
7
United Airlines
United States
16,335
8
ANA Group
Japan
13,282
9
British Airways
United Kingdom
12,784
10
Continental Airlines
United States
12,586
11
Emirates
United Arab Emirates
11,565
12
Qantas
Australia
10,669
13
US Airways
United States
10,458
14
Southwest Airlines
United States
10,350
15
Singapore Airlines Group
Singapore
8,940
16
Cathay Pacific
China, Hong Kong
8,641
17
Air Canada
Canada
8,582
18
China Southern Airlines
China
8,022
19
Air China
China
7,523
20
Korean Air
South Korea
7,384
While brands in the US market have been lost through the consolidation, in the rest of the world names and operations have largely remained intact even where acquisitions have taken place. In Europe the major groups have largely operated different brands within group structures – in part due to the complexity around retaining bilateral traffic rights.
Of the major European groups Lufthansa and IAG have both expanded through acquisition. Indeed IAG, which was formally created in 2011 with Willie Walsh's famous list of a dozen potential acquisition targets, has further expanded in 2019 through a deal for Air Europa.
Gulf carriers Emirates, Etihad Airways and Qatar Airways have been among the fastest expanding carriers during this period. The largest of these, Emirates, has more than trebled its revenues since 2009.
10 biggest airline groups 2018 by revenue in US$
2018
Airline/Group
Country
2018
Source: Airline Business World Airline Rankings
1
American Airlines Group
United States
44,541
2
Delta Air Lines
United States
44,438
3
Lufthansa Group
Germany
42,182
Lufthansa (network)
Germany
26,736
Swiss
Switzerland
5,423
Lufthansa Cargo
Germany
3,193
Eurowings
Germany
4,978
Austrian
Austria
2,563
4
United Continental Holdings
United States
41,303
5
FedEx
United States
37,331
6
Air France-KLM Group
France
31,204
Air France
France
18,915
KLM
Netherlands
12,892
7
Emirates Group
United Arab Emirates
29,746
Emirates Airline
United Arab Emirates
26,656
8
International Airlines Group ( IAG )
United Kingdom
28,721
British Airways
United Kingdom
17,296
Iberia
Spain
6,098
Vueling Airlines
Spain
2,822
Aer Lingus
Ireland
2,377
9
Southwest Airlines
United States
21,965
10
China Southern Air Holding
China
21,636
Xiamen Airlines
China
4,553
LOW-COST CARRIERS DRIVE INTO THE MAINSTREAM
Passenger numbers for the leading 100 carriers topped 3.8 billion in 2018 and, even while traffic growth slowed this year, are likely to end the decade at around the 4 billion mark. That will be around double the 2.1 billion the leading 100 operators flew in 2009, the World Airline Rankings shows..
That growth has been driven in part by price stimulation, aided by lower fuel costs,and enabled aggressive capacity expansion in particular markets as budget brands piled the pressure on struggling network carriers.
That strategy has also seen low-cost carriers make increasing plays for business traffic. As a result this is a decade where many low-cost carriers have grown more sophisticated in their product offerings and encroached into primary airports previously considered the domain of nework carriers. This was perhaps best typified by the previously unthinkable arrival of Ryanair at Lufthansa's Frankfurt fortress in 2017.
The rapid spread of low-cost carriers in turn has prompted price competition – and more sophisticated in-house lower fare units or product offerings – from network carrier groups.
The World Airline Rankings show that 17 of the 100 biggest carrier by passenger numbers in 2009 were low-cost operators. In 2018 there were 17 budget brands appearing among the top 50 biggest airlines alone and four carriers – Southwest Airlines, Ryanair, EasyJet and IndiGo – featured among the top 10.
Indeed, IndiGo and the Indian market in which it operates, provide the clearest example of the impact of the low-cost carriers and epitomises the battles struggling network carriers have faced.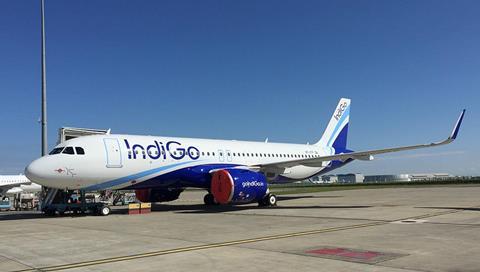 At the end of 2009 IndiGo carried just over 6 million passengers. That had increased ten-fold by the end of 2018 to more than 61 million. A further sharp rise will follow for 2019 as the airline has further accelerated capacity to capitalise on the grounding of Jet Airways.
The sharp expansion at IndiGo, together with the revival at SpiceJet and emergence of budget operators like AirAsia India, GoAir and Vistara, is set against the collapse of first Kingfisher and then Jet Airways, as well as the continued failure to find buyers for debt-burdened national carrier Air India. As a result low-cost carriers now account for well over half of all seat capacity on Indian routes, Cirium schedules data shows.
Biggest carriers by seat capacity on Indian routes: Dec 2019 vs Dec 2009
Airline
Seats Dec 2019
Share
Airline
Seats Dec 2009
Share
Source: Cirium schedules data
IndiGo
8,166,906
35.8%
Air India
2,065,825
21.7%
Air India
3,137,437
13.8%
Jet Airways
1,936,616
20.3%
SpiceJet
2,793,177
12.3%
Kingfisher Airlines
1,077,238
11.3%
GoAir
1,638,768
7.2%
IndiGo
844,920
8.9%
Air Asia (India)
1,115,820
4.9%
SpiceJet
748,818
7.9%
Vistara
1,035,874
4.5%
Emirates
469,270
4.9%
Emirates
582,998
2.6%
GoAir
247,787
2.6%
Etihad Airways
271,958
1.2%
Air Arabia
150,822
1.6%
Alliance Air
250,886
1.1%
Thai Airways
144,711
1.5%
Oman Air
225,358
1.0%
Lufthansa
116,706
1.2%
TOTAL
22,799,330
100.0%
TOTAL
9,528,299
100.0%
LONG-HAUL LOW-COST STILL TO TAKE HOLD
But it has not all been easy low-cost carriers, particularly in driving a new frontier in the long-haul sector. If efforts to establish an all-business model across the Atlantic foundered in the financial crisis at the end of the previous decades, the jury remains out on the success of efforts over recent years to build a market at the other end of the price-spectrum.
These new models were largely built around efficiencies provided by new aircraft types, particularly the Boeing 787 Dreamliner and the re-engined narrowbodies from Airbus and Boeing. The latter types opened up a range of lower-density route pairings from western Europe to the east coast of the USA.
The model has been embraced by a number of operators. But the fall of Icelandic carrier Wow Air at the start of this year and the recent network overhaul of the poster-child for the model, Norwegian, illustrate challenges remain.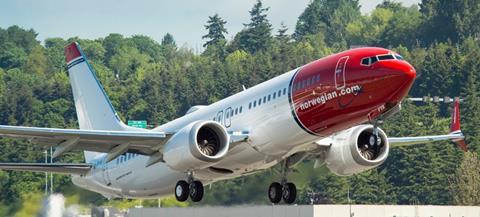 In some cases, such as attempts to connect Europe to Asia, links have largely proved short-lived. Meanwhile moves to connect secondary airports on either side of the Atlantic, rather like the grounded Boeing 737 Max that was to drive their feasibility, have been clipped amid a number of network cuts.
As with the re-entry into service of the Max, the early part of the next decade is likely to be central to showing the size and sustainability of the long-haul low-cost market.

Based in London, Graham has been with FlightGlobal for over 20 years predominantly working across its online news platforms and Airline Business. With a focus on developments across the airline industry as a whole, and within Europe in particular, Graham has also edited FlightGlobal daily papers from events such as the IATA AGM, moderates industry panels and co-presents the Airline Business podcast.