As the industry powers out of the Covid-19 crisis, Willie Walsh is working to ensure all stakeholders do their part
A significant proportion of Willie Walsh's time at the helm of IATA has been dominated by anything but a straightforward industry narrative.
Walsh succeeded Alexandre de Juniac in April 2021, as most airlines were emerging from the depths of the pandemic, with travel restrictions still largely in force and huge ground to make up on the sector's 2019 performance.
After a much more optimistic IATA AGM gathering in 2022, however, things are looking markedly better still for this year's event, which takes place in Istanbul on 4-6 June, notably since China's reopening at the turn of the year.
"I think we're in a good place," he tells Airline Business on the eve of the AGM. "We're clearly recovering strongly."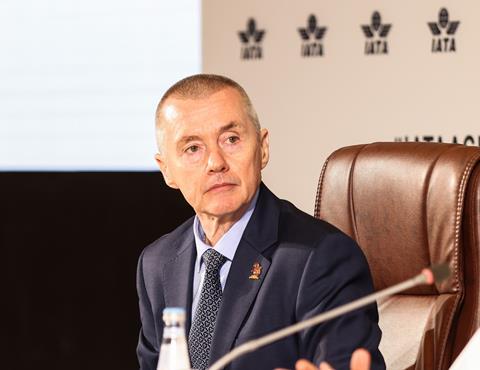 Crucially, it has become apparent that Walsh may have been correct when, at last year's AGM in Doha, he characterised the industry's long list of headwinds as "business as usual" concerns, even if the sheer number of factors combining at once was unusual. The strong financial performances of many carriers in recent quarters is testament to that.
And Walsh insists he is not hearing any concerns about weakness in passenger demand, "even in this period where people might have expected that pent-up demand to flow through".
So has the industry fully regained it's pre-Covid momentum? Not quite, Walsh says; there is still work to do, even if the airline narrative is beginning to look much more like its pre-Covid one.
"If you look at the traffic figures at the end of March, we were at 88% of where we were in 2019," he states. Within that figure, domestic markets were effectively back to 2019 levels and international markets were at around 82% of pre-Covid traffic, IATA analysis shows.
"We expect that to recover more strongly as we go through the rest of the year," Walsh says of international traffic, citing China's reopening as a "pleasant surprise for us".
But there are factors that mean the recovery is not quite a strong as it could have been.
RECOVERY PACE
"The closure of Russian airspace to European, some Asian and US carriers will have an impact on the pace of the recovery," Walsh states. Citing USA-China markets, he adds: "It's clearly way behind where it was in 2019 and I don't see that changing significantly."
Walsh also expects the traffic recovery in China to "lag the shape of recovery we've seen in other parts of the world", partly thanks to the piecemeal way it has removed restrictions since the turn of the year. "Most of [the restrictions are] gone now, so it will gather momentum," he says.
But airlines globally are also being more cautious about adding capacity back this year, thanks to the the supply-chain issues that are weighing on aircraft availability in many markets.
"There was an expectation that we would begin to see some improvement as we go through this year, but we're not seeing it," Walsh says of widespread delays to the delivery of new aircraft. "I think there's little confidence in the industry now when it comes to the OEMs declaring when the aircraft will be delivered."
Combined with aircraft maintenance often taking longer than expected, airlines will be taking the capacity limitations into account when scheduling and planning "into next year", Walsh says. "I don't hear much confidence being expressed by airlines about the issues being resolved… There is a lot of frustration in that area, a lot of disappointment at the OEMs," he says.
That plays into the pace at which the industry will recover, Walsh says. "You would have expected us to be slightly ahead of where we are if you were just looking at the demand side, but we are seeing supply-side issues."
OPERATIONAL IMPROVEMENTS
On the topic of capacity constraints, a key talking point at last year's AGM were the high-profile operational challenges in a number markets, with airports often the target of criticism.
Walsh believes many of those issues have been resolved as the industry heads into this year's northern hemisphere summer, but warns that another factor is causing significant worry among airline leaders.
"ANSPs in particular are an area of concern," he states. "There have been well-documented air traffic control shortages in the US, which has led already to capacity being constrained in the eastern seaboard in particular. We are not seeing any evidence of that being recovered or repaired very quickly."
Europe is also facing ATC challenges. "We are seeing ATC delays across Europe that are disappointing at this stage of the year," Walsh says. "It doesn't augur well for peak summer."
French air traffic controller strikes are a particular worry, "not just because that impacts on France and overflying France, but because it impacts on all the regions around France because of the additional workload that it places on ANSPs in the countries surrounding France".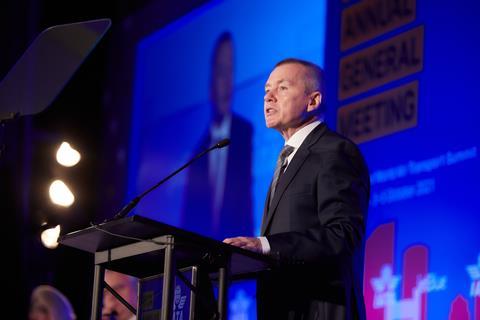 There is better news from airports, however, with Walsh believing they "largely will be ready" for summer demand, and the airlines themselves, which Walsh says "are ready".
But on ATC, Walsh expects governments to do more.
"I've said it before – it frustrates me on these issues and environmental issues when we get lectures from politicians on what we must do and yet they don't do anything that's within their own control," he says.
He cites the European Union's lack of progress on the Single European Sky as a frustration that would bring improvements in terms of both ATC and sustainability challenges.
Indeed, the IATA chief has mixed views on government records when it comes to sustainability, including on the pressing need to build up the global supply of sustainable aviation fuel (SAF).
"We're very encouraged by the commitment being demonstrated by airlines, and encouraged in some areas by what we're seeing from government, but we need to see more of that," he says regarding action on SAF.
Walsh is impressed by SAF-related incentives included in the US government's Inflation Reduction Act, saying it is "leading the way" globally. "We're seeing investment in infrastructure that will help to provide greater production of sustainable aviation fuel which is absolutely critical," he states.
Europe, however, is "still trying to figure out where they need to be", Walsh observes.
"Europe has gone with a combination of carrot and stick but more stick than carrot, which I think is wrong. You can't force somebody to buy something that isn't available.
"So what we want to see is greater awareness around the need to get investment into infrastructure, so that we can see wide-scale production of sustainable fuels."
In terms of assessing the airline industry's own sustainability efforts, Walsh is keen for people to stop focusing on the past and instead recognise the work that is under way to reach net zero.
"A lot of people point to [the industry's] historical track record – I think those examples are not really credible," he states. "What you have now is an industry that is committed to net zero in 2050.
"We'll be looking at 2030, 2035, 2040 – I think these will be important [sustainability] milestones for the industry," he says in reference to the adoption of SAF in particular.
BUSINESS AS USUAL?
As the industry grapples with that longer-term challenge, a more immediate concern will be airlines' progress through the rest of the 2023 and into 2024. Walsh is optimistic, recalling his observations about negative outside factors at last year's AGM.
"When people highlighted the headwinds last year, I was highlighting them as business as usual, compared to what we had gone through during the pandemic", he recalls. "I didn't see them as major obstacles for airlines because in effect we had had situations like that previously… high interest rates, high inflation. And we'd seen higher fuel prices before."
Today, Walsh notes that with some of those headwinds not being quite as strong as expected, and with jet fuel prices coming down in line with crude oil, there are reasons to believe the recovery has firm foundations.
Notably, unemployment levels are still "very low" around the world, Walsh says. "That normally gives consumers confidence in continuing to spend money," he states.
"The other positive we see is that there is GDP growth and some of the talk of recession has eased," Walsh continues. "And the forecast GDP for this year, I would describe as healthy, quite positive, and the same applies to 2024."
He points out that GDP growth has historically been a strong indicator of the airline traffic growth trend. "That augurs well for the industry," he says. "There are challenges without question [and] still a lot of work to do, but there are reasons to be optimistic about the rest of 2023 and 2024."
Aviation plays key role in earthquake response
The devastating earthquake that hit southern Turkey and Syria earlier this year proved how important aviation can be to disaster-relief efforts, in Walsh's view.
"You've got to give huge credit to the Turkish carriers, all of them, for the way they stepped in to provide immediate relief that was absolutely critical to the survival of people in that region that had been hugely devastated by the earthquake," he states.
Turkish Airlines and Pegasus were among operators that helped authorities to deliver aid and emergency supplies to the region, and evacuate those affected by the disaster.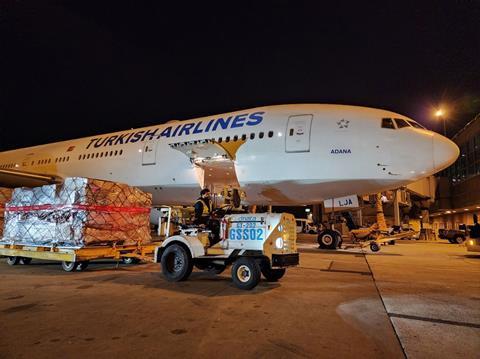 "The speed at which people can get aid into the affected areas is unmatched by any other form of transport, so the Turkish carriers deserve great credit, as do the international carriers serving the market, who have also made a lot of resources available," Walsh states.
"It was a horrible, tragic event, but it demonstrates how important aviation is at times like that."
Airlines retain stronger cargo appreciation
Despite air cargo's fall from pandemic-era highs, Walsh believes the sector is still viewed more favourably by carriers, even as the passenger traffic recovery takes most of the headlines.
"We still expect the contribution from cargo to be higher than average in 2023," he states. "Having gone through the period of the pandemic when airlines realised just how significant cargo revenues were, I don't think it's lost its lustre at all."
Walsh notes that many carriers have invested in the cargo side of the business over the past few years and that some will have regretted not having more dedicated freighters during the pandemic, when air freight demand rocketed.
"Cargo will always be important and I think there's an increased awareness and appreciation over what cargo has done and what it can do for the industry going forward," he says.