IATA senior vice-president, sustainability and chief economist Marie Owens Thomsen sees air travel as an 'essential ingredient' to helping achieve the primary goal of sustainable development -- to eradicate poverty
One change within IATA since the last AGM sees IATA chief economist Marie Owens Thomsen now heading up the sustainability mission within the association. For Owens Thomsen this reflects the "obvious connection" between economics and sustainability.
That connection is one the airline industry finds itself having to make the case for, given strong lobby groups and regulators, for whom cutting flights offers a fast track to reducing CO2 emissions.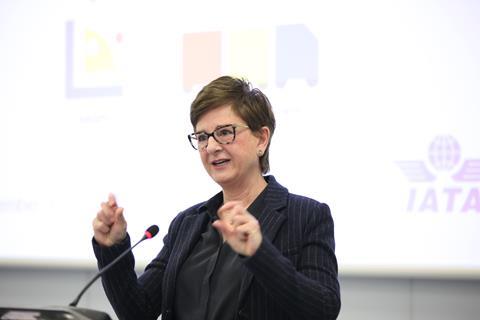 "For me it is obvious we have to fly," Owens Thomsen tells FlightGlobal in an interview ahead of the AGM. "We all understand we have to fly and in order to fly we must fly sustainably, because we now understand that our well-being depends on the well-being of the planet. That is how these two pieces are totally inseparable."
She highlights that the primary goal of sustainable development is to eradicate poverty and that connectivity is an "essential ingredient" in achieving that. "Humanity has always made its leaps and bounds through innovations in connectivity. I'm not trying to make an outsize claim for the aviation part, but it's nevertheless an important part.
"Sometimes I don't really understand why we need to discuss this, because we did see this during Covid and the negative impact of the loss of connectivity on the global economy and that we now have 100 million more people living in abject poverty."
However, the airline industry does repeatedly find itself having to discuss the value of air transport. "I think we still struggle with getting messages across as an industry," she concedes. "I don't know why it is so hard for us to get our messages across other than the power of the lobby. We are not the most powerful lobby, if we compare ourselves to the oil companies.
"I find it fascinating that we are so much in the focus, that airlines in particular are in the focus of how aviation should decarbonise, although airlines don't possess many of the tools with which we can achieve this decarbonisation," she says. "Obviously this energy production is currently outside the airlines, how we manage our airspace is outside of the airlines, how we can make the aircraft more sustainable is also outside of the airlines.
"All we can do is commit and engage. In that respect I think aviation has been a leading light, with CORSIA in 2016; IATA's commitment to net zero by 2050 came in 2021; ICAO came in 2022. So we have the whole industry, the UN body for aviation and all these people totally aligned. I don't know of any other industry which has made this type of strong commitment with one voice."
FURTHER DEFINING ROADMAP TO NET ZERO
In support of the industry goal to reach net-zero by 2050, IATA set out a roadmap of the elements that would make that possible – the biggest contributor to which, at about two-thirds of the total, is sustainable aviation fuel (SAF). The next steps – several of which will be outlined during the AGM – are to provide more detail on the elements needed to achieve this.
"We are working on these more specific roadmaps under the conceptual paths. We are developing five: technology, infrastructure, operations, policy and finance. I don't know if we will have all five [ready for the AGM]. I'm feeling quite comfortable we will have the first three.
"These roadmaps are still hypothetical, but progressively less hypothetical is what we are aiming for. Then under the roadmaps, we really want to identify the specific actions that we can take. Then we want to facilitate those actions for all those airlines that might struggle to do that on their own," she says, noting that for an airline to cover all elements of a sustainability strategy involves developing new departments and divisions. "As an industry organisation we have a role to play in facilitating this for our member airlines."
Countries and regulators are also setting their own targets and policies – some, such as the US inflation reduction act, provide more carrot than stick in supporting the SAF energy transition. Owens Thomsen stresses the importance of realism within such target setting. "We don't know yet what kind of intermediate industry targets we are going to end up with. But given that it might take five to seven years to get a SAF plant to become productive, and we are already in 2023, whatever is not happening this year is going to struggle to be available in 2030," she observes.
"Policy-making needs to be technology agnostic so we don't hinder the development of things we don't know about yet from happening," she adds. "We don't want to lock-in solutions at the expense of other possible solutions in the future. That's what you might tend to do with mandates. That is something for us to be super-careful about, that we allow all solutions to co-exist, because we are all going to need them all."
Similarly she believes that focusing on the long-term goal should not prevent action being taken where it can today. "It is intimidating to talk about all the financing needs, as important as those discussions are, but we could have the Single European Sky in Europe and cut emissions in one big swoop by 10% already. That would make the rest of the path less intimidating," she says, adding. "And we could stop subsidising fossil fuel."
"I don't really know why we are refusing to do the things we can do, and focusing so much on how difficult it is to do the rest."