Pieter Elbers has secured some early wins as the new chief executive of Indian low-cost carrier IndiGo, as he contemplates long-term growth in what is destined to be one of the world's most important aviation markets.
Elbers has been in the top job at IndiGo since September 2022, following nearly eight years as the president and chief executive of KLM. He lists several differences between staid, full-service KLM and upbeat low-cost carrier IndiGo.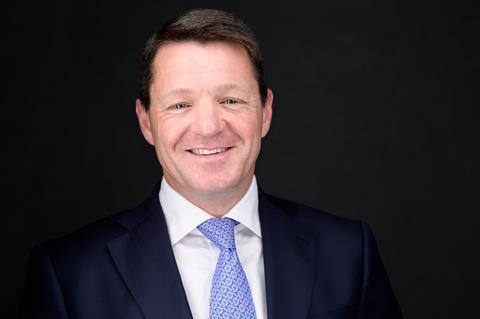 "They're very different," says Elbers of the two carriers. "The fleet composition is different. The nature of the business model is very different…KLM was 103 years old; IndiGo is 16 years young. The growth here is impressive."
As IndiGo's boss, Elbers follows another executive from the full-service world in the role. Ronojoy Dutta, formerly a senior executive at United Airlines, led IndiGo for nearly four years, including during the coronavirus pandemic. Covid-19 temporarily curtailed the growth of India's airline industry, and saw profit-machine IndiGo suffer a number of quarterly losses.
Elbers has high marks for his predecessor's leadership during the torturous pandemic years, which saw India all but entirely closed to international traffic. Domestic demand was also badly impacted, including a devastating wave of the Delta variant in mid-2021.
"I think Rono did a wonderful job navigating IndiGo through the Covid crisis, but of course Covid took a heavy toll on every company in the world, and IndiGo was no different," says Elbers.
RIGHT ON TIME
An early priority for Elbers was improving on what he feel's is one of IndiGo's key differentiators in the Indian market: on-time performance. Amid the pandemic, IndiGo slipped somewhat on this metric from its accustomed spot as India's most on-time airline. In November and December last year, the carrier was able to regain its position atop the on-time heap.
Elbers adds that given IndiGo's size – 302 aircraft as of 31 December 2022 – it is certainly among the most on-time airlines globally.
Elbers's other two early priorities were the continued growth of the carrier's domestic and international networks, and ensuring that the airline was ready to deal with the surge in pent up demand.
Since his arrival in September, IndiGo has announced the addition of new international destinations, primarily in the Middle East. Istanbul is a key addition. Demand on the Delhi-Istanbul route was behind IndiGo's decision to wet-lease two Boeing 777-300ERs from Turkish Airlines.
In recent months IndiGo has also built an extensive European network by placing its code on Turkish flights operating from Istanbul to Western Europe.
IndiGo's domestic network is growing too. This includes its largest ever domestic launch in January with the opening of Goa's International airport at Mopa. This saw IndiGo commence 168 weekly flights to eight destinations.
Most important, the recovery in Indigo's domestic and international businesses saw the carrier return to a net profit for the three months ended 31 December – only its second net profit since the beginning of pandemic. Revenue in the fiscal third quarter jumped 63% year on year to Rs154 billion ($1.9 billion) and was up an impressive 50% against the same period in 2019.
Elbers estimates that IndiGo will carry 80 million passengers in its financial year to 31 March 2023, an improvement over pre-pandemic passenger numbers.
"My estimate is that we're probably one of the few carriers who, in 2022, had passenger numbers that are higher than pre-Covid," says Elbers.
RIVALS ON THE MOVE
As the impact of the pandemic fades and Indian aviation gets back into growth mode, Elbers faces an evolving Indian airline market increasingly characterised by more disciplined, better-run airlines.
The prime example of this is Air India. Just days after IndiGo released its upbeat third quarter results, Tata-owned Air India committed to ordering 470 aircraft, mainly Airbus and Boeing narrowbodies. Under the leadership of former Singapore Airlines executive Campbell Wilson, Air India is merging with another Tata-owned carrier, Vistara, while two low-cost Tata carriers, Air India Express and AirAsia India, will also be merged.
Akasa Air joined the fray in late 2021 and now operates 17 737 Max jets, with an additional 52 on order. Older IndiGo rivals such as Spicejet and Go First are also still in action. In the coming decade IndiGo will face financially stronger, better-run competitors than it faced during its years of ascent in the 2010s.
Elbers sees a clear positive in Air India's massive commitment, stating that it "speaks to the potential" of the Indian market, which he characterises as high growth. He observes that China, with a similar population to India's, has far more airliners. Cirium fleets data suggests there are 4,106 in-service commercial aircraft in China, compared with just 813 in India. China also has 1,491 firm orders for new commercial aircraft, while India has just 953 not including the recent Air India commitments.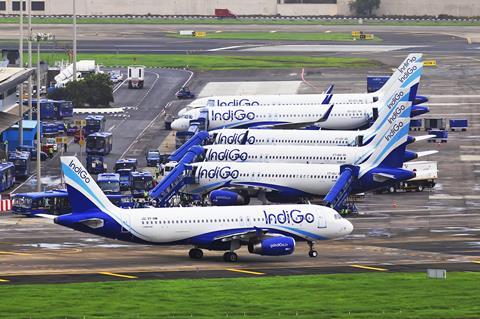 IndiGo, as it happens, makes up the bulk of India's orderbook, with 502 aircraft on order, comprising 180 A320neos, 311 A321neos, and 11 ATR 72-600s.
"We're in a good position because we have a backlog of 500 orders, which means for the years to come until the end of this decade, we have a steady flow of aircraft coming."
SOLID FOUNDATION
While he acknowledges that supply chain issues have affected deliveries, he feels IndiGo is still well placed. "We all know that if you order some aircraft today, they won't be delivered tomorrow…our fleet plan is a very solid foundation for our strategy going forward."
Critically for IndiGo – and the broader Indian airline sector – Elbers has observed some traction with the perennial issues that have vexed the country's airline bosses. High taxes on aviation fuel imposed by India's various states have been a constant irritant, but Elbers says that some states are "actively lowering" them in an effort to boost air travel and improve the affordability of air fares. India is also building new airports and upgrading existing airports.
"If you want to have international connectivity, you need to have a good domestic system of feeding that international connectivity," says Elbers. "And then you need to ensure that this domestic feeding can be done in an effective and competitive way. Step by step, all these different dynamics are coming together."
Elbers also sees movements on improving India's attractiveness as an MRO location. Traditionally, Indian taxation policies have hampered the development of the sector, despite the availability of a large, educated labour force. In the late 2010s, it was estimated that Indian carriers undertook 90% of their MRO work outside the country.
"We see some radical changes," says Elbers. "Is it totally the same situation yet as in other parts of the world? No, it's not…but I am encouraged by the range of steps being taken now."
IndiGo has also made moves on the MRO side since Elbers's arrival. In November 2022, the carrier inaugurated its second MRO workshop at Bengaluru's Kempegowda International Airport. The facility can accommodate up two narrowbodies, and includes a quick engine change shop.
Asked about IndiGo's long-term strategic priorities, Elbers points back to the strong growth of the Indian aviation market.
"Just look at the size of the population and at the economic growth…if you take the GDP and times it by two, or two-and-a-half for markets in this stage of development, you usually get a pretty solid indicator for where it's going."

Greg Waldron is the Asia Managing Editor of FlightGlobal, responsible for the team's airline, aerospace, and defence coverage across the region. He has worked at the company since 2009. In the airline space, Waldron has conducted dozens of interviews with airline leaders in the Asia-Pacific. He also covers areas such as MRO and safety. On the defence beat, Waldron has written extensively about the rise of Chinese airpower, as well as broader airpower developments around the region, such as indigenous fighter programmes, and regional acquisitions of foreign equipment. In addition, Waldron writes about commercial helicopters in the region and business aviation. Waldron worked has a freelance journalist with his work appearing in several business publications.
View full Profile