While it is hardly unique to the UK for aviation industry leaders to be calling for the government to provide "more carrot than stick" when it comes to sustainable aviation fuel (SAF) production, recent interventions are timely given the mandate for it to comprise at least 10% of its airlines' fuel by 2030
Unveiled by the government in the summer of 2021, the mandate is itself a key staging point to the wider goal of achieving net-zero flying by 2050, the roadmap for which was a topic of much discussion at the recent Airlines 2022 conference – an event co-organised by FlightGlobal together with industry bodies Airlines UK, BAR UK and IATA, focusing on the competitiveness of the country's airline sector.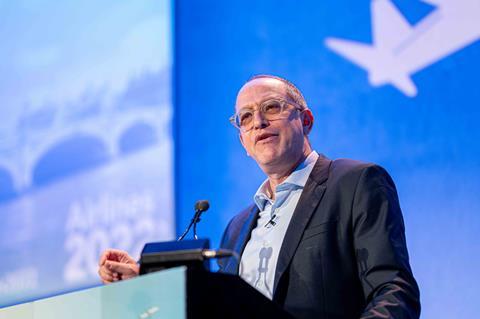 "Our government set out a bold ambition for SAF use in the UK, including a mandate we expect to come into force in 2025," says Virgin Atlantic chief executive Shai Weiss. "But as we approach the end of 2022, industry, producers and potential investors are still awaiting final details – or more likely, as is common in the UK, yet another consultation on the UK SAF mandate.
"[Reaching] 10% SAF in 2030 requires 40 million tonnes of SAF globally, and 1.5 million tonnes in the UK. That is a scale-up of 100-times of production available today," he adds. "While production at scale remains a challenge globally, in the UK we are falling behind. Other countries are addressing this problem differently and acting accordingly."
One of the things UK carriers – and indeed airlines from other countries – are casting an envious eye on is how some governments, most notably in the US, are already taking steps to gain a foothold in SAF production.
While Weiss says that is not to say the US has "cracked the code on this", he points to the SAF roadmap and policies recently unveiled by the Biden administration.
"Their ambition is clear. The Inflation Reduction package paves the way for $400 billion of funding," he notes. "In the UK the situation is far different. With a mandate on the horizon and no prospect of equivalent incentive programmes and no domestic production before 2025, UK airlines will be forced to meet their obligations abroad."
Alongside the planned mandate, the UK government established an Advanced Fuel Fund of £165 million ($200 million) – supporting the UK's ambition to have five commercial plants under construction by 2025.
Weiss, though, notes that a year on, the funds are still be allocated. "The UK supports energy transition in the UK, but seemingly not for UK aviation," he says.
Speaking at the same event, the UK's aviation, maritime and security minister Baroness Vere rejected the idea that the UK was behind in terms of SAF production.
"I think we have a good understanding of what the production pathways look like, and good understanding of the way forward," she says. "You will have seen we had a ministry of defence flight flown on 100% SAF this week, so I think there are many things we are taking forward in parallel at the moment in terms of sustainable aviation fuels.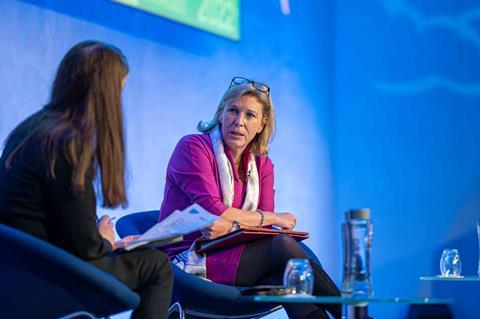 "The good thing is, I think we are in agreement that it is a key and very viable way of getting to our net-zero goals," she says, adding it is not the only solution. "The government will put in place a SAF mandate, so that I suppose is the stick, and in terms of the carrots, we will invest £165 million in SAF opportunities. The competition for the funding has now closed, so that will be coming to ministers shortly."
Weiss' comments echo those of other airline leaders, where the main frustration is less the target – airlines themselves have identified SAF as the key enabler to reaching net zero by 2050 – but more the limited supply of SAF.
"What we need is supply of sustainable aviation fuel," says IATA director general Willie Walsh. "You don't need signals from airlines to say if you build it, we will use it. Of course we'll use it, we've used every single drop that has been available to the industry already, despite the price differential.
"It's a product every airline is going to use because we have to get to net zero by 2050 and the only credible way the industry can get there is greater production and use of sustainable aviation fuel."
That said, Walsh does question the need for a mandate. "I disagree with mandating airlines, because airlines will buy it. Airlines have already demonstrated they will buy it. Producers haven't demonstrated they will produce it. So if you want to mandate anybody, mandate the producers.
"There is a role for governments to play in terms of policy and in terms of incentives. But what you don't need to do is say we are forcing airlines to buy it, regardless of price."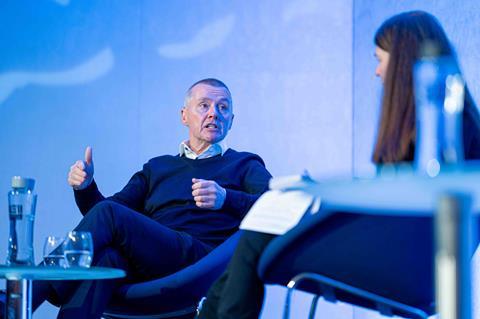 Heathrow Airport's chief operating officer Emma Gilthorpe, who is chief executive of the UK's private-public initiative the Jet Zero Council, flags the value of having clear signs of policies to meet net-zero goals.
"We need to know the investment and technological pathways are fixed, the investment pathways are understood, conversion rate is well understood, so that there are no hurdles to that happening," she says. "If we are still in 2030 and there are significant hurdles to those things rolling out, then we have a problem.
"That is why it's very important we make the decisions in the next two or three years, which is why we have things like the five SAF plants by 2025, because it is very important to get the milestones coming through in the 2020s, so you know you are on the pathway to 2030 – which is the key inflection point to 2050."
Gilthorpe adds: "We've got the mandate, the next thing is how do we get the price stability into SAF so it becomes from an investment point of view, a more competitive proposition than jet fuel is today.
"If those two things are in place, the mandate and some form of price bridge to get the investment moving for the scaling up of those SAF plants, that is the answer to how the UK will take a strong competitive position in SAF production, because we don't want to import it – it's way more expensive and we will miss out on all the catalytic economic benefits of that."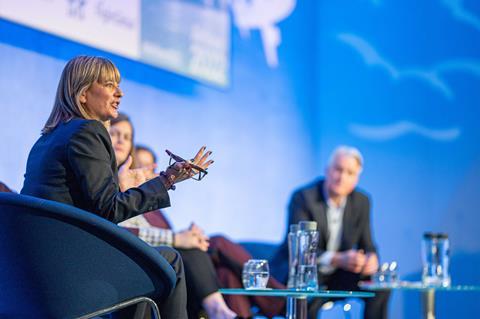 Vere says the government is still looking at how to take forward the commercialisation of the business. "We haven't reached a view yet," she says. "I think there will have to be some grown-up conversations about the balance between who pays for this, does this industry pay for this, does the travelling public pay for this or does the taxpayer pay for this and how does that balance out."
She adds: "Some of these SAF interventions could be hugely profitable and I want to make sure that the risks and the financial rewards fall in the right ways to the right people, because if we do get these five plants up and running and then we can become an exporter of SAF, that would be a hugely beneficial place to be."
For now, at least, Weiss says Virgin will have to import SAF. "Next year we will buying….from a mixture of the US and Europe. It's a big shame the UK is not using the green revolution to fuel growth. I think it will be a missed opportunity and I fear in 2025 we will be standing here and saying most of capacity for SAF is coming from abroad.
"The UK has done a tremendous job on solar and wind and hydrogen," he adds."So all I'm asking for is to apply those mechanisms and practices to sustainable aviation fuel and not to think there is a way to jump start something else. This is what we've got. I don't want to start saying we can't get it done, it's not late, it's still the first innings of this game."