Our latest airline share-price tracker reflects positive sentiment towards an industry that has plenty of reasons for optimism heading towards the northern hemisphere summer.
While indexed prices are still some way off pre-Covid levels – and even pandemic-era highs – the recent earnings commentary regarding strong forward bookings and high fares adds to a sense that the recovery momentum is significant.
Carriers including Frontier Airlines, IndiGo and Jazeera Airways this week became the latest to report encouraging financials.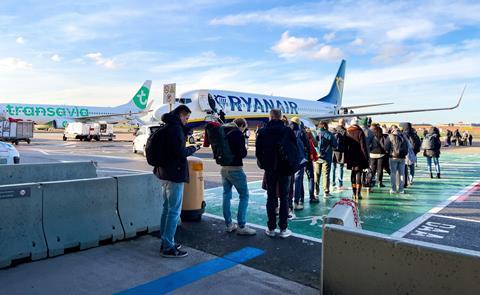 Crucially, while bleak economic outlooks were priced into investor thinking going into 2023, slightly more encouraging outlooks released in recent days and weeks, alongside suggestions that inflation may be peaking, provide a better-than-expected backdrop for the airline industry.
"Investors spent 2022 reluctant to own airlines, with fears of squeezed consumers reducing discretionary spending; fears that only grew with rising energy costs and questions over the supply of natural gas for winter," explained analysts Bernstein in a 9 February report focused on Europe's airline sector.
"With just a few weeks left of the low season, these risks are fading for now," it states.
The caveat, of course, is that no one truly knows that the year will bring.
"This is the airline business – every time it looks like it's all f***ing bells and whistles and we're set fair for a great year, something comes along to crush our optimism yet again," said Ryanair group chief executive Michael O'Leary in January as he outlined the positive demand and financial indicators for the coming few months.
But absent another 'black swan' event, investors are seeing value in airlines again.
Amid the better news on the passenger side of the business, however, the air cargo sector continues to see its fortunes worsen following the pandemic highs. Full-year data from IATA shows that global air cargo demand dropped below pre-Covid levels last year, although high yields mean the sector continues to deliver financially for a number of carriers.
Read the newsletter for free every week by signing up to the Airline Business Weekly Briefing