When Japan Airlines announced it was upping its stake in low-cost carrier Spring Airlines Japan, effectively making the latter its subsidiary, it made clear its intentions: the latter would "capture the first inbound demand in China, which is expected to recover in the future".
The investment, disclosed on 7 May as part of its medium-term business plan, formed part of a broader emphasis on its stable of low-cost carriers, which also include medium-haul, low-cost carrier Zipair and Jetstar Japan.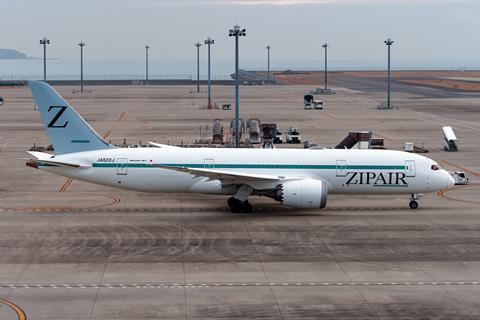 In that same business update, JAL states that its low-cost carriers will target "revenue growth in low-yield markets, with steady recovery and solid growth potential". Underpinning this was the financial devastation caused by the coronavirus pandemic, which has torpedoed travel demand.
JAL's announcement is the latest in a series of announcements by Japanese majors as part of efforts to cope with the unprecedented impact of the coronavirus pandemic.
Compatriot All Nippon Airways (ANA) in October disclosed plans for a low-cost, medium-haul brand, as part of a wide-ranging business update amid steep losses.
The yet-unnamed carrier will "capture mid- to low-unit price demand" not covered by ANA or low-cost sister unit Peach. It will also "utilise" existing knowledge on LCC operations, and complement the existing ANA group network.
The carrier will operate Boeing 787s equipped with over 300 seats, with its geographic focus being Southeast Asia, Australia, and New Zealand, stated ANA.
Justifying the decision, ANA said in October that it anticipates lower demand for business travel, thanks to the popularity of online conferences and meetings.
On the other hand, it stated that VFR (visiting friends and relatives) travel will "remain robust," with potential growth "from new segments including new working environments and multiple residency".
Since then, few details have been released, though ANA recently disclosed that the new carrier will commence operations some time around 2023.
Recent announcements from JAL and ANA underscore the importance of low-cost carriers in the broader airline strategy and mark a mindset shift from the two carriers, which had previously "hesitated" — as one industry watcher puts it — to grow their low-cost offerings.
However, given the tepid demand most airlines are seeing around the world now, and with no clear recovery in sight yet, are JAL and ANA putting all their eggs into one basket? On the other hand, will a drop in business travel provide a fillip for these low-cost units?
LOW-COST, 'LOW RISK'
Dr Shinya Hanaoka, a professor at the Tokyo Institute of Technology whose research includes the low-cost carrier market, agrees that a shift in lifestyle habits brought about by the pandemic has led the Japanese majors to focus on their low-cost offerings.
With telecommuting the norm during the pandemic, he notes that the "appetite" for business travel will take a while to return to normalcy, and this holds true for both domestic and international business travel.
With leisure tourism looking to be the first to recover post-pandemic, the LCCs allow ANA and JAL to provide more seat capacity - and at lower cost - to meet a potential surge in demand.
Concurring, Ascend by Cirium's head of consultancy Asia Joanna Lu says ANA and JAL "would look at the LCC model, and want to be prepared for a very different market demand than before".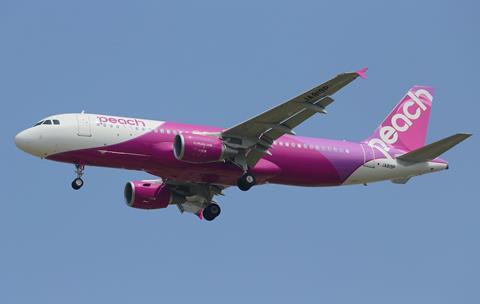 The two carriers would be more about "aiming for business feasibility, rather than scope", Lu tells FlightGlobal.
ANA and JAL's investment in their low-cost units — in anticipation of a demand resurgence — are also a "relatively low-risk" strategy, with a "higher possibility" of success, says Hanaoka.
For example, JAL's investment into Spring Airlines Japan could be seen as not wanting to "lose an opportunity" if and when recovery comes.
While previously slot restrictions and a focus on premium, mainline operations took attention away from low-cost carriers, JAL and ANA have moved from hesitation, to fully embracing their low-cost offerings to recapture lost demand, says Hanaoka.
Still, he warns that JAL and ANA should allow their low-cost units to be given free rein to "independently" craft their respective strategies, and not be "too closely involved" with their parents.
Ultimately, Hanaoka believes that the strategy's success hinges on Japanese travellers' willingness to travel.
The rationale behind the airlines' low-cost investments has been to quickly capture demand when international travel can restart, but if travellers do not bite, then such efforts will come to naught.
And with vaccines expected to feature prominently in travel restart efforts, Japan's low vaccine take-up rate — a product of the society's conservative views, says Hanaoka — might further depress demand for these carriers.