When it was announced in February that Frontier Airlines intended to buy Spirit Airlines, analysts saw plenty of logic in the move.
The airlines share similar business models and fleets, they observed, and might be small enough to avoid too many complications when it came to competition oversight.
Crucially, Spirit's board seemed keen on the idea, and there was a neat narrative around Indigo Partners' William Franke re-taking control of an airline he previously oversaw.
But a few months later, that deal is now firmly off the table after Spirit shareholders rejected Frontier's offer on 27 July.
Instead, JetBlue Airways – backed by its higher, all-cash offer, which was announced after the leadership teams at Frontier and Spirit had made loud proclamations about their excitement over a tie-up – is now the only show in town, with the two sides agreeing a takeover deal on 28 July.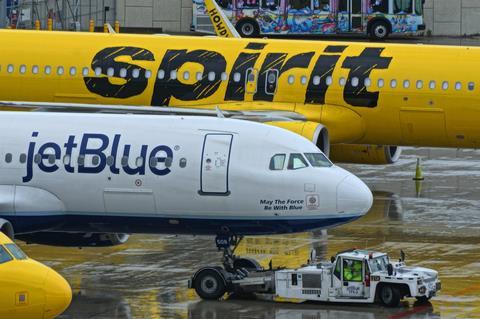 Spirit's board says it wants its airline to become part of a larger JetBlue – one that could, according to the latter, better compete on a national level with the country's big four carriers: American Airlines, Delta Air Lines, Southwest Airlines and United Airlines.
That means Spirit will abandon the ultra-low-cost leanings that were central to the proposed Frontier tie-up and instead be absorbed into JetBlue's hybrid model.
The dream of a US ULCC powerhouse is, then, dead for now.
So, what comes next?
Shareholder rejection of Frontier's offer suggested JetBlue had turned enough heads, but it will soon face a vote on the terms of its own offer.
And there is another key hurdle, regardless of Spirit shareholders' preference: regulatory approval.
JetBlue executives have expressed confidence that the US government will not oppose the deal on competition grounds, even though the Department of Justice (DOJ) is suing to block JetBlue's separate alliance with American Airlines.
Indeed, JetBlue chief executive Robin Hayes has previously suggested that the network diversification provided by the purchase of Spirit – including an expansion into central USA – would improve the chances of the DOJ approving the American deal.
Such thinking on the part of the DOJ is, however, far from guaranteed on either partnership, and a long slog is ahead, with completion of the JetBlue-Spirit tie-up eyed in 2024.
JetBlue may be on the front foot, but Spirit's future ownership remains unresolved.
Subscribers to the Airline Business newsletter receive the Weekly Briefing first every week. For more information, click here.