A former flight attendant and then pilot at China Airlines, Kao Shing-Hwang is now focused on building up the Taiwanese carrier's financial health as president
Kao Shing-Hwang's storied career at Taiwan's largest carrier spans 35 years, from working in front-line roles to moving up into executive management levels.
But now, the president of China Airlines can add another feather to his cap: that of a traditional Chinese physician.
It is halfway through a wide-ranging interview with FlightGlobal in his office in Taipei that Kao, a towering presence with a disarming smile, segues into the topic of medicine.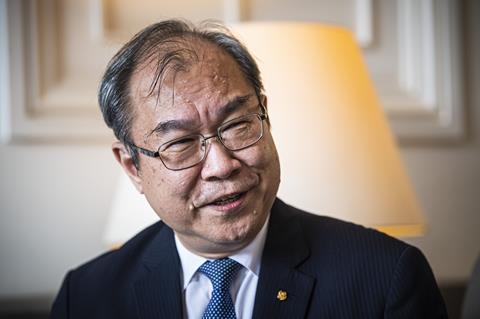 "You see, what I want to do is to… boost the immunity of the airline," he says, referencing a term commonly used in Chinese medicine.
In Western medicine, says Kao, medication is often used to treat specific ailments, but traditional Chinese medicine focuses a lot more on building up the body's "resilience… to guard against illness".
Kao then relates it back to running an airline: "What I am trying to do is… to make the company healthy. I will not fight for us… to be the biggest [airline], or to have the largest fleet."
A pause, and then Kao doubles down: "I want to make our financial structure healthy, [so that] we can overcome any kind of challenges, like the pandemic or a financial crisis."
The analogy is an interesting choice, but is perhaps apt, given that Kao's tenure as airline leader began in the thick of the coronavirus pandemic, amid a collapse in travel demand as international borders – including Taiwan's – remained mostly shut.
Indeed, almost as soon as he took helm of the carrier in 2021, Kao was required to steer the airline through the pandemic – and find a possible way out of it.
As he puts it: "My main job [then] was dealing with the virus – trying to keep our staff away from the virus. For example, quarantine measures for our freighter pilots… we needed to keep them safe. It was very tough to [manage] the schedules."
At the height of the pandemic, when international borders were shut and air travel ground to a halt, passenger revenue shrank to just 2% of total revenues – a far cry from 60% in pre-pandemic times.
But today Kao is optimistic that the airline has turned the proverbial corner, although it is still confronting challenges on several fronts.
By late May, China Airlines was operating at around 80% of pre-pandemic capacity and continues to restore its network.
According to China Airlines' monthly statistics, it carried close to 800,000 passengers in April, the highest levels so far this year and a significant jump compared with the 29,000 passengers carried in the same period a year ago.
Passenger revenue in April rose 16-fold year on year, offsetting a decline in cargo earnings, which more than halved. This led to an 18% increase in overall revenue.
China Airlines is also in the process of restoring its network: regional destinations were a focus in the end-2022 period through the first half of this year, with cities such as Cebu, Chiang Mai and Da Nang added to the network.
In July, the airline is set to launch flights to Prague, its newest European point. Kao notes that long-haul frequencies are "largely back to pre-Covid levels".
He adds: "China Airlines is aggressively developing new destinations that show potential to strengthen the overall network and target the transit market."
The airline recently firmed up options for more Boeing 787-9s – it already has 16 on order – and hinted it could opt to switch to the larger -10 variant. The new aircraft are set to replace its fleet of ageing Airbus A330s, and form the final piece of the airline's fleet renewal programme, which has also seen the arrival of A321neos to replace its 737-800s.
The airline's shift to focus on cargo operations during the pandemic is also well-publicised, and has given it a crucial financial lifeline amid a collapse in travel demand.
Indeed, the airline has been lauded as being among the rare few carriers to remain in the black during the pandemic, thanks to a strong focus on cargo operations.
In 2021 – the year that Kao took the helm – the airline reported record cargo revenues; a development he says is "a key milestone amid adversity". The airline has now returned to a 60-40 split in passenger and cargo revenues, respectively.
While recovery is ongoing, Kao acknowledges that the airline "is a little bit slow" in restoring capacity, pointing to the "root cause" of a shortage of manpower.
COMMON PROBLEMS
Noting that the issue is not unique to China Airlines, he says parts of its network – especially Japan – have been slower to ramp-up, despite strong travel demand. Issues like a lack of hotel rooms, airport worker shortages – even a lack of bus drivers – have hampered the airline's recovery plans.
Kao says a key lesson from the pandemic – and a focus for the airline now – is in "finding the balance" in its revenue streams.
With cargo demand softening – partly due to macroeconomic challenges – Kao says the airline will focus on "stabilising" its freight operations, including retiring older freighters, and replacing them with new 777Fs.
Cirium fleets data shows that the airline now has 15 747 freighters and six 777Fs in operation. Another four 777Fs are on order.
He adds: "[The] fuel costs…are very high, higher than before. We try to replace them with the 777Fs, because there is [more] fuel efficiency… so we are trying to focus on what kind of freighter size would be good for us, then we will get the new balance.
"That is our new project now, and we have to make the decision," says Kao.
But he is cautious about over-relying on either cargo or passenger travel in the longer-term. "We cannot mainly count passengers or cargo…[what if] there is a new virus, or a new [crisis]? We will try to keep both ways [going] to make money," he says.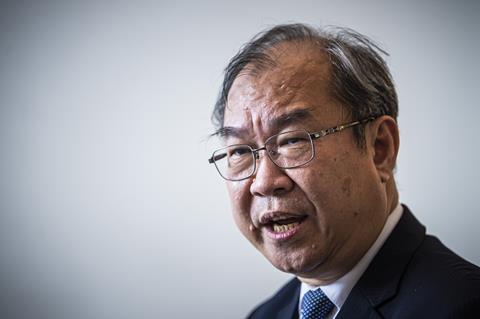 As the recovery continues, one of Kao's priority is keeping the airline's finances healthy: "The virus is not the main problem now – but where is the money?
"I'm always talking about – after the pandemic – not only the quantity of passengers has changed, but also the quality of passengers. How do you locate these passengers and get them to [fly with you]?" he says, pointing at the changing travel trends post-pandemic. `
It is all in a day's work for the company veteran, who has gone from a front-line service role to its leader.
Kao's appointment in 2021 – he was promoted from senior vice president – caps a "colourful" journey through the airline. In 1986, he joined as a flight attendant after completing his degree in transportation management.
Not too long later, he moved to become an airline pilot, and was among the first batch of trainee pilots seconded to North Dakota in the USA for training. Kao is trained to fly the Airbus A300, A330, A340 and Boeing 747 platforms and was the airline's chief pilot after joining the management team.
In the transition from cockpit to management office, Kao recalls pursuing a Masters degree, and that meant going for night classes, even as he juggled his flying activities.
While he initially found that some courses did not relate to his day-to-day, Kao says in hindsight: "I found a lot of it useful, especially during this period," referring to the financial priorities during the pandemic, and citing modules such as human resources and accounting.
On making the jump to corporate roles, Kao says he is also guided by advice given by a senior high school teacher, which was: "You must be prepared for everything in the future, because anything can happen."
SERIOUS CONSIDERATION
It is hard, then, to imagine Kao once seriously considered leaving the airline, thanks to an incident during his days as a flight attendant.
A bout of turbulence mid-flight threw Kao upwards in the aircraft, and "I hit the ceiling, and then I fell back down… I crawled out of the galley to find a seat to sit down".
An injured Kao then vowed to "quit the airline the next day".
"But as you can see, it seems I forget things very easily. I forgot the next day… and many many years later, I'm still here," says Kao, breaking out into laughter.
At heart, though, Kao is very much at home in the cockpit. Like many airline chiefs who are former pilots, he often draws on his flying experiences.
Asked how similar – or different – flying is to being an airline leader, Kao says: "In the cockpit, it [sometimes] sounds very attractive: that day there was a typhoon [and] did a dramatic manoeuvre to land the aircraft… but actually you are only flying the [aircraft].
"Now I am flying the whole company. It's different: the responsibilities are tremendously high. On an aircraft, you are carrying 300 passengers – their lives are in your hands, you're something like a god. [But now] I am dealing with more than 10,000 employees and their families. It's a huge responsibility.
"Maybe that's why my blood pressure is not coming down," he deadpans, and the hearty laughter returns.