While Qatar Airways was doing its best to change the narrative on the usually quiet fourth day of Farnborough air show on Thursday, it remained the case that the event did not bring the order bonanza some had expected.
Notably, all the pre-show discussion about a flurry of Asia-Pacific orders – with Indian carriers among those earmarked for announcements – had come to nothing as the show's trade portion was winding down.
Delta Air Lines caught the eye with a deal for 100 737 Max 10s and Boeing undoubtedly showed some much-needed momentum, but the event's total order tally was still way down on that seen at any Farnborough or Paris gathering since FlightGlobal records began in 2013.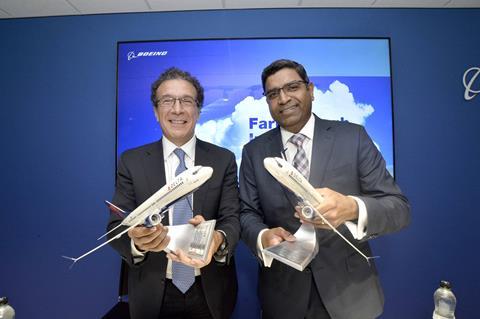 As if mindful of the gaps in the schedule, there were some seemingly random reaffirmations of orders everyone knew about already, including VietJet's deal for 200 Boeing 737 Max jets – an agreement that can be traced back to 2016.
There was also a sense that, particularly in the case of Airbus, there was little desire to make the show an order-fest.
As Airbus chief commercial officer Christian Scherer pointed out on Wednesday: "We have clicked way past 500 orders so far this year and we're quite satisfied with that."
Included in those orders is a huge commitment from Chinese carriers for A320neo jets, announced on the eve of the show.
And Scherer adds that Airbus was undertaking plenty of discussions with potential customers behind the scenes at the event.
In many ways, an order-light event feels appropriate for an airline industry that is still emerging from its greatest-ever crisis while facing a raft of fresh economic and other challenges.
Speaking about those challenges as United Airlines announced its second-quarter results on Wednesday, chief executive Scott Kirby said: "It's nice to return to profitability – but we must confront three risks that could grow over the next six to 18 months.
"Industry-wide operational challenges that limit the system's capacity, record fuel prices and the increasing possibility of a global recession are each real challenges that we are already addressing."