That Latin America's two biggest operators LATAM and Avianca have both been forced to file for bankruptcy protections shows the extent to which carriers in the region have quickly found themselves under pressure during the pandemic.
Colombia's Avianca, which filed for Chapter 11 bankruptcy protection on 10 May, and Santiago, Chile-based LATAM, which filed in the early hours of 26 May, say their virus-reduced operations will continue amid the bankruptcy protection process. Chapter 11 restrucutring, they add, will allow them to restructure debt and prepare for the day when air travel across South America returns to some semblance of normalcy.
Avianca Holdings is one of 39 companies named in a joint bankruptcy filing with the US Bankruptcy Court for the Southern District of New York on 10 May. Others included Avianca Ecuador, Avianca Costa Rica, Tampa Cargo and Taca International Airlines.
In LATAM's case, 29 entities are included in the filing. Affiliates in Chile, Peru, Colombia, Ecuador and the USA are among them, but those in Argentina, Brazil and Paraguay are not.
Airlines in Latin America face broader macroeconomic issues than many peers in Europe, North America and Asia. Some countries in those regions have implemented financial relief packages to help ease airlines' liquidity challenges.
In Latin America, several governments have considered offering aid to struggling air carriers but have not approved packages, leaving some carriers facing a liquidity crisis. Lack of financial support will be a considerable roadblock when carriers want to reinstate previously suspended routes.
"All the governments understand the importance of giving support to the industry, but Latin America is a poor region, and it's very hard to explain to the population that they are giving support to a private company despite this company providing a public service," says Eliseo Llamazares, head of the South American aviation and tourism practice at KPMG. "That is a very difficult conversation to have. And if there is any support coming, it will come very late."
About 80% of the region's air traffic has come to a standstill in a place where, due to vast distances between population centers and the dearth of ground-based infrastructure networks, the sector is an essential part of everyday life and the economic well-being of the countries. Most South American countries have said they will begin to expand their aviation connections and open airspace restrictions in June and July, with Argentina being an outlier – having suspended most air travel until September.
Whilst the outbreak into Latin America was initially overshadowed by the proliferation of cases in Europe and North America, the spread reached the point in late May where the World Health Organisation described the region as the "new epicentre" of the pandemic.
Latin American airline pre-crisis fleet and backlog as of May
Fleet on 31 Jan 2020
May 2020
May 2020 - Dec 2021
Operator
In-service
Stored
TOTAL
Backlog
Planned deliveries
1
LATAM Airlines Brazil
157
2
159
16
1
2
Azul
141
9
150
105
34
3
Gol
130
7
137
105
26
4
Avianca
93
1
94
102
5
5
Copa Airlines
91
6
97
55
14
6
LATAM Airlines Chile
80
4
84
31
7
7
Volaris
77
2
79
107
14
8
Aeromexico
67
8
75
55
13
9
Interjet
63
25
88
45
3
10
Aeromexico Connect
56
1
57
0
0
Source: Cirium fleets data
LATAM
LATAM filed for bankruptcy protection with the US Bankruptcy Court of the Southern District of New York on 26 May. In its filing the airline cited liquidity problems, and hopes the move will give it some breathing room to "transform its business" as it awaits recovery.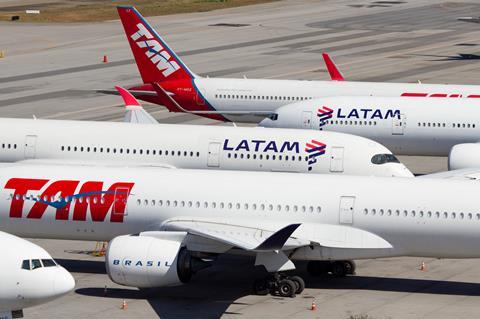 LATAM and the 28 other entities which were part of the filing hope they will be able to "resize" their operations to match new levels of demand, and reorganise balance sheets to become "more agile, resilient and sustainable". Its affiliates in Argentina, Brazil and Paraguay are not included in the filing.
South American governments have not been as forthcoming with financial assistance for their airlines, creating the current squeeze for the carriers. LATAM in particular suffers under a heavy leasing burden, and with no income from travelling customers, the company has found it hard to pay bills.
LATAM says it had around $1.3 billion in cash on hand at the time of filing and that it was in discussions with the governments of its South American home states to source further funds, in order to protect jobs and minimise disruption.
At the start of June LATAM posted a net loss of $2.1 billion for the first quarter of 2020, citing a goodwill impairment loss of $1.7 billion caused by the coronavirus pandemic as the major driver for the loss
Brazil
Early in the crisis, before it became obvious how drastically air service across the most populous South American country would be affected by the pandemic, the Brazilian government developed an essential air services plan to keep some of the most far-flung destinations connected as airlines' networks shut down.
Azul and competitors Gol and LATAM guaranteed all 27 state capitals and 19 other large cities would remain accessible by air during the crisis. They committed to operating 1,241 instead of the scheduled 14,871 weekly flights, representing capacity reduction of nearly 92%, while the number of airports served by the three carriers fell more than half, from 106 to 46.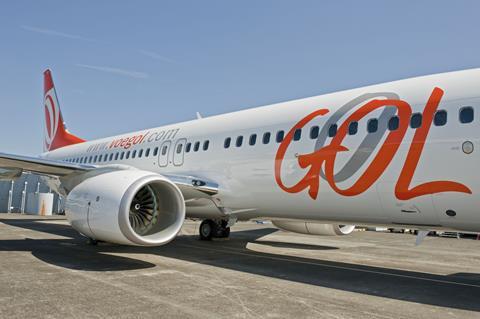 The airlines in Brazil face similar financial difficulties as those in other South American countries, and the coronavirus crisis is far from over. Both Rio de Janeiro and Sao Paulo are dealing with a surge in Covid-19 cases, second only to the United States, so it will be a long time until that country returns to some semblance of normalcy, where people are willing and able to travel by air.
Azul's David Neeleman told analysts in mid-May that the airline profited from its fleet flexibility to manage through the first few weeks of the pandemic. With a variety of aircraft, from Cessna Caravans to A321s, the airline was able to quickly react to changes in bookings, swapping aircraft as demand shifted.
But Azul too has had to delay some orders in order to preserve cash. The airline deferred 59 E195-E2 jet deliveries, which it would have received in the next three years, to "2024 and beyond". Azul was the launch customer for the re-engineered variant in September 2019. Neeleman said the carrier also was speaking to Airbus about almost 40 orders with the Toulouse-based manufacturer.
In the darkest days of the demand crisis, Azul served just 25 of the 116 cities it flew to prior to the arrival of the coronavirus. In May, that bounced back to 38 destinations, with a daily average of about 115 flights. A full schedule would be closer to 1,000 flights. By the end of the year, the airline expects to be operating about 40% of that.
Gol in mid-May said it may return some of its 23 leased Boeing 737-700 aircraft in order to lower costs. The low-cost carrier is already planning to return seven 737-800 aircraft in the first half of 2020 and another four 737-800s in the second half of the year.
The airline expects to return a total of 18 leased aircraft in 2020 and could potentially return up to 30 aircraft in the subsequent two years.
Gol's other fleet-related cost-cutting measures since the pandemic include deferred lease payments intended to save Gol R$450 million ($76 million) and the termination of orders for 14 Boeing 737 Max aircraft in 2020, 20 Max aircraft in 2021 and 13 in 2022.
How the airline industry has been hit by the crisis
1

2

3

4

5

6

Currently reading

Latin carriers feel the pain as crisis deepens

7