As the chief sustainability officer of an airline group and leader of a low-cost carrier, Philip See has a unique perspective on the net-zero push
The role of airline chief sustainability is attracting a diverse range of talents to what is, in many cases, a relatively new business function.
But few incumbents have airline chief executive on their CVs – and even fewer are doing both jobs at the same time.
Philip See is an exception.
As Malaysia Aviation Group's (MAG's) chief sustainability officer, See also retains his responsibilities as head of Malaysia Airlines' low-cost unit Firefly.
"I would say it is very challenging but you just have to make the most out of it and work both," See says. "You have to balance and juggle it, there's no right formula."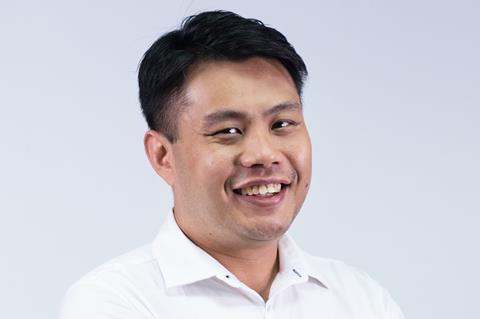 Indeed, the dual roles mean See is busy. When he spoke to FlightGlobal during the Aviation Carbon 2022 event in London during October, for example, he had spent more than four hours on calls back to Malaysia before most people had started gathering for the first conference session.
But See is keen to stress that successful airline sustainability leadership – whether done on its own or alongside other responsibilities – is not about doing all the work yourself.
"That's why you can keep the [sustainability] team small, because you really want the organisation to own it," he explains.
"So when you talk about, let's say market-based measures, you want corporate finance to take it on.
"If you are going to talk about sustainable aviation fuel, you want fuel management to take it on, [and] if you want to talk about Scope 2 emissions, you want property to get involved."
That leaves the dedicated sustainability team with a role focused on "laying the priorities, making sure we get the same effort and connect the dots", See says.
"We are more a thought-centre, and a facilitator and project manager to make sure things move. Give them the insights, give them the incentives, give them the platform to do it."
See has been overseeing MAG's sustainability strategy for around a year now, having led Firefly since January 2019. He stepped across into the latter role from the head of strategy and network position at Malaysia Airlines.
Not unusually for someone working in the relatively new airline sustainability function, See's work history – including time at consulting firm McKinsey & Company and a previous stint at Malaysia Airlines – is light on sustainability-focused experience.
But See has been working hard to understand the net-zero pathways available to the group.
And in straddling two roles, he is perfectly placed to understand why sustainability is becoming as fundamental to the airline business as the topic of safety.
"The sustainability we talk about very much links to business sustainability – you can't treat both in isolation," he states.
"This is really important because our customers are asking for it," he continues. "Our vendors and partners need to do that.
"If you talk to our bankers, the capital markets, they are asking us to measure this data and they want to see actions and initiatives."
As a result, See explains, those working across MAG usually need little convincing to take sustainability seriously.
"I don't really have much push-back internally, as long as you have the right mindset to do it," he says.
SUSTAINABLE FUEL CHALLENGE
Inevitably, however, the chief sustainability officer's challenges mount when significant investment is involved. See cites sustainable aviation fuel (SAF) as perhaps the best example of this.
It is an area where he knows some big calls are ahead.
"That is high investment, and then [the question becomes] how do you decide when to do it?" he says. "That's my role, to make sure that we are thinking in a way that's thoughtful, that we know when to trigger it, and we execute it at the right time."
Indeed, See is already developing a strong sense of the milestones to come for MAG and the wider industry on the journey to net-zero CO2 – with the 2030-2035 period being the critical one, in his view.
"There are certain things that I have to address in the next three to five years with [the EU Emissions Trading System], CORSIA and all that," he says.
Among the hurdles during that period, See expresses some concern about the "relatively disjointed" way those market-based measures are being introduced.
"But they are not as seismic as what we'll need to address in 2030-2035," he says, when SAF becomes "really mainstream".
Acknowledging the need for governments and industry to play their part in the SAF ramp-up, See is encouraged by the recent ICAO agreement on a long-term aspirational goal for aviation, which theoretically aligns with the airline sector's net-zero timeline.
"We want clarity and we want to be told what is needed to be done so we can make the necessary planning measures," he says. "A fragmented approach is just not good.
"The coordination is crucial – it makes sure we are in a global framework."
And he sees SAF as a big opportunity for Malaysia as a country.
"I think Malaysia has so much opportunity to be a SAF hub," he says. "Not now, but in 10 years' time, I think it's a great opportunity.
"Simply because it's in the heart of Asia, it has got access to feedstock, or if not, it has close proximity to feedstock, which you can transport.
"And a lot of your SAF capacity-building can come from your petroleum and refining capacity know-how, and we have that."
Amid that SAF and wider sustainability journey, See's guiding philosophy is that "you do what you need to do within your internal capacity [to address emissions]".
"That's the morally right thing to do," he says, while noting that carbon markets and, eventually, "out-of-sector stuff like carbon air capture" are options when the internal levers have been exhausted.
Still, amid a need for the industry to prove to stakeholders that it is acting appropriately on sustainability, See worries about the "fragmented" state of airline reporting on the issue.
"I really look to IATA for clarity about the reporting framework," he states.
But he is ultimately optimistic that MAG and the industry will find a path to net-zero CO2, with the next couple of years being about "crystallising" the plan.
"What I see is an industry that is trying to find its footing and build its scope," he states.
JETS PROPEL FIREFLY STRATEGY
If tackling the airline industry's existential challenge was not enough, a new set of leadership challenges emerges when See puts his Firefly hat on.
He is currently managing the expansion of Malaysia Airlines' low-cost subsidiary into jet operations – a venture the group last attempted early in the previous decade, before local budget behemoth AirAsia and Malaysia Airlines entered into a short-lived partnership and plans were dropped.
See explains how the latest effort to add jet operations to Firefly's largely domestic operations fits into MAG's wider strategy today.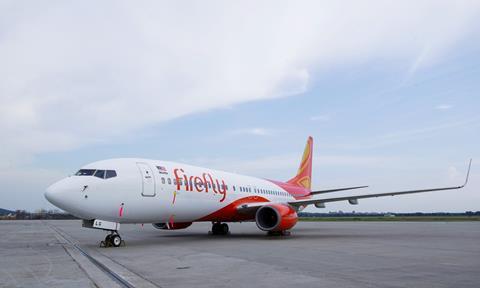 "Firefly is now two businesses, the first being the turboprop business from Subang [airport, which serves Kuala Lumpur] but we also recently launched our jet operations from secondary cities in Malaysia, like Penang, like Kota Kinabalu, and that's an all-economy, high-density jet model," he states.
"So the goal moving forward is for the [MAG] business to have two brands: one a premium business-class, all-in brand, which is Malaysia Airlines, and Firefly is the ancillary-driven, low-cost proposition."
That clarification of Firefly's role in the business came amid a long-overdue restructuring of the wider group in the first months of the pandemic, as the grounding of fleets gave MAG the chance to reset its balance sheet.
Firefly is being cautious about its growth projections on the jet side of its business, which complements the long-standing ATR operation. Notably, Malaysia is a place with abundant short-haul competition – including through AirAsia, Lion Air Group's Batik Air Malaysia and start-up MyAirline.
Of the new competition, See suggests MyAirline's plans do not yet overlap with those for Firefly, which focuses on domestic and regional services from secondary cities, and charter markets.
"The way [Myairline] is trying to position themselves, they seem to be an LCC-focused carrier, based at klia2 [Kuala Lumpur's second, budget-focused international airport]," he says. "We don't see them overlap very much with our two core businesses.
"But time will tell, because many people re-pivot their strategies all the time."
Firefly's jet fleet is being fed with ex-Malaysia Airlines Boeing 737-800s – three by late October this year – as the latter carrier prepares to add 737 Max aircraft to its roster.
"Looking at the demand profile of these cities, we don't expect ourselves to grow beyond 8-10 aircraft in the next two to three years," See says of the operation.
"We really want to see how the performance pans out. But we also know we need a certain amount of scale."
See also notes that Firefly is content with the size of its ATR fleet, which stands at nine 72-500s.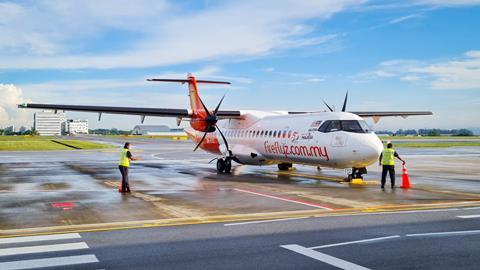 "We won't really move the needle on that, because it's a range issue," he says. "The range is restricted, so you can't really do more expansion beyond that."
In terms of post-Covid recovery, Malaysia is now fully open, See notes, with domestic demand already reaching pre-crisis levels, despite some concern about the pivot to Zoom meetings seen during prolonged Covid-19 lockdowns in the country.
"That hasn't seemed to abate the demand for the past six months," he says. "For the domestic market we are back to pre-Covid levels.
"But it's early to say, this could be revenge travel, this could be pent-up reconnecting.
"We'll see how things stabilise next year."
Asked whether that stabilisation is made less likely by global geopolitical and economic headwinds, See is philosophical. He notes that while some geographies are experiencing angst about the economic outlook, "in Asia it feels more vibrant… there is definitely growth".
His view, therefore, is that it is "unlikely" Malaysia will enter a recession.
"It's just that growth will moderate and slow down," he states.