The industry veteran told FlightGlobal two years ago that union recognition and falling capacity growth might prompt him to step down – but has he changed his tune?
When Michael O'Leary became group chief executive at Ryanair earlier this year, some people wondered whether it might signal a shift in the leadership dynamic at the Irish low-cost carrier. But asked by FlightGlobal how much the move has changed his day-to-day life at the operator, the Irishman is typically outspoken in his response.
"Yes, I'm now concentrating on the vision and the f****** strategy and the geopolitical f****** consequences of all these decisions," he says, jokingly, before stating: "Not a lot."
Speaking in Brussels on 10 December, he explains that "it's a reasonably small group within Ryanair", and that the chief executives of Ryanair mainline, Buzz, Lauda and Malta Air still "get together one day a week and run through the issues for the next week for all of the airlines".
Rather, the recent change at Ryanair has been more evident in one fundamental shift that is already playing out – the business's recognition of unions – one that is yet to play out – the introduction of the Boeing 737 Max into its fleet – and one that is being felt acutely by most operators in Europe – a spike in pressure regarding the industry's environment footprint.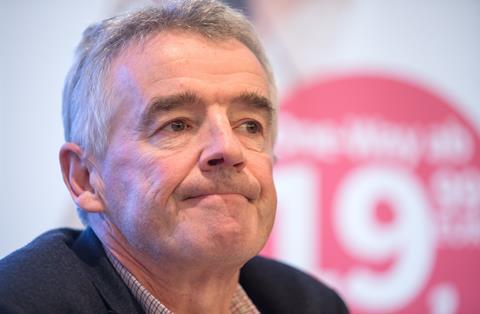 On the first point, O'Leary describes handling union recognition as being like a "new romance; it takes a while to get to know each other".
He states that Ryanair has made "much more progress in the last two years than I thought we would have made", adding: "To be fair, the unions have been fairly pragmatic and so have we."
Citing "very good relationships, generally speaking" with employee groups in Germany, Italy, France and the UK, he says that Ryanair has "now signed up CLAs [collective labour agreements] with most of the major European markets".
When recent strike action has occurred in Ireland and the UK, for example, Ryanair has been able to maintain a full schedule, he explains.
In the latter country, "almost all the UK pilots showed up to work" during September industrial action, O'Leary claims, "and we didn't cancel one flight".
His belief is that pilots "recognise that the world has gone to hell in a f****** handbasket", with airlines elsewhere "going bust" and people losing their jobs "while a bunch of f****** halfwits in some union are out manning the barricades".
Ryanair's ability to maintain its services during strikes leaves him frustrated at the amount of coverage the carrier receives when industrial action takes place.
"It's extraordinary the extent to which we get coverage about f****** strikes," O'Leary laments.
Adopting a conciliatory tone, however, regarding the airline's initial experience with union recognition, he says: "We will learn from our mistakes and hopefully the unions will learn from their mistakes as well."
MAX GROUNDING SLOWS GROWTH
Meanwhile, O'Leary says that the lack of Boeing 737 Max deliveries – the Irish carrier was due to receive its first of the type in the weeks following the global grounding – "is slowing our growth".
As a result of the Max situation, Ryanair has gradually cut its projection of total passengers for the year to March 2021 from 162 million to 156 million at a group level.
"It's not going to take a big jump in the imagination that we could finish up with no new aircraft for summer of 2020 and we're cutting the [traffic] growth again to 155, 154 million, which would essentially be Lauda's growth," he explains.
The group forecasts 153 million passengers for the 12 months to March 2020, which would be up 8% year-on-year.
O'Leary notes that Ryanair currently expects "10 Max aircraft to be delivered in May and June of next year, with the possibility that might become five, it might become zero", based on projections of when the type will return to service.
He clarifies that should deliveries not be possible by June, the Irish carrier would delay receipt of its first Max jet until after the July-August peak travel demand period.
Ryanair has warned of base closures and redundancies as a result of the type's uncertain entry into service with the operator.
Regarding the outlook for 2020 amid those Max woes, O'Leary suggests "there's a possibility you could have that reasonably benign capacity outcome with declining oil prices".
"I think the Max is the most exciting thing Ryanair is going to do for the last 10 years. So I've signed up for another four, five years contract, that takes me to nearly to the end of the Max delivery cycle."

Michael O'Leary, group chief executive, Ryanair
He continues: "At the moment we're more than 60% hedged at $61 a barrel into next year, whereas currently this year our average hedge price is about $72 a barrel. So we might well have one of those weird years where you'll have lower oil costs and probably reasonably stable pricing."
Overall, that equates to an "environment that is definitely improving", he says, citing the positive impact on Ryanair of airline consolidation and failures that have taken place in the region over the past few months, including those of Adria and Thomas Cook, plus Norwegian's decision to cut "22-23%" of its intra-European capacity.
Amid those developments, "there won't be any net capacity increases in Europe in the summer of 2020", he predicts, noting that Ryanair, Wizz Air and EasyJet are all "short of aircraft to grow".
On rival carrier EasyJet's move to launch a package holiday business just after Ryanair ended its foray into that sector, O'Leary says he "wishes them well", but "we couldn't make any money out of it".
He cannot resist the opportunity to take a dig at a rival, however. "If you're charging higher air fares like EasyJet, you need to mask it in holidays," he alleges.
For its part, EasyJet said in November that its new venture was "aimed at shaking up the sector with flexible, great-value holidays to hand-picked hotels across Europe".
RESPONDING TO ENVIRONMENTAL PRESSURE
But Ryanair's trademark fixation on low fares has drawn criticism in some quarters. As the European industry faces significant scrutiny regarding its impact on the environment, stakeholders including Lufthansa group chief executive Carsten Spohr have suggested that "rock bottom" ticket prices send a message that airlines might not care about their carbon footprint.
"Carsten has his own agenda," O'Leary states when reminded of Spohr's comments. "That's fine. We understand that. It's just, as usual, his agenda is nonsense."
He notes that by some metrics, the first- and business-class travel offered by network carriers such as Lufthansa is "a much more environmentally damaging form of travel than economy class".
The Ryanair chief acknowledges, however, that "we as an industry have got to be able to deliver flights more sustainably, which is why we're investing so much money in this new technology.
"We do need an education. As an industry, we haven't communicated these messages well enough."
Ryanair has not seen any impact from "flight shaming" in Europe, O'Leary notes, adding that blaming the movement for falling traffic in some parts of Scandinavia "is very much putting lipstick on a pig".
Instead, he suggests, taxes are the issue.
"They put up ridiculous taxes on aviation in Sweden and in Norway, and surprise, surprise, air travel fell," he states. "They avoided air travel taxes in Denmark, which continues to grow strongly."
HAPPY DESPITE FRESH CHALLENGES
Some might be surprised that O'Leary has stuck around to face challenges around the environment, union recognition and the Max's introduction into service, particularly after he told FlightGlobal in 2017 that "when it becomes a dull, boring, f****** growing-at-two-to-three-percent-a-year [airline], dealing with f****** unions and strikes and all that kind of s***, I'll be gone".
But he is still at Ryanair, and says he is "very happy at the moment" to be involved in "very exciting times".
"I think the Max is the most exciting thing Ryanair is going to do for the last 10 years," O'Leary states, adding: "So I've signed up for another four, five years contract, that takes me to nearly to the end of the Max delivery cycle.
"But we've good managers now – Eddie Wilson in Ryanair, Andreas Gruber in Lauda, Mikael Karlzinki in Buzz, and Diarmuid O'Conghaile in Malta – so we've a good team there doing exciting things and interesting things."

Based in London, Lewis has been editor of Airline Business since 2021, having joined the publication as managing editor in 2016. His reporting covers the global airline sector, with Europe a key focus. Lewis also edits the Airline Business Newsletter and Airline Business's daily publications at industry events, and he co-hosts the Airline Business Podcast. He previously worked in senior production roles at FlightGlobal and a variety of publications covering industries such as chemicals and defence.
View full Profile