European budget operators Ryanair and Wizz Air outlined the continued strength of air traffic demand in figures for September released this week. The carriers are the first in the region to release traffic data each month and figures for both confirm strong summer demand has continued.
Ryanair reports 15.9 million passengers for September, up almost 50% on the same month last year, and more saliently nearly 2 million above the same month in 2019. Notably, the passenger load factor of 94%, while two points down on September 2019, is comparable with pre-pandemic highs.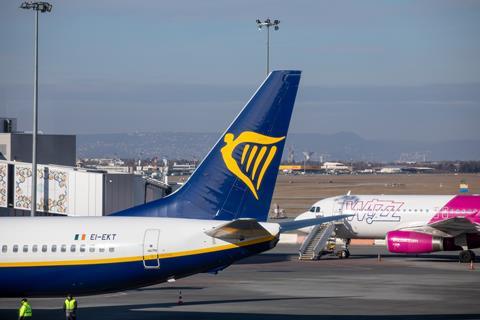 Wizz Air passenger numbers of 4.5 million were 51% above September 2021 levels and well above the 3.8 million it flew in the same month in 2019. If the load factor of 87% is still several points short of pre-crisis levels, it is still ahead of the year-to-date average for the carrier.
The airlines have been among the most proactive in adding capacity since the pandemic and lead the traffic return in Europe. Eurocontrol data for the week ending 2 October shows flights for both increasing by double-digit percentages compared to the same week in 2019. They are the only operators among Europe's 10 biggest to carry out more flights than in the corresponding week of 2019.
Eurocontrol data for the key summer months from June to the end of September shows flight activity at 87% of pre-crisis levels.
"Aviation is not in a bad place, but it still hasn't recovered," says Eurocontrol director general Eamonn Brennan, as long-haul networks remain hit. Brennan highlights the most recent weekly data showing that while transatlantic flights are just 4% below pre-pandemic levels, the same metric is 29% down on routes to Asia-Pacific.
If summer demand has been unquestionably strong, the same cannot be said of the ability of Europe's air transport ecosystem to handle that demand. A number of airports implemented capacity caps after a torrid start to the summer.
As the pressure of the summer peak eases, some of the more formal restrictions on capacity are being removed. Caps on the number of departing passengers from London Heathrow airport, for example, will be lifted at the end of October, with other mechanisms used to manage capacity peaks.
However, the challenges at Amsterdam Schiphol airport continue. KLM has hit out at the caps imposed over the winter, which it says leaves it no choice but to restrict ticket sales.