As the global airline industry gathers in Doha ahead of this year's IATA AGM on 19-21 June, there is plenty to be positive about – alongside reasons for caution regarding the outlook.
First and foremost, the airline sector seems to have survived its biggest crisis with the loss of surprisingly few carriers along the way. Most airlines still have lots of work to do to repair their balance sheets, but they are able to look forward with more confidence regarding the pandemic than at any point over the past two years.
That is because, as more and more governments drop Covid-related travel restrictions, huge pent-up demand is finally driving a widespread return to the skies.
Indeed, while many industry observers expressed concern during the darkest days of the pandemic that demand might return at below pre-Covid levels, some stakeholders are suggesting the opposite might turn out to be true.
Speaking earlier this month, Delta Air Lines chief executive Ed Bastian told a Bernstein conference that the experience of living through the pandemic is likely to prompt people to travel more than they did previously.
"I think demand is going to settle out at a higher level of activity than we were seeing in 2019," he predicts.
That is because people will "no longer take travel for granted as they did in the past", Bastian says, and will "want to invest" in more travel experiences.
"[People have] lost almost three years of experience during the pandemic and I don't think this is going to be something that is this summer or just this year," he adds in reference to the high demand for travel being seen in Delta's markets today.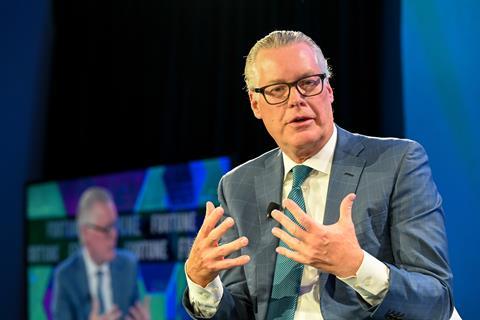 The latest global traffic data from IATA reflects that enthusiasm, as the gap to pre-crisis levels continues to close. April passenger demand was down 37.2% on 2019.
Crucially, more countries in the Asia-Pacific region – with the exception of China – are opening their borders, making the recovery a truly global affair.
"April data is cause for optimism in almost all markets, except China, which continues to severely restrict travel," says IATA director general Willie Walsh. "The experience of the rest of the world is demonstrating that increased travel is manageable with high levels of population immunity and the normal systems for disease surveillance."
The removal of remaining travel restrictions – including the recent ending of the requirement for Covid-19 testing among arrivals in the USA – will ensure the recovery keeps its momentum.
But it is impossible to ignore some of the headwinds faced by the industry today.
At some point, government moves to reopen borders will be challenged by a new variant of Covid-19. No one is likely to take anything for granted in that regard.
But even if the epidemiological situation stays on a positive track, a key question is how much of an impact other factors will have once the initial wave of enthusiasm for travel dies down and the northern hemisphere heads into its winter season.
Of immediate concern are the operational issues affecting a number of markets, as staffing shortages combine with other factors to cause delays and cancellations.
More broadly, there are concerns in many geographies about rampant inflation and the wider economic outlook.
At the same time, Russia's invasion of Ukraine has rocked a number of markets and raised questions about a possible reversal of globalisation trends.
Partially as a result of the security situation in Europe, fuel prices have rocketed, creating fresh cost challenges for an industry that is still burning through cash in many areas.
And the industry's saviour during the Covid-19 crisis – air cargo – is experiencing a setback after a strong performance in 2021.
IATA's latest data shows air freight demand contracting 11.2% year-on-year in April, as the war in Ukraine and China lockdowns take their toll.
"But with China easing lockdown restrictions, there is cause for some optimism and the supply/demand imbalance is keeping yields high," Walsh says.
In terms of longer-term challenges, sustainability remains a huge focus, with airlines seeking to stay in control of their own destinies. Only two weeks ago they received a reminder of the bumpy road ahead, as the European Parliament voted to extend the EU Emissions Trading System to cover all flights departing the bloc from 2024, putting it into conflict with the scope of the global CORSIA scheme.
If the industry wants to move on from discussion of Covid-19 in Doha, it cannot complain about a lack of alternative talking points.