Malaysian start-up MYAirline stands poised to commence services, led by a team of industry veterans who have faith that they can go that extra mile for passengers.
MYAirline chief executive Rayner Teo is a seasoned airline man. In 1988 he started out at Malaysia Airlines as a reservations assistant. Following stints at global distribution provider Abacus and IATA, he headed sales and distribution at AirAsia from 2004 to 2019, and later served in an advisory role at Thai Vietjet Air.
His broader MYAirline team includes a number of former AirAsia colleagues.
"Our team, especially senior management, all come from the other side," says Teo, alluding to Malaysia's iconic low-cost carrier (LCC) brand.
"It's in our DNA to be an LCC. We're looking to be a better version of what people are used to."
As with AirAsia, the new carrier will operate from 'KLIA2' – shorthand for Kuala Lumpur International Airport's Terminal 2. MYAirline has three leased Airbus A320s with 180 economy seats. All three jets are ready for service.
MYAirline's genesis stems from the depths of the coronavirus pandemic in 2020 when Malaysia was largely locked down. Late that year, Teo and Malaysian entrepreneur Goh Hwan Hwa discussed the idea of a new airline. They quickly determined that the industry's eventual recovery from the pandemic would offer an opportunity for a startup.
Through two of his companies, Goh holds 98% of MYAirline, while Teo holds a 2%.
"He has always stated his interest in wanting to own an airline, as far back as five to seven years ago," says Teo. "[In late 2020] we had a very simple discussion, and one of the main topics was on the fact that we wanted to raise the standard."
Teo says aircraft lease rates have been very competitive, and that MYAirline was able to sign-up experienced staff who had left other carriers. For its headquarters in KL, the airline was able to lock-in a competitive long-term rental rate.
As for milestones, MYAirline secured its Air Operators Certificate from the Civil Aviation Authority of Malaysia in September. It is in the process of converting its Air Services License from provisional to full. Once this is in place, MYAirline can apply for traffic rights. Teo hopes to launch operations on peninsular Malaysian routes in December.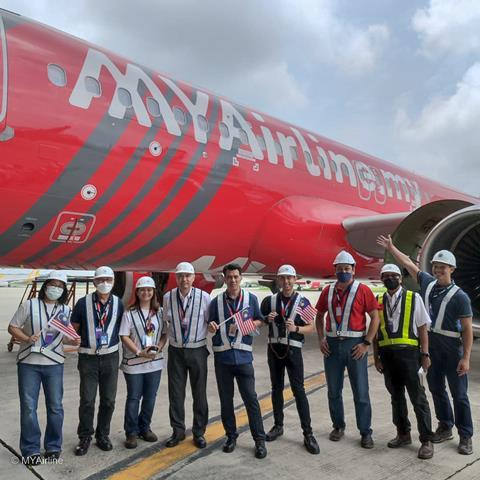 As for how MYAirline intends to differentiate itself in Malaysia's competitive market, one example Teo offers is that his team has used social media to identify passenger "pain points". As such, the company has invested in the people and systems to help passengers deal with issues.
"We will make sure from the beginning that we have a pretty strong team available with the relevant technology to support interactions with our customers," he says.
On the distribution front, MYAirline will have both mobile and web booking capabilities, which will be scalable as the airline develops. Teo notes that MYAirline will have no servers of its own, but will operate its reservation system straight from the cloud.
MYAirline has yet to announced its initial route network, but Teo indicates that the carrier will serve key peninsular routes. Cirium schedules data indicates that in November 2022 the top peninsular routes as measured by seat capacity are services from KL to Johore Bahru, Langkawi, and Penang.
Eventually the carrier will serve East Malaysia on the island of Borneo and regional destinations. On a seats basis, key regional routes from KL include Singapore, Jakarta, Bali, and Bangkok.
To support the carrier's growing network, Teo sees the fleet conservatively growing to 50 aircraft within the next five years. Initially leased jets will support this growth, but he foresees MYAirline eventually placing orders directly with either Airbus or Boeing.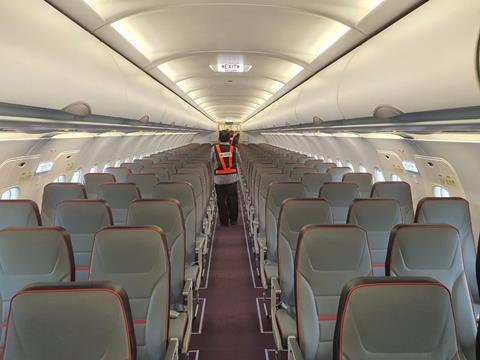 But while MYAirline appears to have gotten its timing right for Malaysia's post-pandemic travel boom, Teo does have concerns as the launch date approaches. He notes that fuel prices remain high, and the strong US dollar presents challenges.
Teo keeps a very clear focus on costs. He is keen to avoid the acquisition of what he calls "white elephants" – ie. buying something that ends up not being used.
Teo is also determined that his team gels properly and is aligned with the MYAirline mission statement.
"It's easy to put down words, but making sure that everyone in the company actually goes forward in that direction takes a lot of work," he says.
He feels a high performing team is essential for the smooth operational launch of MYAirline.
And then there is the competitive challenge from AirAsia and the Lion Group's Batik Air Malaysia.
"I believe that the natural market forces should be at play, because it's all about demand and supply," says Teo.
"As long as everyone within this industry keeps to their plans and is not too aggressive, I believe we should be fine."