The chief executive of South Korean low-cost carrier Jeju Air is focusing on the basics as the airline grapples with the effects of the coronavirus pandemic.
E-Bae Kim has been chief executive of Jeju Air since 1 June, following a 30-year career with Asiana Airlines. His predecessor in the role, Lee Seok Joo, left the airline to become chief executive of Jeju Air's parent, AK Holdings.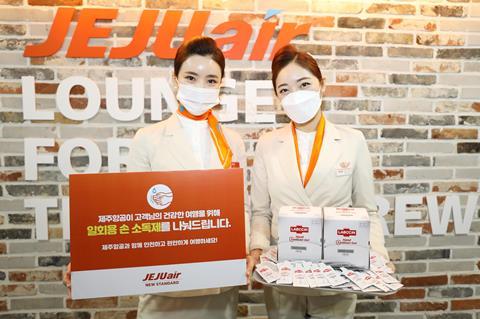 As with other airline bosses, Kim is grappling with challenges such as managing cash, supporting employees through the crisis, and preparing the airline for the industry's uncertain future.
"The make-or-break trait for the industry during this time is resilience," says Kim. "It is very important for both the organisation and each individual to maintain a level that allows us to quickly ramp back up to previous levels, while preparing for the Post-Covid-19 new normal by planning our return to large-scale operations."
In the crucial area of cash, Kim says the airline has been able to reduce its fixed costs by 25%. As opposed to laying off or furloughing employees, the airline has benefited from a government paid leave scheme for South Korea's hardest hit industries. Under the scheme, up to 75% of labour costs are reimbursed for 240 days in 2020, followed by 180 days next year.
Illustrating the challenges facing the carrier, Jeju Air posted a second quarter operating loss of W84.3 billion ($71 million) for the three months ended 30 June, more than triple its operating loss in the second quarter of 2019. Revenue fell 88.5% to W35.7 billion and its net loss tripled to W99.5 billion. Aircraft utilisation fell to four hours per aircraft during the quarter, compared to 13.6 hours a year earlier.
To help tide itself over, the airline has been successful tapping the market for funds. It recently announced a W150 billion fund raising through a secondary offering. This followed a previous secondary offering in May for nearly W170 billion.
As for staff, Jeju Air's on-duty rate is at 30% of previous levels, with 70% taking paid leave. Employees are rotated between paid leave and active duty.
With international flights effectively halted amid a plethora of travel restrictions, South Korea's domestic market is among the few relative bright spots in the world's aviation industry. Kim says the airline's domestic services are back at 2019 levels, aided by the airline's strong position on the world's top domestic route, Seoul to Jeju Island.
According to Cirium schedules data, there will be approximately 100 flights on the Seoul Gimpo-Jeju route daily this September, providing some 220,000 seats. Jeju Air will provide 17-20 daily flights with its Boeing 737-800s.
One challenge, however, is that the South Korean airline industry is now highly concentrated on the Jeju route, which hurts yields. On other domestic routes, airlines compete with South Korea's superb high-speed rail network.
Jeju Air has implemented a number of hygeine measures for passengers, aircraft and crew
Passengers:
Pre-boarding temperature check via touchless thermometer at check-in counters. (anyone exceeding 37.5°C will be denied boarding)
"Untact" check-in services
Touchless kiosk to check-in by scanning a barcode
Plexiglass shields installed at all check-in counters
Required to wear a mask at all times; during check-in, boarding, in-flight and deplaning.
Blocked middle seats (subject to load).
Aircraft:
Elevated cleaning measures to disinfect aircraft before, during and in-between flights
Heavy duty cleaning each night
Extensive hygiene measures onboard and on the ground
Cabin Crew:
Temperature screening prior to their shifts
Mandated to wear masks
Minimise contact with passengers (in case of sick person on board, designate one crew member to serve him/her)
Last group to deplane and transported in separate shuttle to minimise contact with cockpit crew
"With all airlines being densely concentrated in the Seoul Gimpo-Jeju route, we had to lower prices knowing the risk of low profitability to compete with others," says Kim. "But we need to adhere to this strategy because it is extremely important to maintain our performance at a certain level for aircraft, cockpit & cabin crews, maintenance and all other essential functions."
As for international operations, the airline has stepped in to perform repatriation charters to bring South Koreans home. It continues to operate scheduled services from Seoul Incheon to Tokyo Narita, Osaka Kansai, Manila, and the Chinese city of Weihei.
Says Kim: "Though not all of them are profitable, they are maintained in consideration of several reasons: the trust relationship with countries and airports, market presence and social responsibility."
Unlike compatriots Korean Air and Asiana Airlines, which have large maindeck freighter fleets, Jeju Air has not benefited greatly from strength in the air cargo market. In the early stages of the Covid-19 outbreak the airline flew some chartered flights to transport hygiene kits, but the poor cargo economics of single-aisle aircraft have limited Jeju Air's effort in this sphere.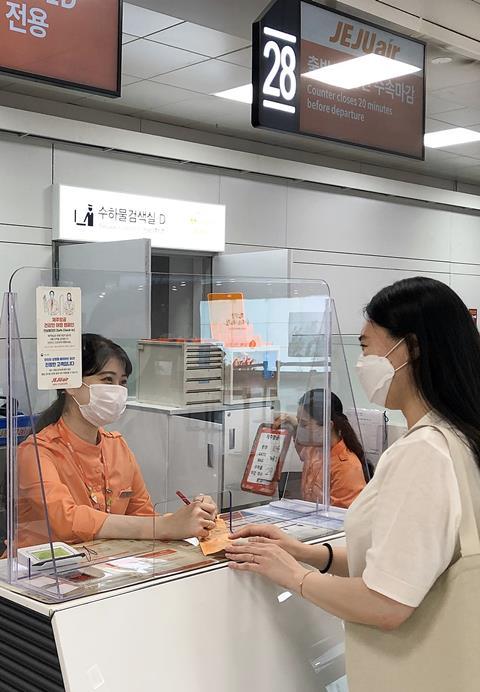 Presently, Kim says 22 of Jeju Air's fleet of 45 737-800s are grounded at either Seoul Incheon or Seoul Gimpo. In addition, Jeju Air has orders for 40 737 Max 8 jets, but these are not due for delivery for another few years.
"We have neither considered any deferral nor cancellation unless it's rescheduled under Boeing's unexpected circumstances," says Kim.
The aircraft, set to be Jeju Air's mainstay type in the 2020s, is undergoing recertification efforts in the USA following a pair of fatal crashes in 2018 and 2019 related to the type's flight control software.
Cirium fleets data shows that 42 of Jeju Air's 45 737-800s are leased. Key lessors include SMBC Aviation Capital (seven aircraft), Aircastle (seven), and Standard Chartered (five). Kim says that "many lessors" have permitted deferrals for a few months until more normalcy returns to the carrier's operations.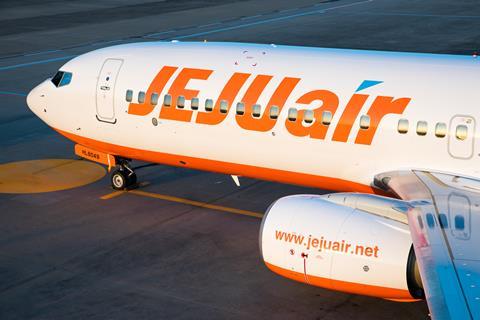 Coronavirus also put paid to Jeju Air's planned takeover of local rival Eastar Jet. In December 2019, Jeju announced it would acquire 51% of Eastar for W69.5 billion. In March, both parties agreed on a lower, W54.5 billion cash consideration. The deal was set to close on 26 June, but in July Jeju Air announced that the deal had fallen through. Jeju Air has been fairly tight-lipped about the deal and its failure.
"The [sales and purchase agreement] to Eastar was officially terminated on 23rd July due to the heavy risk caused by Covid-19 and the seller's failure to fulfil the terms of contract on time given," says Kim.
He adds that all industries have been affected by coronavirus, and airlines must acknowledge that old patterns in passenger preferences and behaviours will change, with government policy also shifting. He notes that Jeju Air enjoyed strong growth prior to the pandemic, and that the down time affords an opportunity to fix shortcomings that the carrier was unable to remedy in the past.
Says Kim: "What defines us is how well we rise after falling."

Greg Waldron is the Asia Managing Editor of FlightGlobal, responsible for the team's airline, aerospace, and defence coverage across the region. He has worked at the company since 2009. In the airline space, Waldron has conducted dozens of interviews with airline leaders in the Asia-Pacific. He also covers areas such as MRO and safety. On the defence beat, Waldron has written extensively about the rise of Chinese airpower, as well as broader airpower developments around the region, such as indigenous fighter programmes, and regional acquisitions of foreign equipment. In addition, Waldron writes about commercial helicopters in the region and business aviation. Waldron worked has a freelance journalist with his work appearing in several business publications.
View full Profile