IATA sees all regions except North American carriers making less profits in 2019 than it expected six months ago, but by contrast projects all these other regions to improve their performance next year.
At a headline level the association's fresh outlook, disclosed on 11 December in Geneva, trimmed $2.1 billion from its June forecast for collective airline net profits. It now sees airlines collectively making net profits of $25.9 billion for 2019. That is almost $10 billion less than it anticipated 12 months ago.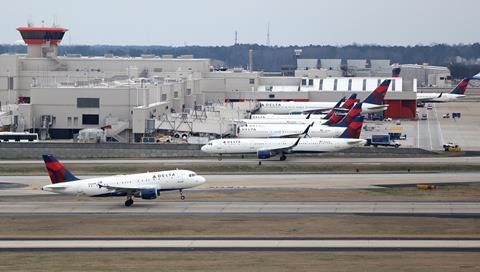 IATA chief economist Brian Pearce tells FlightGlobal that the prime driver for the lower profits has been deepening trade wars, notably between the China and the USA.
"It's obviously caused a shrinkage of cargo, its knock-on effect on business confidence has slowed air travel, and that has really driven the downgrade we have seen in profitability.
"We have seen weaker yields [in the passenger business]. We expected some stability. We were wrong," he says.
Pearce adds: "We were right in North America, but wrong in Europe - where we have seen substantial downward pressure. So there has been a weaker situation in the passenger business as well as in cargo, and travel has slowed more than we anticipated as well."
Compared to its June 2019 forecast, IATA has actually upped its outlook for North American carriers for this year by $1.9 billion to reach $16.9 billion.
But it cut its outlook for the other five regions - including taking $1.9 billion off its expectations for European carriers this year.
IATA net profit forecast for region versus last June 2019 outlook
Region
2019 estimate
Change v June 19
2020 estimate
Source: IATA 2019 December and June industry outlooks
North America
$16.9bn
$1.9bn
$16.5bn
Europe
$6.2bn
-$1.9bn
$7.9bn
Asia-Pacific
$4.9bn
-$1.1bn
$6.0bn
Africa
-$0.2bn
-$0.1bn
-$0.2bn
Latin America
-$0.4bn
-$0.6bn
$0.1bn
Middle East
-$1.5bn
-$0.4bn
-$1.0bn
TOTAL
$25.9bn
-$2.1bn
$29.3bn
However, while it see a slight decline in North American profits in 2020, it sees the five other regions all matching or improving their performance next year.
HOW PROFITS IN THE REGIONS BREAK DOWN
The North American region has led industry profitability since major consolidation and restructuring took place among the US majors in the aftermath of the financial crisis. IATA expects the region's carriers to post collective net profits of $16.9 billion this year - contributing almost two-thirds of total industry profit and marking a more than $2 billion rise on 2018.
That though is projected to fall slightly to $16.5 billion, as IATA expects yields to fall amid a rise in capacity. North American operators would though still account over half the industry profit in 2020.
The biggest improvement for next year is projected in Europe, which IATA believes will increase net profits by $1.7 billion to $7.9 billion. This is largely based on a combination of more restrained capacity growth in the region and benign fuel prices. That though remains below 2018 profit levels and it previous guidance for 2019.
Asia-Pacific carriers are seen back roughly at 2018 profit levels of around $6 billion for 2020. That is up just over $1 billion on the profit seen for this year. "The modest recovery in world trade will support profits in the region next year," IATA says. Notably Asia-Pacific is the region most exposed to the air cargo sector, which has endured a sharp slump across 2019 as trade growth stalled.
IATA expects Latin American carriers to scrape into profit in 2020 after recent losses and a mixed performance in 2019. IATA had in June anticipated the region would be profitable this year.
The Middle East, where airline capacity growth has been sharply curtailed amid some refocusing at Emirates and major restructuring at Etihad Airways, is seen posting a combined loss of $1 billion. That is a slight improvement on the $1.5 billion lost in each of the last two years.
African carriers attempts to return to profit remain challenged and IATA sees another year of losses in 2020.