In their recent half-yearly results, both All Nippon Airways (ANA) and Japan Airlines announced measures to mitigate losses from the coronavirus outbreak, including plans to phase out more aircraft than originally intended.
One thing stood out from the announcements: both carriers addressed the fate of their Boeing 777 fleet, which has formed the backbone of their domestic networks.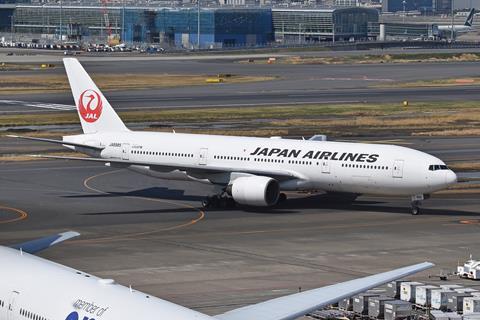 JAL stated that it will retire up to 24 777s over the next three years. These comprise 11 777-200ERs used in its international network will be retired by March 2021, with an unspecified number moved to domestic operations.
It will also retire all 13 777s used on domestic flights – comprising nine 777-200s and four 777-300s – by March 2023.
JAL's announcement came days after compatriot ANA disclosed the retirement of 35 aircraft, 28 more than originally intended. Of these, 22 are 777s, though the Star Alliance carrier did not elaborate which variants will get the chop.
The news was not entirely surprising given the doldrums the industry finds itself in, but marks what could be the passing of an era – one made more significant considering both JAL and ANA were launch customers for the programme.
EARLY ADOPTERS
Both JAL and ANA were early believers in the 777 with a history dating back nearly 30 years, when both carriers signed for the 777-200.
The two Japanese carriers were also involved in the development of the programme, underscoring its importance to their strategy. For both, the 777 would replace older, high-density 747s used on domestic routes.
As a 1995 FlightGlobal report states: "The 777 will play a critical role in ANA's defence of its domestic market share", with the carrier wasting no time in making clear what it needed from the new aircraft programme.
JAL took delivery of its first 777-200 in 1996, while its first 777-300 followed two years later. Meanwhile, ANA took its first -200 in 1995, and its first -300 in 1998.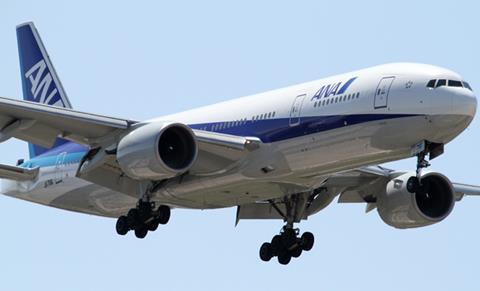 Both carriers would end up operating almost every passenger variant of the 777, save for the ultra-long-range -200LR, culminating in the -300ER, which both operate extensively on mostly long-haul routes.
Only ANA has committed to the latest variant of the family - the 777-9, with 20 examples on order.
Cirium fleets data indicates that JAL has a fleet of nine 777-200s, four 777-300s, as well as 11 777-200ERs. The -200s are between 13 and 22 years old, while the -300s are between 17 and 21 years old.
The mass retirement means its fleet of 777 'Classics' will all but entirely depart the JAL fleet, leaving behind only the relatively younger -300ERs.
ANA, meanwhile, has seven -200s, aged between 15 and 23 years old, as well as seven -300s, aged between 17 and 23 years old. Its -200ERs, of which it has 12, are aged between seven and 21 years old.
THE END OF AN ERA?
Cirium fleets data on both carriers' in-service and stored 777 fleets also indicate that with the impending mass retirements, the 777 fleet could fall to its lowest numbers in more than 10 years.
JAL's current in-service and stored 777 fleet stands at 35 examples, and a reduction of up to 24 aircraft will bring it to as low as 11 777s, the lowest since 2001, when the carrier had 10 777s in its fleet.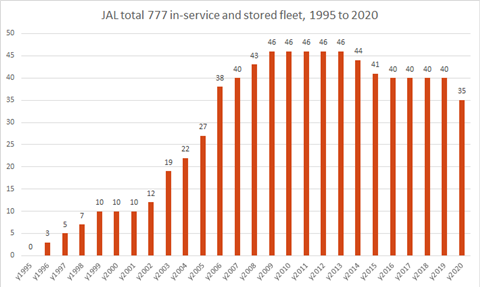 As for ANA, removing 22 777s from its fleet will take the in-service and stored fleet to just 31 examples. This is the lowest figure since 2005, when it had 30 777s in the fleet.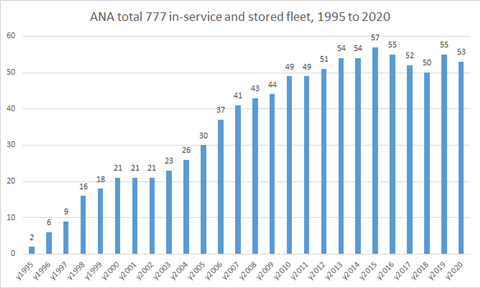 Tracking fleets data over the past 10 years, it is clear that the retirement of older 777s is not a new phenomenon. Looking at the in-service fleet between 2011 and 2020, the number of ANA 777-200s began to dip from 2015, with other variants being retired from 2019. Between 2019 and 2020, all three variants of ANA's older generation of 777s experienced a dip in their numbers.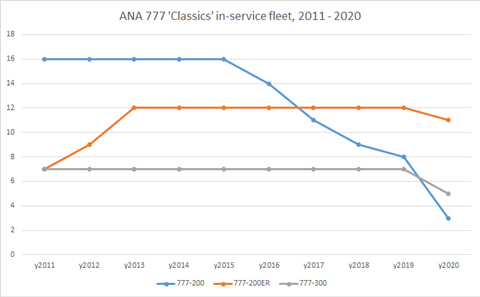 As for JAL, the 777-200 numbers began dipping from 2014, before plateauing for four years, and dropping again from 2019. It also began retiring the 777-200ERs from 2019 , and a number of -300s in 2014.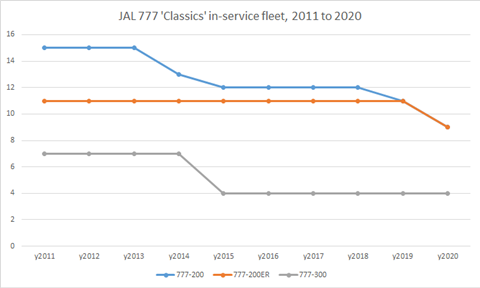 As the backbone of the modern domestic fleet makes its exit, both carriers provide mixed pictures of what the next generation domestic fleet will look like.
For JAL, some of the higher-density domestic operations have been taken over by the Airbus A350. JAL has also made it clear that the domestic fleet would largely remain the same size in the short term, due to the introduction of more A350s, of which it has 25 on order.
A look at fleet trends over the past 10 years also gives an indication of how the future fleet will look: There are gradual declines in the 767 and 777 fleets, while the 787 fleet, which operate both international and domestic flights, has seen tremendous growth.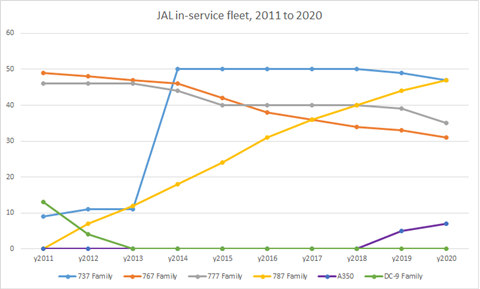 Moreover, ANA's 777-300 will be tough to replace on a one-to-one basis, because they offer extremely high density: configured with more than 500 seats they can accommodate more passengers than any other aircraft in the fleet. The carrier has not explicitly outlined any replacement for the high-density widebody yet, but has a significant number of 787-10s and A321neos on order.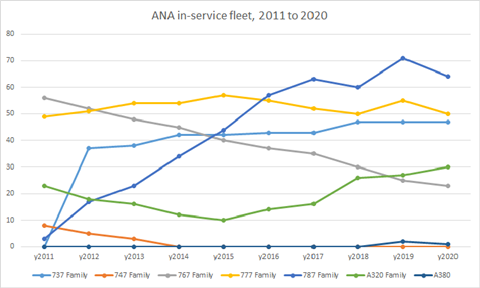 Still, it is clear that the days of the 777 'Classics' are numbered, and have been accelerated by the global pandemic, which has also forced other carriers in the region to dispose off their older generation aircraft, such as Qantas with its 747s, and Singapore Airlines, with its older 777s.
It is also evident that the two carriers, which have seen the programme from its infancy to global fame, have made a final decision about the 777's role in their fleets. When the pandemic clears and air travel picks up again, the 777 will no longer be the domestic flagship for ANA and JAL.