The Turkish budget airline's recently appointed chief executive is passionate about improving gender diversity in the industry – and leading the operator's international expansion
This year's IATA AGM was a big moment for Pegasus and its recently appointed chief executive Guliz Ozturk.
On top of Pegasus and its home city of Istanbul being announced as hosts of next year's AGM, Ozturk received the Inspirational Role Model Award at the global event's Diversity & Inclusion Awards.
It capped a busy few weeks for Ozturk, who had only succeeded Mehmet Nane at the helm of Pegasus on 1 May.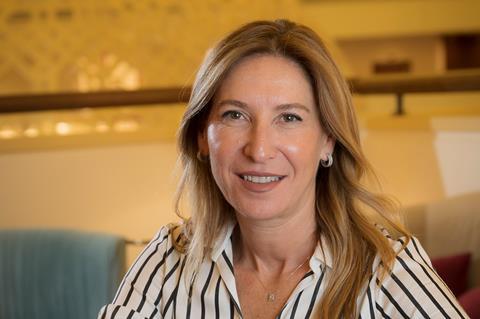 That leadership development came at a time when several airlines – including Austrian Airlines, El Al and KLM – were naming women as their next leaders, bucking the long-term industry trend and pushing female representation among airline chief executives towards the 10% mark globally.
In Ozturk's case, she became the first woman to lead a Turkish airline.
But her award in Doha was about far more than her appointment to lead the low-cost carrier. Rather, it reflected a dedication to improving gender diversity in the airline industry throughout her career to date – a cause that she is passionate about furthering from her new position at the top of a large carrier.
"We should have a plan," she tells FlightGlobal when asked what the industry can do to improve its record on the issue. "This is like having a business plan for the coming three, five, 10 years.
"Create the plan, put the initiatives in place and definitely measure it."
Ozturk is speaking from experience.
During her time at Pegasus, which saw her work as chief commercial officer for more than a decade before her promotion to chief executive, she has been a key figure in a number of diversity and inclusion initiatives, including co-chairing the airline's Women in Sales Network and working on a mentoring programme for women in commercial roles.
The airline has also introduced a raft of policies that are designed to make it easier for women to work in all areas of the business.
"We are working actively not only to have that balance and to increase the female participation at head-office level, but also in the cockpit and in the technical units of the airline," Ozturk explains.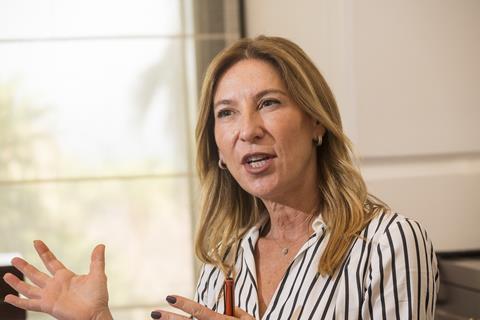 "For us as a company, we have been committed to gender equality for many years," she says. "It's an integral part of our future vision."
Away from Pegasus, however, Ozturk observes that despite important developments such as IATA's 25by2025 programme, "the airline sector is still very male-driven… there is too much gender-associated thinking".
A key factor in addressing that, Ozturk suggests, is that more airline leaders need to be committed to the cause.
"If the top managements of companies believe in this and promote this, then I think we can change lots of things," she states. "Otherwise just talking about having the balance on different parts of the airline but not taking active initiatives on that – that will not help."
Asked why addressing the gender imbalance is important to the airline industry, Ozturk suggests it should be more obvious than ever in a sector that is currently seeing high-profile struggles to attract enough staff.
"We are lacking 50% of society while we are talking about lack of talents," she says. "Can you imagine this?"
ROLE MODELS
Armed with her experience of tackling the issue, Ozturk is encouraged that the industry is at least much more open to discussing its gender imbalance. She also takes heart from the sudden rise in the number of women leading airlines around the world and the inspiration that might give to younger women who are desperate to see role models at the top of businesses.
"Ten years back – I've been in the industry for 30 years – we were not talking about gender balance," she states. "Even in the female leaders, it was not in the top items on the agenda.
"Now I am more optimistic because globally this is an issue on the agendas of corporations and on leadership agendas," she says, acknowledging her pride that Pegasus has played "a pioneering role in Turkey in this regard".
Pegasus' ability to continue on that mission today is only possible thanks to the drastic action it took to survive the Covid-19 pandemic.
As part of the leadership team that guided the carrier on that journey, Ozturk is clear on some of the key learning points, as she concentrates on her main task today: leading Pegasus beyond pre-Covid capacity levels.
"Those dark days are managed in the good days," she states. "If you manage your balance sheet, and your financial management and your production management are successful on the strong days, then you have more tools to manage your dark times."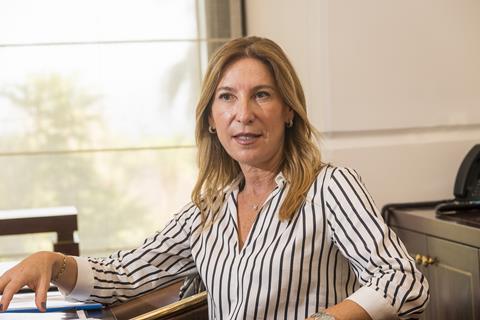 Ozturk notes that Istanbul Sabiha Gokcen airport-based Pegasus had three "successful years" going into the crisis. That financial foundation gave it a head start as revenue fell away in the first months of the Covid crisis and cost-reduction became critical, she says.
"We went through all of our cost items; what we could minimise in terms of cost in the coming period, because we didn't know how long it would last.
"We managed that successfully."
On the operational side of proceedings, Ozturk recalls another Covid-19 learning point being the importance of having "a small decision-making team who did daily and weekly planning for cash-generating flights".
That was crucial because the airline was "blind when looking at the demand coming to the flights".
A final learning point was the importance of communication to staff and customers.
"It wasn't only crisis-management, it was also management of concerns because people were afraid of flying," she says.
Ultimately, while the pandemic was "two years in which we have lost money", Ozturk insists that Pegasus' successful handling of the crisis is reflected in its expectations that it will reach 2019 capacity levels this year.
MARKET STRENGTH
And while Turkey's large domestic market was a lifeline for the carrier at the height of the pandemic, inbound tourism is at the heart of the demand recovery, Ozturk says, with the favourable exchange rate of many currencies to the Turkish lira helping to make the country a particularly attractive option for leisure travel.
"Turkey was always a charming destination for Tourists," Ozturk states. "Now it is much more affordable." As a result, Ozturk is convinced that nothing has fundamentally changed in terms of Pegasus' core strategy coming out of the Covid-19 crisis.
That means a continued focus on serving leisure and VFR markets within a six-hour radius of Turkey, with business travel making up a small proportion of traffic.
"Before Covid… we had a strategy of growing as an international airline," she says. "We will be pursuing the same international growth strategy in the post-Covid period.
"Pegasus has a robust business model, so we will keep running the airline on the basis of those principles."
Ozturk describes as a "distinguishing factor" the "cost advantage" generated by Pegasus booking so much of its revenue from international passengers during the Covid-19 recovery.
Furthermore, while Pegasus remains committed to its domestic operations, Ozturk notes that international revenue helps to shield the airline from some of the economic challenges faced by its home country in recent years, where rampant inflation has been accompanied by an ever-weakening local currency.
Amid that strong demand for international leisure travel, the carrier has this year increased the number of aircraft it bases at Antalya – a popular destination for inbound tourism traffic from Europe.
Ozturk clarifies that this does not mean fleet reductions at other airports such as its main Sabiha Gokcen base or Izmir. Rather, "we are also growing our fleet", she says.
Indeed, Pegasus' fleet has exceeded 90 jets this year, having been at 84 in the last full pre-Covid year.
It is using those jets to serve around 125 destinations – 36 domestic, the rest international – which marks a significant increase on the 111 it served in 2019.
New international destinations announced from Istanbul in 2022 include Helsinki, Ganja, Yerevan and Nur Sultan, while Pegasus has also added links from Izmir to Tbilisi and Skopje; from Trabzon to Doha; from Antalya to Sofia, Yerevan and Bucharest; and from Ankara to Bucharest.
GAME-CHANGER
Underpinning that growth, the carrier is on course to have taken 20 A321neos this year, Ozturk says, and a further 17 in 2023, as it retires older aircraft and continues on a path to becoming an all-Airbus operator by 2025 via the phasing out of its Boeing 737s.
Ozturk describes the carrier's growing fleet of Airbus A321neos as a "game-changer" in unit-cost terms, given the type offers greater fuel-efficiency and around 50 more seats than the smaller narrowbodies being replaced.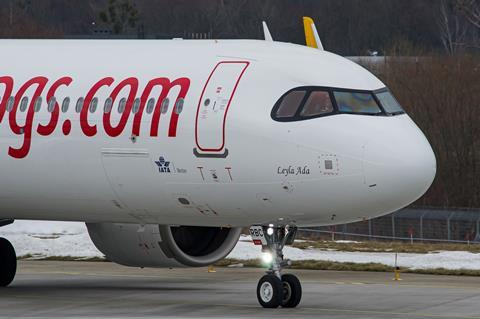 That focus on transitioning to an all-Airbus fleet reflects a driving philosophy at Pegasus that is based around the "basic principles of the low-cost model", Ozturk says, but with some deviation from what might be considered the norm.
The carrier's "primary aim" is point-to-point services, but the location of Pegasus' main hub brings other opportunities, she explains.
"Istanbul is located in a very advantageous position," Ozturk says. "What we do in our business model – without threatening our on-time performance and without adding more complexity into our working environment – is carry connecting traffic from Europe to the Middle East.
"That's an important competitive advantage for us and this also adds more traffic and more performance into our flights in terms of load factor," she says.
Helpfully, with many Middle Eastern airports open overnight, such services can complement the point-to-point flights that Pegasus operates into and from Europe.
"When you operate at night to the Middle East and in the daytime to Europe it's an excellent way of connecting those destinations, and also brings more utilisation to your fleet, which is a critical factor in the financial performance of an airline," Ozturk says.
With Pegasus' commitment to that proven business model, Ozturk has confidence that the carrier can handle the headwinds that are starting to batter the global industry, notably including high oil prices and rising inflation.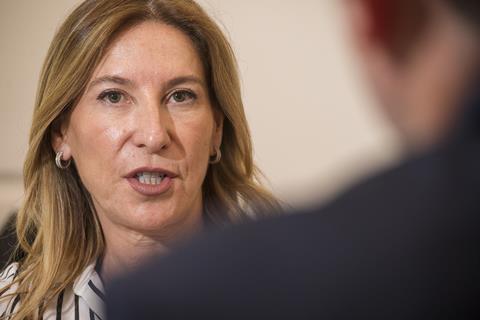 She acknowledges the "critical" impact of higher fuel prices, but notes that Pegasus has "a robust hedging policy". And even though inflation may begin to affect demand, Ozturk sees airlines like Pegasus as being in a better position than others during a downturn.
"The low-cost business model would be preferred in that environment, because your costs are lower so your prices are affordable, so people will fly and LCCs will be the first choice," she says.
Of the Russia-Ukraine conflict, Ozturk estimates that the two countries accounted for "around 5% of our international operations" but that Pegasus has "replaced that capacity with our international destinations in Europe and adding frequencies to other destinations".
Notably, however, Pegasus still serves some destinations in Russia, unlike many of its European peers. "We were flying to six destinations in Russia before the war, but due to airspace closures we stopped flying to four destinations in Russia," Ozturk says. Cirium schedules data shows that the two surviving Russian destinations are Moscow and St Petersburg.
Amid those outside challenges, Ozturk is philosophical about the current environment and is able to call on many years of industry experience, having worked at flag carrier Turkish Airlines before moving to Pegasus in 2005.
"This sector is always open to lots of crises," she says. "It's in its nature."
KEY OBJECTIVES
Ozturk is therefore confident that the challenges will not distract her from focusing on two key areas as chief executive: technology and people. "These, I believe, are the key drivers of our success," she states.
On technology, Ozturk will build on a digital transformation process that begin 2018. "I want to see Pegasus as a more technology-driven company, adding AI, machine learning to our operational processes and even on customer products and services," she says.
Of her other major priority, Ozturk says: "I believe business is people." That means she will lead a strategic focus on Pegasus' staff – incorporating the aforementioned focus on diversity – alongside "the experience of the customer". On the latter point, Ozturk highlights post-Covid expectations around touch-free journeys and booking flexibility.
Pegasus is also working on a sustainability strategy, she adds, which in the coming years will be "much more critical than ever".
All told, Ozturk is certainly not short of ambition for Pegasus amid a challenging global operating environment.
As both a role model for the next generation of female airline executives and as the leader of a budget carrier with huge growth potential, she can look forward to showing off her progress on a variety of initiatives when Pegasus hosts the global airline industry in Istanbul for next year's IATA AGM.
"That is the exciting part of it," she concludes. "It's not only running the airline, but also being the first female CEO in Turkish aviation puts significant responsibility on my shoulders."