Singapore's acceptance of only one form of accreditation for travelers vaccinated in the USA highlights the thorny questions governments can encounter when reopening air travel.
Considerable fanfare has been made of Singapore's Vaccinated Travel Lanes (VTLs), a first step to re-booting air travel to the city state.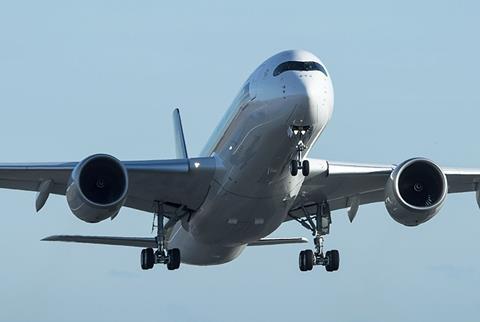 In short, passengers on VTL flights need not serve quarantine, while passengers on non-VTL flights – even if they are fully vaccinated – are generally required to undergo quarantines of different lengths.
The scheme, initially rolled out to Brunei and Germany in September, was subsequently expanded to several countries, including the USA. From Singapore's perspective, a key consideration is ascertaining an individual's vaccination status through digital means.
By uploading a digital credential with a QR code to a Singapore government site, passengers can obtain a vaccinated travel pass (VTP), clearing their trip.
For most regions, such as the European Union, Singapore accepts the standard accreditation, such as the EU Digital Covid Certificate.
For USA-vaccinated travelers, Singapore requires a Smart Health Card. The QR code on this card can be uploaded, allowing inbound passengers to apply for a VTP.
The standard Center for Disease Control (CDC) card that those vaccinated in the USA receive is not accepted for VTP purposes, nor is any digital proof of vaccination that lacks the Smart Health Card QR code.
The challenge with Smart Health cards is that they are not standard in the USA. According to the Common Trust Network, essentially a global network of health data services, only nine of 50 American states issue Smart Health Cards. It expects 20 more states and jurisdictions will be online by the end of 2021.
VCI, another body involved in Smart Health Cards, says that 150 million vaccinated Americans were able to obtain Smart Health Cards, or about 75% of the 194 million vaccinated Americans. In addition to states, it says major pharmacy chains and "hundreds" of health systems are participating.
Singapore Airlines, which operates VTL flights from the USA, posted a document listing what is accepted as proof of vaccination. It also listed several examples of what is not, namely the standard USA CDC card.
It suggests a workaround to the Smart Health Card issue through a company called Vaccinecheck. For an annual fee, Vaccinecheck ascertains that a person is, indeed, vaccinated, and then creates a Smart Health Card, complete with the necessary QR code.
This avenue inexplicably closed in late October, with the company no longer recognised as an issuer of Smart Health Cards. Vaccinecheck's web site now has a petition calling on Singapore to recognise additional forms of US-based verified vaccination records.
The Smart Health Card situation has generated confusion among some prospective VTL passengers, both American and Singaporean, who were vaccinated in the USA, but not by a Smart Health Card issuer.
Singaporean graduate student Natalie Koh Ting Li, who studies in the state of Illinois, took to local media to highlight the issue.
"Having received both doses of the Pfizer-BioNTech vaccine through the University of Illinois in Chicago in March and April, I was profoundly dismayed to learn that Singapore will not be recognizing my vaccination because I do not have a Smart Health Card," wrote Koh in a letter to the Today newspaper.
"The Smart Health Card, which can be obtained from a small fraction of healthcare providers and is issued by state health departments in just nine out of 50 American states, is the only form of certificate Singapore's Safe Travel Office accepts from the US."
In an email to FlightGlobal, however, VCI states that the the University of Illionois does issue Smart Health Cards, but through the MyChart app or website.
The USA, for its part, now allows vaccinated non-Americans to fly to the USA. It accepts both digital and paper vaccination records.
The Smart Health Card episode highlights the challenge that varied accreditation standards create for airlines, governments, and the travelling public. Early on in the coronavirus pandemic, numerous industry stakeholders stressed that standardised documentation would be key for a successful resumption of air travel.
Ultimately, however, it is sovereign governments that determine what vaccine accreditation to issue, and what to accept as proof of vaccination. With big, complicated countries such as the USA, which has 50 states and countless healthcare providers vaccinating citizens, accreditation is bound to be somewhat less standardised, particularly since no all-encompassing national vaccine registry is in the works.
This will be compounded on the international level given the diversity of healthcare systems in the world, and the wildly divergent methods for recording vaccinations. It may be some time before international passengers have access to easily-obtained, convenient vaccination accreditation that is accepted globally.
Updated following remarks from VCI on scope of Smart Health Card programme