Russian and Turkish airports made up the most ground on pre-crisis levels last year, FlightGlobal analysis of leading European airports so far to report preliminary traffic data for 2021 shows.
Analysis of 18 European airports handling over 10 million passengers, for which full-year traffic data has been disclosed, shows that the six biggest airports across Russia and Turkey all reported 2021 passenger numbers that had recovered to at least half their pre-crisis levels.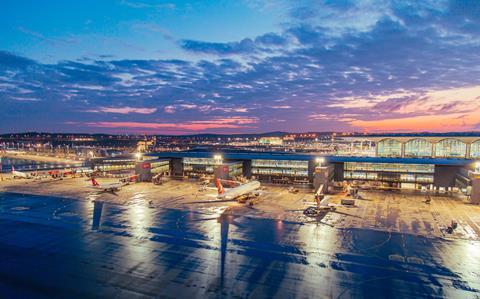 By contrast the major hubs in western Europe are still to recover to less than half 2019 numbers. Notably passenger levels at Europe's biggest hub going into the crisis, London Heathrow airport, remain 76% down on 2019 levels.
Preliminary data indicates Istanbul airport handled the most passengers in 2021 among European hubs. Figures from Turkey's state airports authority shows Istanbul's primary hub handled 37.2 million passengers last year. That is up 59% on the 23.4 million it handled in 2020, but still short of the 68.7 million of 2019.
Leading European airports by passenger number reported for 2021 so far
City
Airport
Country
2021 pax (000)
change v 2020
change v 2019
Source: FlightGlobal analysis of preliminary traffic data release by airport operators/regulators
Istanbul
Airport
Turkey
37,177
58.8%
-45.8%
Moscow
Sheremetyevo
Russia
30,943
56.4%
-38.0%
Paris
Charles de Gaulle
France
26,197
17.7%
-65.6%
Amsterdam
Schiphol
Netherlands
25,500
22.0%
-64.4%
Moscow
Domodedovo
Russia
25,000
52.5%
-11.5%
Istanbul
Sabiha Gokcen
Turkey
24,969
47.3%
-30.6%
Frankfurt
Main
Germany
24,813
32.2%
-64.8%
Madrid
Barajas
Spain
24,135
41.0%
-60.9%
Antalya
Airport
Turkey
22,007
125.2%
-38.4%
London
Heathrow
UK
19,393
-12.3%
-76.0%
Barcelona
El Prat
Spain
18,875
48.2%
-64.2%
St Petersburg
Pulkovo
Russia
18,100
65.4%
-7.6%
Paris
Orly
France
15,725
45.6%
-50.6%
Palma
De Mallorca
Spain
14,496
137.3%
-30.0%
Munich
Airport
Germany
12,496
12.4%
-73.9%
Athens
Airport
Greed
12,350
52.8%
-51.6%
Vienna
Airport
Austria
10,406
33.2%
-67.1%
Zurich
Airport
Switzerland
10,234
23.3%
-67.5%
Two other Turkish airports, resort city Antalya and Istanbul Sabiha Gokcen, closed the gap to within 30% and 38% of pre-crisis passenger levels respectively.
Moscow Domodedovo today reported it handled just over 25 million passengers last year. That was up by around half on the 16.4 million it recorded in 2020 and is within 12% of the pre-crisis levels. That was driven driven by record domestic passengers of more than 20 million - an increase of almost a quarter on 2019.
Another Moscow airport, Sheremetyevo, topped 30 million passengers last year. That includes just under 22 million passengers on domestic routes.
Russia's third biggest airport St Petersburg reported just over 18 1 million passengers last year, bringing it to within 8% of 2019 levels. Domestic services accounted for 15.5 million of these passengers, almost 30% higher than 2019.
While airports in Russia and Turkey benefitted from having large domestic markets and a focus on leisure travel during the pandemic-hit year, the major international hubs continued to be badly impacted by the slow opening of international borders, including on long-haul routes.
Heathrow was particularly hard hit, both by the relatively late lifting of UK travel restrictions and because the key US market only reopened to fully-vaccinated travelers in November. Consquently, passenger levels fell by another 12% on even the pandemic-hit 2020 – the only one of the airports in the sample to report a drop in passenger numbers.
Rival European gateways Paris Charles de Gaulle, Amsterdam Schiphol, Frankfurt Main and Madrid Barajas all reported an improvement in passenger numbers last year over 2020. However they remain between 60% and 66% below pre-crisis levels.
However those European airports serving holiday destinations fared better last year. Spanish airport Palma de Mallorcam for example, more than doubled passenger number to over 14 million, putting it only 30% below pre-crisis levels.