If a consortium comprising Certares, Air France-KLM and Delta Air Lines eventually takes control of Alitalia successor ITA Airways, it will have much ground to make up in the short-haul sector in particular.
Speaking the day before Italy's finance ministry confirmed it was in exclusive negotiations with the consortium, Ryanair group chief executive Michael O'Leary outlined just how dominant his low-cost carrier has become in Italy over the past two years.
"Of the 73 aircraft we took this summer from Boeing, more than 30 of those aircraft have been based into Italy," O'Leary says, referring to the 737 Max 8-200 jets the group has been receiving.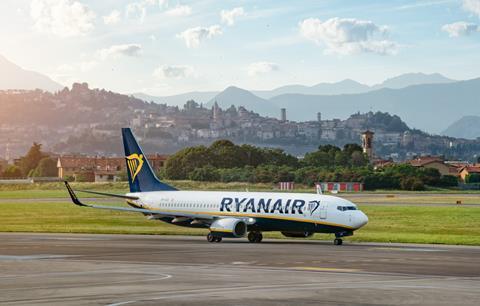 With ITA Airways' fleet significantly down on its pre-Covid size, O'Leary notes that "all that capacity has disappeared" from the market – to Ryanair's benefit.
"We are the only airline shovelling lots of capacity into Italy, both domestic and international," he says. "And we have been rewarded with extraordinary growth."
O'Leary predicts that by the end of 2022, "we'll probably be at 50% market share" among the biggest carriers serving Italian short-haul markets.
Indeed, Cirium schedules data shows that in August this year, Ryanair offered nearly five million seats on domestic and international short-haul services touching Italy (comprising sectors up to 1,500km), whereas ITA was at around 1.4 million.
In the latter case, that represents a 35% drop from the 2.2 million Alitalia flew in August 2019, but in Ryanair's case it reflects a 40% rise from 3.5 million.
Two other airlines offered more than 1 million seats during the month: Wizz Air's August 2022 figure of 1.4 million was nearly three times its August 2019 level, while EasyJet's 1.6 million seats represent a drop of 14% from 1.9 million.
The strong low-cost presence in Italy is one of many reasons why Italy is desperate for ITA to enter into a formal partnership with other network carriers, with the aim of giving it more heft to compete.
At the same time, the attractiveness of the Italian market demonstrated by Ryanair's rapid growth – which helped overall short-haul seat capacity touching Italy to just 0.7% below 2019 levels in August – is an important reason why two of Europe's big airline groups have a keen interest in ITA.
Read this newsletter edition for free by signing up to the Airline Business Weekly Briefing