Low-cost operator Scoot's announcement that it will add Embraer E190-E2 regional jets to its fleet will make it Southeast Asia's first operator of the type.
Indeed, the deal, where the SIA Group unit will take nine examples from lessor Azorra, is noteworthy given the group's general reticence towards smaller aircraft.
The E2s, to be delivered from 2024 through 2025, will seat 112 passengers, making it the smallest aircraft in the SIA Group fleet.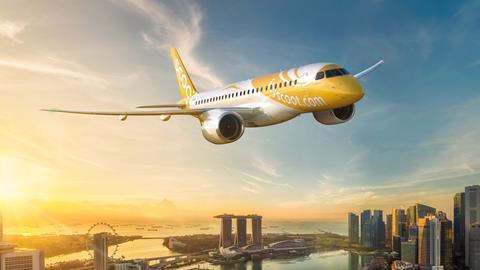 The commitment is a win for Embraer, which has for years marketed its E2 family aircraft to operators in the region, but has failed to clinch any significant orders. In fact, the only major Asia-Pacific operator of the E2 is Air Astana, with four E190-E2s.
In comparison, the E2 family is more widely used in Europe and the Americasl.
Still, industry watchers say it does not mark a notable change to the outlook for regional jet's in the region, but offers competitive opportunities for Scoot.
Independent analyst Brendan Sobie of Sobie Aviation says the deal is a "low risk" commitment for the low-cost carrier, given the small number of aircraft it will lease.
Endau Analytics founder Shukor Yusof concurs, noting that the deal is "not an order but a lease" and that nine aircraft is "relatively small" for the SIA Group.
The analysts point out that smaller aircraft – like the E2 – are "completely unrepresented" in Southeast Asia, though there has been increased attention on smaller aircraft in recent years.
SLOTS AND (RIGHT)SIZING
Sobie notes that the SIA Group has evaluated the need for regional aircraft types "for quite some time".
Historically the group's smallest aircraft were a pair of Fokker 70s that operated with former regional wing SilkAir up till 2000.
Since then, the airline group has only operated Boeing 737s and A320 family aircraft, including A319s, which SilkAir and Scoot operated in small numbers.
"It's taken many years as airlines don't buy the argument that they need to 'right size' their fleets for certain city pairs, given the Airbus A320 and Boeing 737s are more economically attractive," Shukor tells FlightGlobal.
Sobie notes the slot constraints confronting airlines operating at Singapore's Changi Airport as a possible reason for the dearth of regional jet operators.
"[It's] a…harder decision to downgauge when you have..a slot-constrained environment, which is generally the problem in Southeast Asia. A lot of the hubs have been slot constrained, especially over the last several years," he says.
But as Changi expands capacity – through the construction of a third runway and fifth passenger terminal – the possibility of regional jet operations seems likelier.
Sobie adds that the smaller regional jets also offer Changi – and the SIA Group – better regional connectivity, an attractive advantage against the competition.
NETWORK OPPORTUNITY
When announcing its commitment to the E2 aircraft, Scoot hinted – albeit broadly – at where it might deploy the aircraft: on "thinner routes to non-metro destinations out of Singapore" with flight times of up to five hours.
While the low-cost carrier did not specify cities, analysts say there are several options.
Sobie points out a number of secondary cities in Asia that Scoot currently flies to where the E190-E2 could be a good fit. These cities – such as Lombok and Makassar in Indonesia, Langkawi and Miri in Malaysia, as well as Vientiane in Laos – were inherited by Scoot when SIA folded SilkAir into its mainline operation.
The low-cost carrier currently operates these flights at a lower frequency, given the thinner demand.
The smaller aircraft could allow Scoot to operate these city pairs at a higher frequency – a boost not only for connecting traffic, which Changi is keen to develop, but also for local passengers looking to travel to these secondary cities, says Sobie.
Once all nine E2s are in the fleet, Scoot could look to launching new city pairs, including to Chiang Rai in Thailand, Phu Quoc in Vietnam, as well as Tawau in Malaysia. These routes were served
Shukor, meanwhile, says there are opportunities for E2s to serve Kuala Lumpur's Subang international airport, which will undergo upgrading to allow the resumption of jet operations.
Regional jets will also give Scoot more flexibility. Sobie cites Singapore-Chiang Mai as an example of a route where demand shifts significantly between the Northern Summer and Winter schedules.
MORE TO COME?
Shukor believes that if "all goes well", Embraer will see more commitments from Southeast Asia.
Sobie notes that there "has been a surge" in evaluations for regional aircraft operations within Southeast Asia, with the Scoot commitment being the first of these evaluations to bear fruit. While evaluations are ongoing in Malaysia and Vietnam, Sobie says these "might not have an outcome" yet.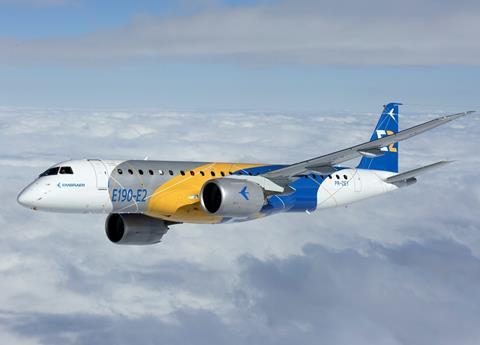 Thus, operators and regulators in Southeast Asia might want to "wait and see" how Scoot's operations pan out next year.
"It [will not] open up a floodgate…to a massive number of smaller jets [in this region]. I don't think we're going to see…a major surge in small jets. I think a lot of the issues [like slot availability] are still there," says Sobie.
There is another potential challenge facing regional aircraft operations: pricing. The Southeast Asian market is price-sensitive, notes Sobie, which bodes well for airlines when they operate larger jets with lower seat costs.
With a regional jet like the E2, unit costs will go up, resulting in higher ticket fares, which might deter travellers. Markets in Asia like Japan and Australia "already have the yield environment" to support smaller aircraft without any effect on travel demand, but Southeast Asia "has always struggled with it", notes Sobie.
"So there is some kind of question mark on whether this will be successful – that's why I say it is some kind of experiment because while the slot issues might be [somewhat] resolved, the demand side…the fares that make these kind of flights possible, that's still an unknown," he adds.