After being placed on lockdown for about two months, the province of Hubei in central China saw barriers come down in late March.
The province was the epicentre of the deadly coronavirus outbreak that is now spreading across the world. It was shut off from the rest of the country in late January in an attempt to curb the spread of the virus.
Across Mainland China, media reports indicate that business, which hitherto had ground to a near halt, is slowly restarting, as the Chinese government cautiously balances the need to restart its economy with public health considerations.
Likewise, after bottoming out in February this year, Chinese carriers are slowly, but surely, adding capacity to their domestic network.
China is the world's second largest domestic air transport market - accounting for almost 10% in 2019 traffic data from IATA shows.
In a briefing on 31 March, IATA chief economist Brian Pearce noted the encouraging signs coming out of the Chinese domestic market
"The fleet was down 80-90% in January and February, its back up significantly now and load factors [are] at 60%, so passengers are returning too, as China slowly goes back to work," Pearce said.
It echoes comments Pearce himself made a week earlier, when he suggested the domestic market was "at a turning point." IATA's figures show passenger yields on Chinese domestic flights booked in the first two weeks of March up slightly year-on-year.
Indeed, Cirium schedules data also indicates signs of growth: Capacity figures for April show much fuller schedules than March on all fronts.
Comparing between the two months, the data shows an uptick across all measurements of capacity. Airlines are set to lift capacity as measured in ASKs by 17% month-on-month, while the total number of seats on offer will rise 18.6%. Chinese carriers are also offering 18% more flights this month.
| | March | April | % increase |
| --- | --- | --- | --- |
| Flights | 246,132 | 290,654 | 18.1% |
| Seats | 39,496,763 | 46,792,253 | 18.5% |
| ASKs | 48,149,751,023 | 56,262,203,953 | 16.8% |
China's "big three" – the three largest state-owned carriers of Air China, China Southern Airlines and China Eastern Airlines – also increased capacity at a similar rate.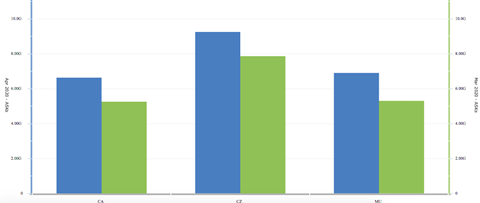 Across all three units of measurement, it is China Eastern that shows the largest month-on-month increase. The SkyTeam carrier's ASKs and number of seats on offer for April are up nearly a third, the schedules show.
This rosy picture is an optimistic, yet surreal, juxtaposition against the current global situation, where airlines have cancelled the bulk of their scheduled flights. Several carriers have grounded their entire fleets.
The data for April is also a far cry from February, when the coronavirus outbreak was at its worst in mainland China. It was also the month where countries imposed travel restrictions in and out of China.
Traffic figures for the month recently disclosed by the three largest Chinese carriers paint a dismal picture. The number of passengers carried for the month fell by more than 80% across the board. ASKs fell by between 68 to 73%, while load factors barely scraped above 50%.
Comparing the data from a six-month timeframe also shows that capacity bottomed out during February, after January's high, and is slowly making its way back upwards.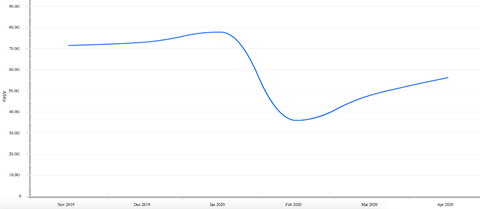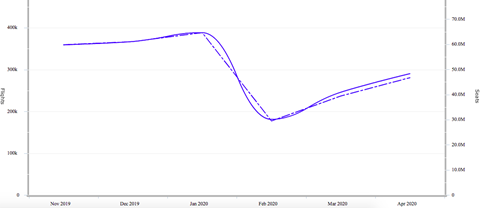 However, even while this is happening, Cirium schedules data indicates they are far from what they were in past years.
Comparing year-on-year data, ASKs for April were 19% lower this year. The total number of seats on offer was about a fifth lower – about 46.8 million seats – for this April, compared to 58.9 million in the same month last year.
The number of flights scheduled is also lower than a year earlier – at around 291,000 flights compared to 358,000 in April 2019,
| | April 2019 | April 2020 | % change |
| --- | --- | --- | --- |
| Flights | 358,020 | 290,654 | -18.8% |
| Seats | 58,881,626 | 46,792,253 | -20.5% |
| ASKs | 69,710,435,821 | 56,262,203,953 | -19.3% |
Cirium fleets data indicates that 884 aircraft are now grounded in China. That marks a slight a improvement already on the 897 aircraft on the ground as of the end of March. That figure also includes Boeing 737 Max aircraft, already subject to a global grounding.
While the initial signs do point towards a reopening of business in China, it remains to be seen if this momentum will condintue, and whether Chinese carriers will err on the side of caution in gradually reintroducing capacity.