Southeast Asian countries continue to see a gradual reinstatement of air travel, as vaccination rates rise and governments eye valuable tourism dollars.
October has seen several key developments in the Asia-Pacific's long-closed air travel market, namely Singapore's expanding its vaccinated travel lane (VTL) scheme, which effectively does away with the need for quarantine for vaccinated passengers on select flights, the opening of important domestic markets such as Malaysia and Vietnam, and allowing vaccinated travellers to vacation on resort islands without quarantine.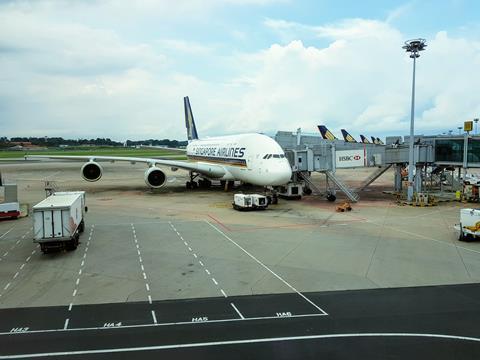 There still appear to be a number of challenges, however, particularly for international flights in areas such as the format in which one's vaccination status is presented, and the plethora of Covid-19 tests that governments demand. There are also lingering fears about possible new variants of Covid-19, as the coronavirus pandemic has far from played itself out.
Nonetheless, the region's governments appear to be committed to opening up, which bodes well for a more sustained air travel recovery in 2022.
MALAYSIA
In a 21 October appearance on CNBC, Nancy Shukri, Malaysia's minister of tourism, arts and culture, said she will meet Singapore officials this week to discuss cross-border travel, and that the two countries would open up to each other "very soon."
This would give a boost to air travel, particularly between Kuala Lumpur and Singapore, formerly one of the Asia-Pacific's busiest routes.
"We are open to Singapore as long as Singapore is open to this as well," said Shukri.
She also told CNBC that the resort island of Langkawi could open up to vaccinated international tourists from November.
Shukri's comments follow the removal of travel restrictions related to Covid-19 on in Malaysia on 10 October, which prompted airlines such as AirAsia to greatly boost capacity.
INDONESIA
Southeast Asia's largest country remains largely closed off. While Bali is open for international tourists, they must be vaccinated and undergo at least five days of quarantine, thus crimping demand, especially from the key Australian market.
Media reports suggest that Canberra and Jakarta are looking for ways to eliminate quarantine requirements in Bali, allowing for more air travel to the island in time for the Christmas holidays.
As for domestic travel, the government recently decreed that travelers flying from or to airports in Java and Bali must prove that they have had at least one dose of Covid-19 vaccine, as well as a negative polymerase chain reaction (PCR) test taken at least 48 hours before departure. Passengers in other regions, however, only need to show a negative test result.
In addition, a 70% seat capacity restriction has been lifted, but flights must have two rows of empty seats, which can be used as a coronavirus quarantine area if necessary.
THAILAND
Among Southeast Asian nations, Bangkok is taking a leadership role with its Covid-19 opening strategy. From 1 November, it will widen the scope of its reopening to 46 low-risk countries, up from 10 previously.
The country was a pioneer earlier this year when it opened its quarantine-free 'Phuket Sandbox' for vaccinated travelers, which commenced operations on 1 July. Highlighting the challenge of re-booting tourism after over a year of tight travel restrictions, the sandbox only attracted 55,772 arrivals by 24 October – originally, officials expected 100,000 arrivals by 1 October.
Tourism Authority of Thailand figures also suggest that vaccinated travelers are an extremely unlikely source of Covid-19 infections. Of the 55,772 Phuket arrivals between 1 July and 24 October, just 180 – or .003% - tested positive for Covid-19.
One challenge for Thailand's airlines as air travel opens up will be the absence of package tours from China. Beijing's 'Covid-Zero' strategy, which bucks trends elsewhere in the world, suggests that travel to and from the Mainland will be restricted for some time yet.
SINGAPORE
Singapore's VTL arrangement has been expanded beyond Brunei and Germany to Canada, Denmark, France, Italy, the Netherlands, the United Kingdom, and the United States.
The initiative grants VTL status to specific flights, whereby passengers undergo pre and post flight PCR tests.
While a move in the right direction, a Straits Times report suggested there can be challenges getting vaccination credentials into a format accepted by Singapore. In addition, some passengers find it difficult to obtain a PCR test that returns results 48h before their flight.
On 22 October press briefing, Australian prime minister Scott Morrison said that Canberra is in the final stages of creating a travel arrangement with Singapore. He indicated that an announcement could be made by the end of the month – for the time being, Singapore allows Australians to visit without quarantine, but this is not reciprocal.
Anticipating a surge of demand to Australia, Singapore Airlines plans to redeploy the Airbus A380 to Sydney from 1 December.
VIETNAM
Vietnam Airlines and VietJet Air will ramp up their schedules as domestic flying resumes following a major Covid-19 outbreak in Vietnam during the middle months of the year.
From November, Vietnam Airlines will resume operations across its domestic network, with a focus on the country's three biggest cities: Ho Chi Minh City, Hanoi, and Da Nang.
VietJet has already re-commenced services between Ho Chi Minh City, Hanoi, and Da Nang. It aims to operate 48 domestic flights from 30 November.
Following in the footsteps of Thailand and Indonesia, Vietnam plans to open the resort island of Phu Quoc to vaccinated international travelers from late November.
In addition, the Civil Aviation Authority of Vietnam recently announced that Singapore is interested in reestablishing air traffic between the two countries.