IATA's latest data for the peak northern hemisphere travel month of July reflects the industry's continued strong recovery from the Covid-19 pandemic, with both traffic and capacity falling just short of 2019 levels.
But its celebration of a strong month for air travel came with a warning about the impacts of government moves to cap capacity at several airports.
In the view of IATA director general Willie Walsh, "political decisions" made by some governments are almost certain to "destroy jobs and damage local and national economies".
In particular, he cites a recent proposal by Mexico's government to further reduce traffic at Mexico City Benito Juarez International airport – the country's busiest – in favour of the newer but more distant Felipe Angeles International airport.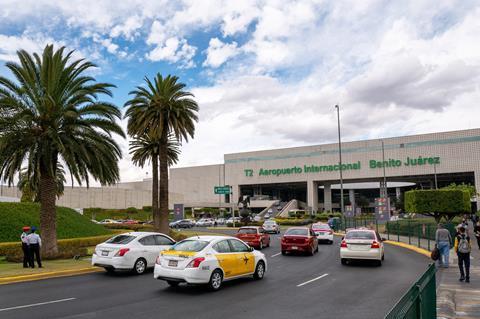 Mexican flag carrier Aeromexico said on 31 August in response to the proposal: "In the first instance, the measure will affect all passengers using that airport, industry employees and the attraction of new investments that depend on having legal certainty and adequate air connectivity."
Walsh also cites the recent decision by the outgoing Dutch government to go ahead with cuts in capacity at its Amsterdam Schiphol airport hub to counter noise pollution.
On 1 September, Schiphol's biggest carrier, KLM, hit out at the decision to press ahead with the flight cuts. "The minister is opting to focus one-sidedly on capacity reduction as a goal in itself," it said. "We find this incomprehensible."
In late July, IATA similarly voiced its opposition to proposals that would see night flights banned at Brussels airport on the grounds of reducing noise.
"The numbers continue to tell us that people want and need air connectivity," Walsh says of air travel's strong recovery from the Covid-19 crisis. "That's why governments should be working with us so that people can travel safely, sustainably and efficiently."
Global airline traffic was at 95.6% of 2019 levels in July this year, IATA's latest data shows, on capacity at 96.1%. Within that data, North American and Latin American airlines saw traffic above pre-Covid levels, while even the laggard Asia-Pacific region was at 91.2% of 2019 traffic.
Still, international traffic among Asia-Pacific carriers was only at three-quarters of 2019 levels, showing that market still has significant ground to make up. Offsetting that to an extent was a remarkable recovery in demand in China's huge domestic air travel market, which was 23% above 2019 levels in July.
In the other major regions, international traffic among North American carriers was up 2.1% on 2019 levels in July, while among European carriers it was down 8.3% – partly reflecting that market's exposure to the later recovery of Asia-Pacific demand.