Singapore-based Avation is the lessor with the highest exposure, by number of aircraft, to Virgin Australia, which has entered voluntary administration. Goshawk, meanwhile, has the most lease rentals to lose if the airline cannot make payments.
Avation has 13 aircraft with the Brisbane-based carrier, including 11 ATR 72s on operating lease and two Fokker 100s on finance lease, the lessor has disclosed.
Cirium fleets data puts the combined indicative lease rentals of these aircraft at $1.46 million per month.
Goshawk leases six Boeing 737-800s to Virgin Australia, suggesting total monthly lease rentals of $1.65 million – the highest amount any lessor commands from the airline.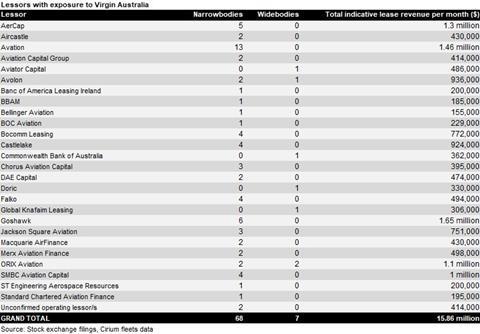 The data indicates that other lessors with monthly rentals of over a million dollars from Virgin Australia would include AerCap, ORIX Aviation and SMBC Aviation Capital. Twenty-two other lessors with exposure to Virgin Australia are in line for six-figure monthly sums. The lessor with the lowest exposure in this regard is Standard Chartered Aviation Finance, for which the figure is $195,000.
Virgin Australia – including its units Virgin Australia Regional and Virgin Australia International – has a total leased fleet of 75 aircraft on lease from 26 known lessors. Two Boeing 737-800s are from unconfirmed operating lessors.
Most lessors have exposure to narrowbody aircraft that – in pre-coronavirus times at least – would be relatively liquid and easy to remarket. Only six lessors have more risky widebody exposure, and no lessor has more than a pair of widebodies with the carrier.
Virgin Australia's total monthly indicative lease bill clocks in at nearly $16 million. How much of that lessors will get now that the airline is in administration remains to be seen.
This story was written by Michael Allen, Asia Finance Editor at Cirium.