IATA retains a positive industry outlook despite acknowledging a long list of industry headwinds – including a couple that are unfamiliar to the sector
The global airline industry's fortunes are partly in the hands of two unusual phenomena heading into the northern hemisphere winter season: a high crack spread – which means jet fuel has trended at 50% above crude oil prices in recent weeks – and low unemployment, despite slowing global economic growth.
Those two developments were cited by industry association IATA on 7 September, as it reported that strong demand momentum had continued into the peak summer season this year, and that forward bookings are holding up despite the long list of headwinds faced by the sector.
Crucially, IATA remains confident that the global industry remains on track to reach 2019 levels of activity in 2024 – although not everyone shares the same view.
Speaking during a media briefing on the latest global traffic data and industry outlook, IATA director general Willie Walsh acknowledged the "challenging" global environment – featuring high inflation and fuel prices, supply-chain issues and weakening currencies against the dollar – while noting that many of the current challenges have been seen, and overcome, before.
An exception, however, is the high crack spread – a factor that means elevated oil prices are hurting airline finances more than they otherwise might.
"The elevated crack spread is not something that I can recall seeing," Walsh states. "I've certainly seen it higher than the 17% average in the decade up to 2019, but around 50%, over 60% – that's not something we would normally see over an extended period."
The spread is high, he explains, because jet fuel demand is currently outpacing supply, in an echo of the supply-chain challenges being seen in the wider economy.
"When the demand for jet fuel declines – and we saw it effectively go close to zero through 2020 and slowly recover in 2021, but way below where it normally would be – refineries switched off the production of jet fuel," he explains. "And it's not that easy for refineries to switch back and change what they are producing.
"So [the large crack spread] tends to reflect the demand for jet fuel and the supply at the refinery.
"When there is strong demand and limited supply, the crack spread will reflect that."
Walsh says, however, that airlines are well-placed to handle the situation – in some cases through more carriers hedging future purchases.
"High oil prices are certainly not something unusual for the industry to have to deal with, and it ultimately gets reflected in ticket prices," Walsh states.
INFLATION CONCERNS
Among the other headwinds, inflation will have some demand impact, Walsh expects.
"Certainly energy prices will have an impact as we go through the winter period," he says, while also calling for the issue to be put into historical context.
"If you have been around long enough you will have seen inflation at levels higher than this and you will recall that even in those periods, the industry continued to perform well," Walsh insists.
And he takes heart that while a number of headwinds may have "some impact on demand, or the pace at which demand recovers", the industry is seeing "strong forward bookings".
"The recovery and the pace for the recovery have been good, and I think it's clear that many airlines are generating good cash balances as we go through this period and seek to prepare their balance sheets and strengthen their liquidity," he says.
"It's a challenging environment, but I think most airline management teams will be looking at the positives and reflecting on what they need to do to address some of the headwinds that are obvious to us at the moment."
Speaking during the same briefing, IATA chief economist Marie Owens Thomsen provided more reassurance to airlines regarding the economic outlook and its potential impact on the demand recovery.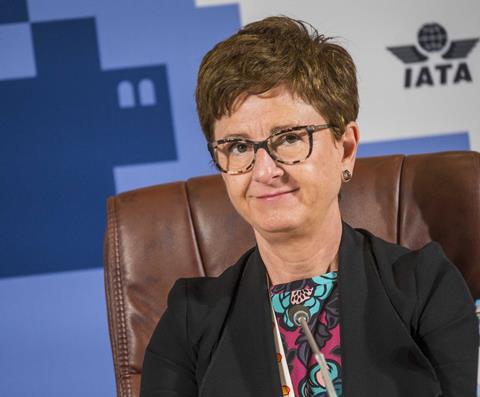 Her view is that low unemployment rates globally will offset the impact of high inflation in particular.
"The unemployment rate is an unusual phenomenon, just as the high crack spread is," Owens Thomsen says. "We have still low and falling unemployment rates, pretty much around the globe, despite the fact that economic growth is slowing down, certainly from the 2021 figures that we saw.
"One would obviously expect this to change at some point in time, but for now these unemployment rates are still falling, jobs are still being created at an incredible clip in many countries.
"Europe is at its lowest unemployment rate since the euro was created, and many individual countries are setting historic lows in terms of unemployment."
She describes the current situation as "a job-rich economic slowdown", in contrast to the "jobless economic recovery" that came after the global financial crisis.
And that contrasting picture is important when it comes to the travel demand trend over the coming months.
"While inflation will reduce the purchasing power of those wages earned, it's more important that more people are earning, than the impact of inflation on consumption at this current junction," Owens Thomsen says.
"So that's very supportive and should mitigate any fears of a major recession, as many of us can read in the media."
She further says that inflation has a "silver lining" for those carrying debt, because it reduces the real value of the debt that has to be repaid – and the cost of doing so.
"So that is also a silver lining in this context and is a benefit to us all, given that households, sovereign states and corporates all have higher debt levels," Owens Thomsen states.
She describes that dynamic as a "mild positive" for the airlines in particular, given the debt taken on over the past two years.
RECOVERY ON TRACK
All of this means that despite a recent earnings season that saw many carriers reticent to give guidance on the outlook because of the headwinds hitting the industry, IATA believes the Covid-19 recovery is still broadly on track, even if operational challenges in many markets temporarily put some carriers on the back foot.
"Restrictions we've seen at some airports have dented a little bit the pace at which we are recovering", Walsh says, adding: "2024 [still] represents an objective view on when we're likely to get back to 2019 levels."
Indeed, Owens Thomsen notes that there were always regional variations in the 2024 recovery forecast, while concurring with Walsh that the overall picture has not changed as a result of current economic uncertainties.
"Even if our forecast changes a little bit on a quarterly basis, it's just a question of a few months to the left or to the right, so even those variations would still leave the industry as a whole regaining 2019 levels in 2024," she states.
Within that, IATA still expects US markets to regain 2019 levels in 2023, with the "more closed" markets in Asia-Pacific – and notably China – not getting there until 2025.
But not everyone concurs on the outlook.
Speaking from Europe, where weak currencies against the dollar and predictions of recession in key markets are adding to the list of industry headwinds, Ryanair group chief executive Michael O'Leary suggested in late August that the economic challenges would delay the industry recovery to 2019 levels.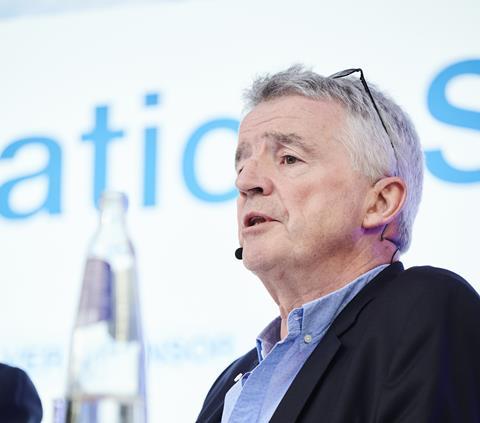 "You'd be crazy not to be worried about the looming recession and the looming energy challenges," he says.
"Once we got rid of Covid restrictions, I said we'd get back to pre-Covid volumes within 12-18 months – I now put that further out," he continues. "A lot of capacity is not coming back. Various airlines are reducing their winter schedules very significantly."
He insists, however, that "people will not stop flying".
"Many people have to fly for work, visiting friends and family, weddings, funerals, coming home for Christmas," O'Leary states.
"People are on the move again and that will continue."
Nevertheless, "there is no doubt recession will dampen the traffic recovery post-Covid", he says.
But in Ryanair's case, O'Leary says he has "never tempered a growth plan in my life", and the Irish operator is going "full steam ahead".
"People in a recession are much more price-sensitive," he states. "And the low-fare airlines historically in the US and in Europe have always grown much faster and much more strongly during a recession."
He takes further solace from the group's move to hedge its fuel intake into the next fiscal year.
SQUEEZED INCOMES
Analysts at Bernstein also cite the uncertainties faced by the industry, particularly as the northern hemisphere heads into the winter season.
"Pent-up demand is driving yields and earnings this summer and airlines have restored capacity to take advantage," they say. "Prices are up, and several will return to positive operating profits this year.
"However, winter demand remains highly uncertain against a backdrop of squeezed consumer incomes, and airlines have to contend with rising input costs."
Indeed, as the summer season fades, airline executives will be closely watching forward bookings and other key indicators.
For now, IATA's latest traffic data shows that the passenger demand recovery continued in July, with the total global market reaching 75% of 2019 revenue passenger kilometres, on capacity at 76%.
It notes that domestic markets are showing significant improvements, helped by the recovery in the huge intra-China sector.
In Cargo markets, demand measured in cargo tonne kilometres was down 3.5% against July 2019 and down 9.7% year on year.
IATA says the freight sector has taken a "step back" from the "extraordinary" demand growth seen in 2021, but insists the market "continues to hold its own".
Walsh relaxed on labour unrest
Labour unrest is certainly not a new concept for airlines – nor unique to the industry – but it has been creating plenty of headlines in Europe in particular over recent weeks.
Lufthansa and SAS have been among those affected by industrial action during the summer peak season, although both had made progress with cockpit unions by early September.
Elsewhere, Qantas is facing potential industrial action, adding to operational headaches it has faced while ramping up services.
Despite those and other labour-related challenges, however, IATA director general Willie Walsh says that the impact "is not really noticeable at an aggregate level", even if "it clearly does have a significant impact on the individual airline performance".
"I don't see any pattern of behaviour at the moment," he states. "Where we have seen issues, you might have been able to expect some of them, so we're not seeing any evidence of a change in the environment or any concern that we will see widespread disruption as a result of industrial action."