Over the course of the last week the further spread of aircraft groundings means the European airline scheduled passenger market is approaching a standstill amid national lockdowns and the closing of borders to international visitors.
The bulk of cross-border scheduled services across Europe have been suspended and large parts of the fleet grounded. Russia was the latest country to suspend international air travel from 27 March.
Flying across Europe continues. This is predominantly on some "essential routes" notably within domestic and neighbouring markets, largely to facilitate vital travel, repatriation of nationals and, increasingly, cargo and medical supplies. A number of passenger aircraft are being deployed on cargo routes to supplement freighters – and meet the demand left by the loss of bellyhold capacity as passenger flights have been withdrawn.
How much has European traffic fallen?
"Definitely its over 80% by now," estimated IATA's vice-president for Europe, Rafael Schwartzman, when asked during a media briefing on 26 March how much capacity has been grounded in Europe.
"If you look at what happened on 25 March… we had about 5,800 flights in Europe compared to an average of 29-30,000 flights a day.
"Some of the largest carriers in Europe – Luthansa, IAG, Air France-KLM, EasyJet and Ryanair – they are more close to a 90% reduction than less. So that gives you an idea of the magnitude of the number of flights reduced," he says.
Data from pan-European air navigation organisation Eurocontrol shows daily traffic down more than 50% on 25 March compared with the same day in 2019 across all 43 states tracked. The vast majority of states show a more than 75% drop. Notably, daily traffic was down around 80% or more across Europe's biggest five airline markets: France, Germany, Italy, Spain and the UK.
Airports in Europe have also been closing facilities or shutting their doors altogether – especially in cities served with more than one airport. Most recently, London City airport closed to scheduled and private flying from 25 March, while Paris Orly will shut and traffic refocused through the primary Charles de Gaulle hub from the end of March.
"We have seen already regional airports, many of them closed out. And in terms of the major airports, we have seen major hubs either totally or partially shutting down certain terminals," notes Schwartzman.
"Everybody is trying to adjust to this situation. Air transport is a catalyst in the economic world… and by not being able to fly, airports are obviously heavily impacted. They are trying to cope with this situation."
IATA is now projecting European carrier passenger traffic this year will be 46% down on 2019. That could see $76 billion wiped off their passenger revenues during the year. Against this backdrop it continues to actively urge European governments to take urgent action to provide financial relief to carriers, be it through direct financial support, loan guarantees or tax alleviation.
How Europe's 10 biggest airline groups have been impacted
RYANAIR GROUP
Passengers 2019: 152.4 million
Carriers: Ryanair, Lauda, Buzz, Malta Air
Europe's biggest operating group by passenger number, Ryanair had already cut 80% of its capacity by 18 March and grounded its Austrian unit Lauda from 17 March. It has now grounded over 90% of its capacity. Group chief executive Michael O'Leary said on 24 March that the carrier does not expect to operate regular flights in April or May based on the experience of the outbreak in China.
The carrier is from 27 March retaining a minimum service covering 17 routes – predominantly linking the UK and Ireland.
LUFTHANSA GROUP
Passengers 2019: 145.2 million
Carriers: Lufthansa, Eurowings, Swiss, Austrian, Air Dolomiti
Lufthansa Group is operating around 5% of its total capacity – parking approximately 700 of its group fleet of 763 aircraft.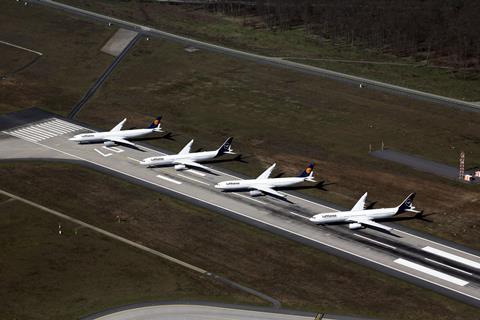 Its Austrian Airlines and Brussels Airlines units suspended scheduled flights from 19 and 21 March respectively – the former has now extended the cancellation until at least 3 May as it prepares for a "slow" operational restart. Lufthansa's northern Italian unit Air Dolomiti suspended all flights from 18 March, but has since said it will a service between Frankfurt and Milan.
Lufthansa too has extended its 'returnee flight schedule' until 3 May, offering a basic service. Lufthansa is continuing to serve Newark, Chicago, Montreal, Sao Paulo, Bangkok and Tokyo from Frankfurt - though will not stop flights to Johannesburg in line with official regulations. Swiss is serving Newark from Zurich.
Lufthansa is now serving 50 daily connections in Europe from Frankfurt and Munich,while Swiss is flying a "substantially reduced" short and medium-haul network.
Low-cost unit Eurowings expects to reduce its operations to about 10% of its previous capacity, as well temporarily grounding two of its operating units – Germanwings and Eurowings Europe.
IAG
Passengers 2019: 118.3 million
Carriers: Aer Lingus, British Airways, Iberia, Vueling
IAG, which operates British Airways, Aer Lingus and Spanish carriers Iberia and Vueling, on 16 March said the group would cut capacity in April and May "by at least 75%" compared with the same months in 2019.
it on 2 April said, following a review, that is has decided to reduce capacity further to an approximately 90 per cent reduction in April and May compared to last year.
More recently British Airways has suspended its flights from London City airport after the facility closed to flights from the end of 25 March to the end of April, and London Gatwick from 31 March.
Aer Lingus is continuing to opeating a reduced schedule, including services from Dublin to New York JFK, Boston, Chicago, San Francisco and Toronto in its timetable to the end of the month.
AIR FRANCE-KLM
Passengers 2019: 104.2 million
Carriers: Air France, KLM, Transavia, Transavia France, Hop
On 16 March, Air France-KLM said it would reduce capacity by between 70% and 90%. Its French and Dutch leisure units Transavia France and Transavia suspended flights on 21 and 23 March respectively.
KLM will begin its summer season flying around 10% of its normal capacity. Although the Dutch carrier will operate to 57 destinations, it is dramatically paring back its frequencies for the period from 29 March until 3 May.
Air France says it is from 23 March maintaining several international services, even if on a considerably reduced basis, to enable French and European nationals to return home. It will also "guarantee a regional service vital to the country's economy", meaning it will continue to operate most of its mainland France network services from Paris, as well as those to Corsica (in partnership with Air Corsica) and overseas territories.
EASYJET
Passengers 2019: 96.1 million
EasyJet grounded most of its flights from 24 March, though it says it will maintain a minimal schedule of essential flights on some routes, mainly out of London.
The carrier subsequently grounded its entire fleet from 30 March.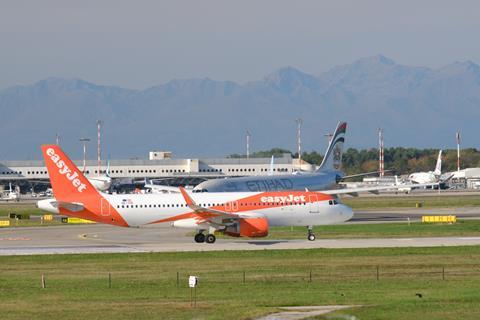 TURKISH AIRLINES
Passengers 2019: 74.3 milion
Carriers: Turkish Airlines, Anadolu Jet, Sun Express (joint venture with Lufthansa)
Turkish Airlines is suspending all its international flights from 27 March with the exception of five routes: US cities New York and Washington, Moscow, the Ethiopian capital Addis Ababa, and Hong Kong. It is continuing to operate domestic flights, though on a reduced basis.
The airline's chief executive Bilal Eksi subsequently tweeted that New York flights will end. Moscow services will be halted in line with the Russian suspension of international traffic.
AEROFLOT
Passengers: 61.0 million
Carriers: Aeroflot, Rossiya, Pobeda, Aurora
Aeroflot had already trimmed its network of European flights from Moscow to nine destinations; Amsterdam, Berlin, Brussels, Dublin, Geneva, London, Madrid, Paris and Rome, and its US network to just New York JFK.
But even these flights are likely to stop after the Russian government announced the suspension international flights to Russia from 27 March, as one of several actions it is taking to slow down the spread of the coronavirus. Aeroflot says it is continuing to operate special repatriation flights for the time being.
Aeroflot low-cost unit Pobeda is halting all flights from 1 April through to the end of May.
WIZZ AIR
Passengers 2019: 42.5 million
Central European budget carrier Wizz Air on 23 March warned the grounding of its full fleet remains "a distinct possibility" as it has had reduced its operations to around 15% of its planned capacity.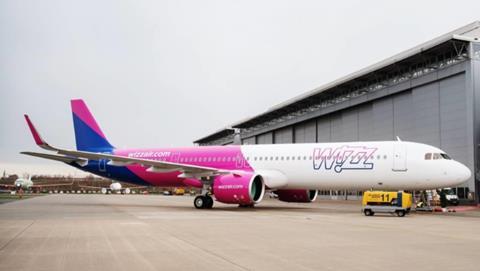 NORWEGIAN
Passengers 2019: 36.3 million
As of 24 March, Norwegian says most of its fleet is grounded and the company has reduced its operations to a minimum.
Norwegian will now primarily operate domestically in Norway and Sweden and between the Nordic capitals, "in order to deliver on its corporate responsibility" of maintaining critical infrastructure so that people and necessary goods and medical supplies can be transported during this period. The limited schedule will remain in place until further notice.
PEGASUS AIRLINES
Passengers 2019: 29.9m
The Turkish operator has been impacted by measures taken by the Turkish government and other foreign countries, resulting in flght restrictions to 24 countries Pegasus serves. "Due to these measures, some of our flights are cancelled and we are scheduling some new flights," it says.
Other European carrier network response to coronavirus
Aegean Airlines – Greek carrier Aegean suspended all international flights from 26 March until 30 April, except for a small number of services linking Athens with Brussels;
Air Baltic – Carrier was one of the first European operators to halt all flights following Latvia's decision to close its borders, suspending flights from 17 March through 14 April;
Air Malta – The Maltese carrier suspended schedule flights from 20 March until further notice, but is operating cargo and repatriation flights to Amsterdam, Frankfurt and London Heathrow;
Air Moldova – The Chisinau-based operator suspended flights on 17 March until 15 May;
Air Nostrum - Spanish regional carrier on 20 March said it would cancel at least 90% of its flights over the following week, in filing a temporary suspension of employment regulations covering all of its 1,400 staff.
Czech Airlines – The SkyTeam carrier suspended flights from 16 March through to 11 April following the introduction of border control restrictions;
Finnair - the Finnish carrier began transitioning to a reduced network from 16 March. Its schedule from April to June comprises four domestic destinations, nine European routes and the aim of restoring Tokyo flights from 3 May.
Jet2 – The UK leisure carrier's parent Dart Group said a result of "unprecedented and unforeseen" levels of travel restrictions imposed by European governments, Jet2 was suspending its flying programme until at least 1 May;
La Compagnie – Premium long-haul operator La Compagnie was the first European operator to temporarily suspend operations due to the coronavirus travel bans, cancelling its scheduled flights for nearly a month, following the transatlantic travel ban imposed by the US government;
LOT – The Polish carrier halted all international flights from both Poland and Hungary from 15 March after Poland introduced border restrictions;
Luxair – Luxembourg regional carrier suspended all flights from 23 March;
SAS – Scandinavian carrier temporarily suspended most of its international services and temporarily reduced its workforce by 90%. It continues to operate some European services, domestic and intra-Scandinavian routes. Indeed, it has just announced plans for a new Norwegian route connecting Oslo and Lakselv, catering for the travel needs of armed personnel;
TUI – The UK holiday firm on 16 March suspended the selling of "the vast majority" of its travel packages;
Virgin Atlantic - UK carrier said on 16 March it would reduce 80% of its capacity and three-quarters of its fleet would be grounded by 26 March. It has suspended all flights from London Gatwick, shifting all operations to London Heathrow airport. For its part, Gatwick airport will shut its North Terminal from 1 April.
Volotea – The Spanish operator halted its flights until at least 8 April.