The shift to sustainable aviation fuels (SAF) needs to accelerate, in the view of United Airlines chief sustainability officer Lauren Riley, as part of an industry transformation that could one day see CO2-as-a-feedstock become the "future of flying".
Speaking to FlightGlobal in mid-July on the sidelines of this year's Airline Strategy Awards – where United was recognised in the Environment, Social and Governance category – Riley describes SAF as "the dealbreaker" when it comes to the industry's decarbonisation push.
SAF is particularly attractive because "when we buy aircraft, it's 30 years in the sky", Riley notes, meaning today's sustainability solutions need to reflect the reality that current-generation aircraft and engines – rather than breakthrough airframe and powerplant technologies – will underpin airline operations for some time yet.
Amid that reality, current SAF uptake is being driven by bio-based waste and residue raw materials as feedstocks, but United also has investments in businesses working on synthetic biology-based and CO2-based options that could revolutionise the SAF industry in the coming decades.
"We need a dense, liquid-based fuel, derived from renewable waste of sorts, that we can actually fly today using the assets [we have now and on order]," Riley states. "We need to recognise that and find solutions that work within the [aircraft and engine] investments we've already made.
"SAF is one of those solutions and, we think, the most promising."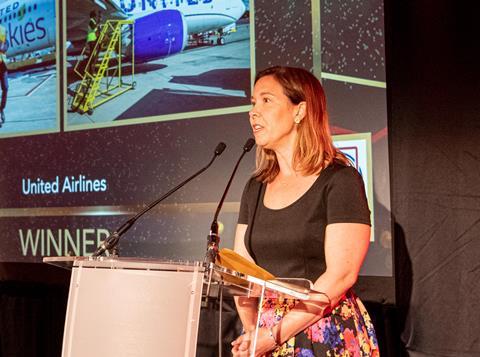 The key focus for United is accelerating SAF production, alongside other efforts to address the airline industry's emissions.
"Every conversation I have is either about the possibilities of technology and emerging solutions like SAF or, frankly, the policies and the frameworks that we need to enable a speed change, an acceleration," Riley says.
That need for acceleration is pressing for SAF in particular, she emphasises, given the tiny amount of available to United and the wider industry today.
"It is far less than 0.1% of our total fuel supply, which is just frankly embarrassing," Riley says. "It's embarrassing for United and it's embarrassing for the industry.
"We need more, we need scale and we need speed."
As a result, Riley says she spends a significant amount of her time "talking around policy on incentives that can kick-start the market" for SAF, with the aim of "tipping the scales" in favour of commercialisation.
But that is no easy task.
"What I'm beginning to see, which is a little concerning, is that there are patchworks of regulations and policies across the globe that are emerging," she cautions. "That becomes an administrative burden and [makes it] almost impossible for us to manage while continuing to invest in these nascent technologies that we really need to be focusing on."
CARBON CAPTURE
As the effort to overcome such challenges continues, the capture and use of CO2 as a feedstock is a concept that Riley finds particularly compelling for United, albeit further down the line than SAF derived from current sources.
"Sequestration will be really important but also utilisation," she states of carbon-capture processes. "And what's really exciting is power-to-liquid e-fuels; capturing the CO2 and actually using it as the feedstock of the future, to create this power-to-liquid pathway.
"I personally believe that's the future of flying," she continues. "It will take us a couple of decades to actually figure out the technology and make the economics work, but once we do we're going to tap this unused resource… and we'll have aviation as a closed-loop approach.
"That's really exciting."
Aiding United on that journey are investments in carbon-capture specialist 1PointFive and in CO2-as-a-feedstock firm Dimensional Energy through its United Airlines Ventures unit, which also has investments Alder Fuels, Cemvita and Fulcrum BioEnergy, among others.
With those partnerships in place, and despite the scale of the challenge ahead, Riley is positive about United's chances of reaching net-zero CO2 emissions.
"It's really a story of optimism – it's just we're not there yet," she says. "We're just beginning to scratch the surface.
"If there is some focus, discipline and there is some structure in how we proceed in the next couple of years, we'll be really well positioned to have success in terms of reducing emissions from flying."