United Airlines' huge order for Boeing aircraft this week is another statement of intent from the carrier under the leadership of Scott Kirby.
Marked by an event attended by hundreds of staff and media, the operator has ordered 100 Boeing 787s and taken options to purchase 100 more, in what it calls the largest-ever widebody order by a US carrier. It has also ordered another 100 737 Max aircraft.
United expects to receive all of the latter by 2028, and the 100 787s between 2024 and 2032.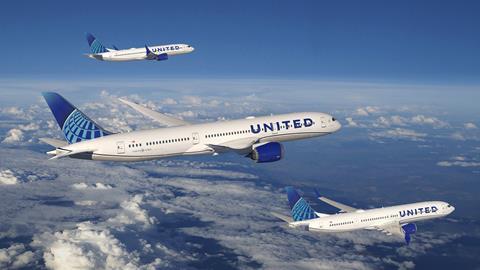 The orders are driven by United's aspiration to be "the world's leading global airline and the flag carrier of the United States", says Kirby, who joined other executives in framing the deal as an aggressive and optimistic response as the industry emerges from its biggest-ever crisis.
Indeed, the United chief continues to be unafraid of setting high expectations at United, having been instrumental in a string of high-profile sustainability-linked announcements in recent years, while also being outspoken during the pandemic, and unafraid to throw curveballs such as the carrier's interest in purchasing supersonic jets and a recently announced partnership with Emirates – all alongside unveiling a previous bumper order.
And while the widebody commitments are partly driven by a need to replace ageing 767s and 777s, they also reflect United's desire to double-down on its status as the USA's leading operator of widebody jets and to strengthen its hold on international markets.
United already has 254 widebody aircraft in its fleet – 100 more than American Airlines and 82 more than Delta Air Lines.
Notably, the deal for more Max jets also reflects United's confidence in Boeing, which is seeking to move beyond the challenges that have weighed on most of its major aircraft programmes.
Life at United continues to be anything but boring under Kirby's leadership.
Read the newsletter for free every week by signing up to the Airline Business Weekly Briefing