Share prices of many leading airline groups ended 2020 down between a third to a half during a torrid year for the sector.
With trading for the year finished in Asia and Europe and set to close in the Americas, the heavy fall in airline share prices across the pandemic-hit year is clearly evident.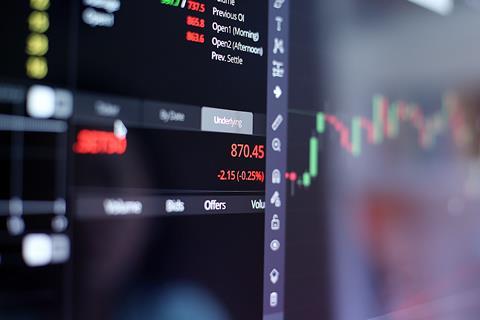 All but three of the 24 airline groups, from across different regions tracked by FlightGlobal for this analysis, had declined since 2 January 2020. The share price had fallen by more than 50% at a quarter of these airlines. Fifteen of the carriers faced a decline of more than 30% across the year.
Airline shares fell sharply in March as the extent of the impact became clear of the pandemic - which brought international scheduled passenger traffic to a virtual standstill for most of the second quarter.
Yet the declines were even sharper before positive news around the development of vaccines in November provided a timely boost for the sector.
All eight of the stocks tracked in the Americas fell across the year. There were sizeable declines at the three US majors - American Airlines, Delta Air Lines and United Airlines. Share prices for all three, during the peak of the crisis, hit lows last seen in 2013.
Americas share prices activity during 2020
Company
Stock market
Currency
02-Jan-20
31-Dec-20
Change
High
Date
Low
Date
FlightGlobal analysis; Figures do not account for wider trading fluctuations, close figure is for 31 Dec or most recent figure available
LATAM Airlines Group
NYSE
$
10.5
1.7
-84%
10.5
02-Jan
1.1
28-May
Air Canada
Toronto
C$
50.0
23.2
-54%
52.1
13-Jan
12.2
19-Mar
United Airlines
Nasdaq
$
89.7
44.7
-50%
89.7
02-Jan
19.9
15-May
Delta Air Lines
Nasdaq
$
59.0
40.6
-31%
62.0
17-Jan
19.9
15-May
Gol
B3
BRL
37.2
25.0
-33%
39.1
23-Jan
5.6
18-Mar
American Airlines
Nasdaq
$
29.1
16.5
-43%
30.5
12-Feb
9.0
15-May
Southwest Airlines
NYSE
$
54.8
46.4
-15%
58.5
13-Feb
23.9
15-May
JetBlue
Nasdaq
$
18.9
14.9
-21%
21.6
13-Feb
6.9
23-Mar
Southwest Airlines had the smallest decline, 15%, of the biggest US carriers.
Outside of the tracked stocks, the share price of US budget carrier Allegiant Air ended the year in positive territory - up around 7% over the 12 months.
Among leading European airline groups, low-cost carriers Ryanair and Wizz Air are the outliers in 2020. Both ended the year with the share price in positive territory.
European share price activity during 2020
Company
Stock market
Currency
02-Jan-20
31-Dec-20
Change
High
Date
Low
Date
FlightGlobal analysis; figures do not account for wider trading fluctuations, though close figure is for 31 Dec or most recent figure available
Wizz Air
London
£
4.0
4.6
15%
4.8
04-Dec
2.0
19-Mar
Ryanair
London
€
14.9
16.4
10%
17.1
04-Dec
8.1
18-Mar
Lufthansa
Frankfurt
€
16.7
10.8
-35%
16.7
02-Jan
7.1
02-Oct
SAS
Stockholm
SKr
4.2
1.8
-57%
4.4
09-Jan
0.8
05-Nov
EasyJet
London
£
14.3
8.3
-42%
15.5
11-Feb
4.75
03-Apr
Air France-KLM
Paris
€
10.3
5.1
-50%
10.3
02-Jan
2.8
29-Oct
IAG
London
£
2.6
1.6
-38%
2.7
17-Jan
0.7
31-Jul
Norwegian
Oslo
NKr
40.9
0.9
-98%
43
09-Jan
0.3
01-Dec
Ryanair's share price has for the past six weeks, since positive news around the vaccines emerged, been back at its pre-pandemic levels. The airline's share prices ended the year 10% higher than its starting point on 2 January. All that comes after touching it lowest levels since 2014 earlier in the crisis.
Wizz too has pushed back to pre-crisis levels on news of the vaccine, its share price reaching an all-time high early in December. It closed the year 15% higher than it opened the year.
But share prices at Europe's other major carriers ended the year still down by between a third or a half. Air France-KLM's share price hit a record low in October and, despite the late recovery, ended the year 50% down. The share price at SAS hit lows not seen since its struggles of the winter of 2012, as too did the price of EasyJet.
Norwegian's share price, which had already fallen sharply amid restructuring in 2019, continued to struggle amid a debt-for-equity financial restructuring and the carrier's move later in they year to seek formal restructuring.
Share prices declines were less steep, though still widespread, among Asia-Pacific's leading airline groups during 2020.
Even with the swift return of domestic travel to pre-pandemic levels, shares in the big three Chinese carriers ended the year around a fifth lower. That in part reflects a late fall in December after carriers reported a faltering in November traffic growth.
Asia-Pacific airline share price activity during 2020
Company
Stock market
Currency
02-Jan-20
31-Dec-20
Change
High
Date
Low
Date
FlightGlobal analysis; figures do not account for wider trading fluctuations, close figure is for 31 Dec or most recent available figure
AirAsia
Kuala Lumpur
MYR
1.7
0.9
-47%
1.7
13-Jan
0.5
19-Mar
Qantas
Sydney
A$
7.2
4.9
-32%
7.2
02-Jan
2.1
19-Mar
Air China
Shanghai
CNY
9.8
7.5
-23%
9.8
02-Jan
6.3
25-May
Cathay Pacific
Hong Kong
HK$
10
7.2
-28%
10
02-Jan
5.1
10-Aug
China Southern
Shanghai
CNY
7.3
6.0
-18%
7.3
02-Jan
5.0
25-May
China Eastern
Shanghai
CNY
5.9
4.7
-20%
5.9
02-Jan
4.0
23-Mar
ANA
Tokyo
JPY
3.5
2.3
-34%
3.7
20-Jan
2.1
07-May
Singapore Airlines
Singapore
S$
3.5
4.3
23%
4.6
25-Nov
2.0
23-Mar