As it moves forward with the consolidation of regional unit Thai Smile Airways, flag carrier Thai Airways International says it remains "focused" on providing full-service operations in a highly-competitive domestic market.
Airline chief Chai Eamsiri, who took helm of the Star Alliance carrier in late-2022, says the airline also has no intentions to start a low-cost unit post-consolidation.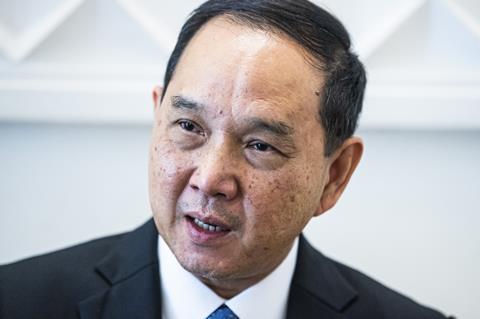 Chai, who spoke with FlightGlobal at the recent IATA AGM, says: "We cannot fit all of the market. We have to be focused, otherwise we will dilute our [mainline] business, especially in the domestic market."
The airline in May announced the merger - to be completed by year-end - as part of its restructuring plans. The move makes it the latest Asian operator to shutter its regional unit in the post-pandemic operating environment, though it is remains the only operator to not have a low-cost unit.
When Thai Smile launched as a lower-cost unit in the early 2010s, Thai envisaged a "light premium" operating model at the top end of the low-cost segment. Thai Smile's would feed traffic to mainline operations at Bangkok's Suvarnabhumi airport.
Thai would eventually hand its entire domestic network to Thai Smile, along with a large number of regional routes - especially within Indochina. Thai Smile's network had also included a number of flights to secondary cities in China and India.
Chai admits the current Thai Smile operating model "is not very seamless", especially when it came to codeshare operations, despite being a wholly-owned unit of Thai and a connecting partner of Star Alliance.
"[Thai Smile] didn't have a seamless transfer with other airline [partners]…because they didn't have any agreements with them. [Thai Smile] only had an agreement with Thai," says Chai.
He tells FlightGlobal Thai intends to take all of Thai Smile's 20 Airbus A320s, along with all of the latter's employees, noting that both carriers have already consolidated their back-end functions.
"We have to accept that Thai Smile…has its fan club. We will keep the good parts of the airline and try to mix with the Thai Airways service," the airline CEO says.
When it announced the merger, Thai said the move would help improve efficiency and fleet utilisation, for better competitiveness.
Chai tells FlightGlobal Thai Smile's A320s have an utilisation rate of about 9h a day, lower than the 11-12h at domestic competitors.
More tellingly, Chai says its widebody fleet – comprising a mix of 777s, 787s, A330 and A350s – has a higher utilisation rate than the A320s.
"When we bring these aircraft into Thai fleet, we can increase the utilisation…[and use] them to fly [internationally] to India, Pakistan, China," Chai says, hinting at the likely redeployment of the narrowbody fleet to "right-size" international operations.
At the same time, Chai confirms Thai has no intentions of returning to widebody domestic operations, noting: "These aircraft are not designed for very short routes…for domestic or to Indochina. It is costly and sometimes, the market is not that big."
Furthermore, Chai contends, "there are better opportunities for us with the widebodies on international flights", where the airline is in the midst of a capacity ramp-up.
Thai had in the past deployed a range of widebodies – including its Boeing 777s and A330s – on trunk domestic routes, such as to Phuket and Chiang Mai.
Chai says the Thai domestic market – currently dominated mainly by low-cost operators — "is very competitive", calling it "an ocean of red".
"Everybody is fighting and it is not very healthy…there is overcapacity, [and] price undercutting," he notes.
Chai says the carrier "has the upper hand" in domestic operations against the competition, especially now that it is consolidating Thai Smile's services. "We are in a better position because…for example, we can [fill] half of the aircraft with connecting passengers, [from our] long haul network to domestic. We will also be able to increase the yield on these flights," he says.
Thai has plans to lease five A321neos, with deliveries to start from 2025, while it is finalising discussions on another five. These aircraft, says Chai, will operate alongside the ex-Thai Smile A320ceos for "a few years" before the older narrowbodies get phased out.