Confirmation this week that Air India plans to place bumper aircraft orders with Airbus and Boeing follows months of speculation about the flag carrier's fleet plans under its new owners, Tata Group.
But what factors underpin the need for such huge aircraft commitments?
The answers tend to fall into one of two categories: those relating to the travails of the airline itself and those associated with India's huge potential as an air travel market.
The latter story is an undeniably compelling one.
India is on course to have the largest population in the world in the coming decades, underpinned by a fast-growing economy and a middle class expected to number in the hundreds of millions. At the same time, the large Indian diaspora is big driver of international travel to and from the country.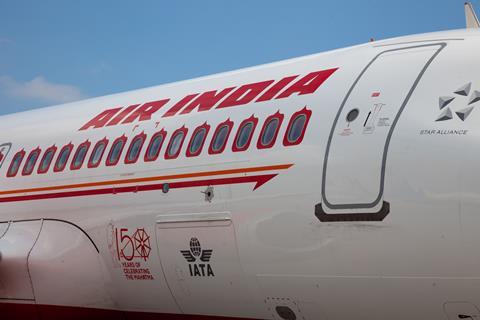 Already over the past decade, India's airline sector has witnessed rapid growth in demand for air travel to, from and within the country. Notably, that growth has been from a low base, with India recording just 0.12 trips per capita in 2019, according to Airbus data – versus, for example, 0.49 in China and 2.07 in the USA – demonstrating how much growth potential still exists
All this spells opportunity for the country's airlines, domestically and internationally, particularly given they have the in-built advantage of a huge local market from which to draw passengers – a luxury not available to peers from the Middle Eastern hubs, for example.
But India's carriers have long struggled to take advantage of that potential, leaving them with a relatively small portion of the pie when it comes to capacity serving the country internationally – widebody jets in particular – with Middle Eastern airlines having established strong positions in the market. The continued grounding of Jet Airways has worsened that situation.
India's airlines have historically been weighed down by factors including high fuel costs within the country – exacerbated by high taxation and a weak local currency – alongside an often unhelpful regulatory environment, an arguably excessive number of carriers fighting for share, price-sensitivity among consumers, and a lack of market maturity stemming from the sub-optimal performance of the flag carrier.
Indeed, Air India should have been among the country's best bets to overcome the challenges and achieve market breakthroughs much earlier, had efforts not been stymied for many years by wrangling over a potential privatisation. It spent most of the 2010s making losses, eventually emerging from the period shouldering billions of dollars in debt and a bloated workforce relative to its modest fleet size, which in February 2023 stands at just shy of 150 aircraft (when Air India Express's fleet of around 26 aircraft is included).
Today, given what is at stake, it is no surprise that one of Tata's priorities during the transformation of the Air India business – alongside the integrations of Vistara into the flag carrier and AirAsia India into Air India Express – is to ensure it has enough incoming aircraft for replacement and growth purposes.
Fortunately, there is arguably space in the market for local capacity and the Middle Eastern hub carriers to thrive on international routes, given the demand growth ahead and the different markets they can serve with both widebody and narrowbody jets.
And forecasts are on Indian carriers' side, with both Airbus and Boeing predicting that Indian airlines will require more than 2,000 new aircraft over the next 20 years – over 5% of total forecast global deliveries.
Furthermore, with Air India off its books and into the hands of a trusted partner in Tata, the Indian government appears willing to support local airlines in navigating the aforementioned challenges.
Encouragingly, low-cost carrier IndiGo has already become a rare exception to the less-than-encouraging airline narratives in recent years, as it continues on a strong growth path in domestic markets, alongside a push into more international sectors, albeit with mixed finanicial results.
With Tata a year into ownership of Air India, the hope is that the country will soon also sport a successful network carrier-spearheaded airline group.
Air India's huge orders are, therefore, a logical step in an airline market awash with potential. The key question is whether the 'new' Air India finally brings strategic and financial maturity to a local industry that has long lacked both, particularly in the network carrier sphere.
Read the newsletter for free every week by signing up to the Airline Business Weekly Briefing