Russia's full-scale invasion of Ukraine comes with the commercial aviation industry already in a delicate stage of recovery.
Unfortunately for the sector, the effects of the development are likely to reverberate throughout the region and beyond.
In terms of the airspace, there is now a gigantic area of eastern Europe without commercial aviation traffic, covering Belarus, Ukraine and western Russia.
Many airlines were already avoiding overflights of Belarus and eastern regions of Ukraine anyway, due to previous incidents, so the impact was baked in to an extent. But more routes have become circuitous overnight, including services heading south from Moscow, for example, as east-west sectors balloon further outwards.
The latter point is particularly significant, given the crisis in Ukraine will almost certainly bring rising jet fuel costs, as oil prices spike in reaction to the invasion. Airlines had already accepted that fuel prices were high during the Covid-19 recovery phase and that ticket prices would likely jump as a result – this compounds that situation and brings closer the point where those higher fares might start to impact demand.
For a few individual airlines the impact is huge. Ukraine International Airlines and SkyUp are grounded for the foreseeable future. Only weeks ago, UIA was announcing a summer 2022 schedule that included the resumption of services to New York and Toronto, among a long list of destinations. And in December, UIA said cost-saving measures had returned the carrier to substantial profitability.
Meanwhile, Ukraine's Boryspil International airport, which serves capital Kiev, was among the top 30 airports in Europe during 2021 by passengers, handling throughput on a par with Brussels, Copenhagen, Milan Malpensa and Oslo.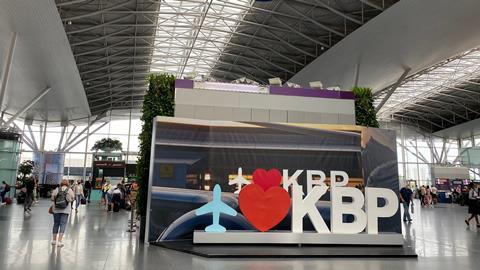 For other airlines, the news is significant but not existential. One month ago today, Cirium schedules data shows that Ryanair and Wizz Air were the biggest operators of international services into the country in terms of capacity, ahead of UIA. In both cases, such flights were a small proportion of pan-European networks.
Other international operators with significant services into the country included Turkish Airlines, Aeroflot, FlyDubai, Ural Airlines, S7, Lufthansa, Pegasus, KLM and LOT Polish Airlines.
All will be able to absorb the loss of Ukrainian services – most having been mindful of committing too much to a restive region in recent years – although any restrictions on travel beyond those related to Covid-19 are deeply unhelpful to the sector's recovery.
For Russian airlines, a pivot to domestic services during the Covid-19 recovery brings some hope that any fall-off in international demand can be handled. The potential impact of further diplomatic isolation of Russia will, however, be a factor to watch in terms of flights into the country – whether from local carriers or international operators.
Then there is the intangible impact on confidence to travel if a war is raging in Europe. Heightened security in countries neighbouring Russia and Ukraine, combined with continuing stop-start Covid restrictions, will test the much-discussed 'pent-up demand' for air travel as the pandemic recovery gathers momentum.
Indeed, in an earnings briefing last week, Air France-KLM's optimistic outlook for the current quarter was predicated on the situation in Ukraine not deteriorating.
For the wider industry, there are a variety of consequences to consider, notably around the impact of sanctions on the aerospace supply chain. Russia is, for example, a huge producer of metal.
On 24 February 2022, two years into the pandemic, the airline industry's resilience to outside factors is being tested again, much sooner than anyone would have wanted.
Subscribers to the Airline Business newsletter receive the Weekly Briefing first every week. For more information, click here.