Having been outspoken on the path of the Covid-19 pandemic, United Airlines chief executive Scott Kirby is now suggesting his airline's peers are misreading the industry's route out of the crisis.
"Most, or perhaps all, of our competitors will get on their [earnings] calls… and tell you [it was a] one-time event, no big deal, no change to our capacity plans," he said in regard to the Covid-19 recovery, as United released its fourth quarter earnings in mid-January.
"If so, I think they're just wrong," he states. "It's intellectually hard and it takes time to get through the denial phase."
So, what exactly is Kirby referring to?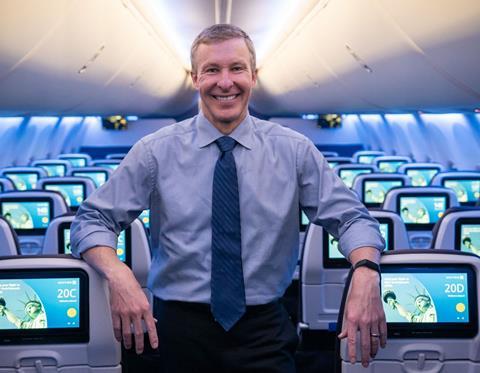 In what he describes "the most significant structural change to happen to the industry in a long time", Kirby suggests that capacity aspirations for 2023 and beyond "are simply unachievable".
First among "multiple constraints", he says, is the US pilot shortage.
Then there are wider workforce constraints, which Kirby says mean higher baseline staffing levels will be required at airlines and other key industry businesses and bodies.
That comes amid staff sickness rates that are elevated "because of Covid and new state legislation that makes it a lot easier to call in sick".
Concurrently, there are "lower experience levels" among staff, after swathes of the workforce left during the pandemic.
"We believe any airline that tries to run at the same staffing levels that it had pre-pandemic is bound to fail and is likely to tip over to meltdown any time there are weather or air traffic control stresses in the system," Kirby suggests.
Further restricting growth, manufactures are struggling to meet delivery targets "on aircraft, on engines, on parts", he says.
At the same time, Kirby believes that the US FAA and most airlines have "outgrown their technology infrastructure and simply cannot operate reliably" in this more challenging environment.
"Across the board, there are supply-chain constraints that limit the ability of airlines to grow," Kirby says. The wider failure to address these in recent years means the "the system simply can't handle the volume today, much less the anticipated growth".
Kirby says United, at least, has been adapting to the structural changes coming out of the crisis, through investments in technology, infrastructure and staffing levels. On the latter point, the airline needs "10% more pilots and 5% more aircraft" to match the same level of pre-pandemic capacity, he estimates.
Crucially, Kirby adds, "we got to acceptance quickly and didn't spend much time in denial about the structural changes".
The overall message of Kirby's comments is not entirely new, with Lufthansa Group chief executive Carsten Spohr being among other leaders to highlight structural capacity constraints in the airline industry.
But Kirby's framing of the issue – most notably his suggestion that peers are yet to accept that it exists – makes for a fascinating competitive backdrop to 2023.
Read the newsletter for free every week by signing up to the Airline Business Weekly Briefing